The 'Daredevil' Cast Really Wants The Punisher To Come Back To The Show, Too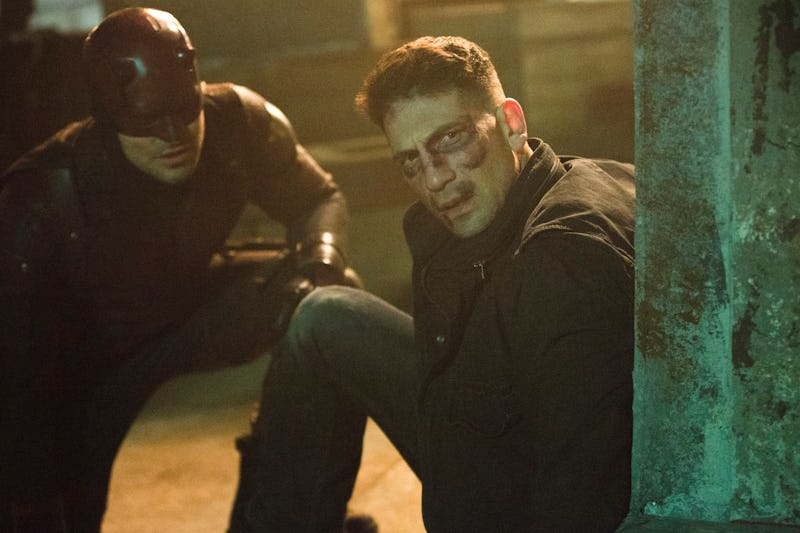 Patrick Harbron/Netflix
Daredevil is going back to basics for Season 3 with Matt Murdock battling Wilson Fisk. Beyond Kingpin, fans might be hoping that other foes could pop up. But don't think that the Punisher will be in Daredevil Season 3 when it premieres on Netflix on Oct. 19. Jon Bernthal's Frank Castle was introduced in Season 2 and soon became known as the Punisher for ruthlessly killing anyone he considered responsible for the death of his family. While Matt didn't agree with the Punisher's methods, these vigilantes eventually came to an understanding. With Season 3 introducing a merciless Matt, the Punisher and Daredevil might seem poised to team up. Yet, while you're guaranteed to see Frank Castle on his own TV show, he won't be hanging with Matt again just yet.
After The Defenders and Iron Fist Season 2, Marvel Netflix fans know that the Hand shouldn't be coming back to mess with Daredevil. But with Karen Page popping up in The Punisher, a Frank Castle appearance in Daredevil Season 3 wouldn't be all that surprising. Yet, the new Daredevil showrunner, Erik Oleson, told IGN that Season 3 will not contain any major characters from other Marvel Netflix series. "I wanted it to be standalone, I did not do crossovers this season," Oleson said. "I really wanted to get back to the core characters and tell a character-driven season, where the action is surprising and it kind of catches you off-guard."
No crossovers mean that along with the Punisher not appearing, neither will Matt's fellow Defenders of Luke Cage, Jessica Jones, and Danny Rand (whose own show just got canceled). Instead, this season will focus on the main Daredevil characters of Matt (Charlie Cox), Karen (Deborah Ann Woll), Foggy Nelson (Elden Henson), and Fisk (Vincent D'Onofrio). Additional returning faces will be familiar, like Father Lantom (Peter McRobbie) and Detective Sergeant Brett Mahoney (Royce Johnson), who both briefly appeared in other Marvel Netflix shows. And there will be a few new characters introduced with Sister Maggie (Joanne Whalley), Benjamin "Dex" Poindexter (Wilson Bethel), and Rahul "Ray" Nadeem (Jay Ali).
Even with these exciting new additions, the OG cast is open to the Punisher coming back to Daredevil eventually. Ahead of the Season 3 premiere, Netflix hadn't officially renewed Daredevil, but Cox told Digital Spy that he'd like the Punisher to return for a potential Season 4. "I loved working with Jon. I loved that dynamic, and there's a wealth of storylines and dynamics that could be explored from the comics with those two. So that would be great," Cox said. And Daredevil's not the only one who wants Frank Castle back. In an interview with Bustle before Season 3 dropped, D'Onofrio said, "Punisher should come back to our show" to which Henson replied, "That would be awesome." So the actors who portray Matt, Fisk, and Foggy all want this vigilante to be punishing his way through Hell's Kitchen at least one more time.
There's always a chance that Oleson and the cast are misleading fans and Castle will turn up sometime during Season 3. But since Bernthal is a pretty in-demand actor, there are plenty of other ways to see him onscreen beyond Daredevil. There's the upcoming movie The Peanut Butter Falcon with Shia LaBeouf and Dakota Johnson about a young man with Down syndrome who wants to become a professional wrestler. He'll appear in the Christian Bale and Matt Damon-starring biopic Ford v. Ferrari as real-life automobile executive Lee Iacocca. And he's also the lead role in the crime thriller Stingray. Not to mention, Bernthal will be making an epic return as Shane in The Walking Dead Season 9.
Then, he has his own show to work on. The Punisher was renewed for a Season 2 on Dec. 12, 2017 — less than a month after it had premiered. So you will see Frank Castle back in action on the streets of New York City. It's just a mystery if the Punisher will ever face off — or join forces with — the Devil of Hell's Kitchen again.
Additional reporting done by Rebecca Patton.