Yolanda Hadid's Super-Cute Farm Photos Of Bella & The Weeknd Just Fuel Those Dating Rumors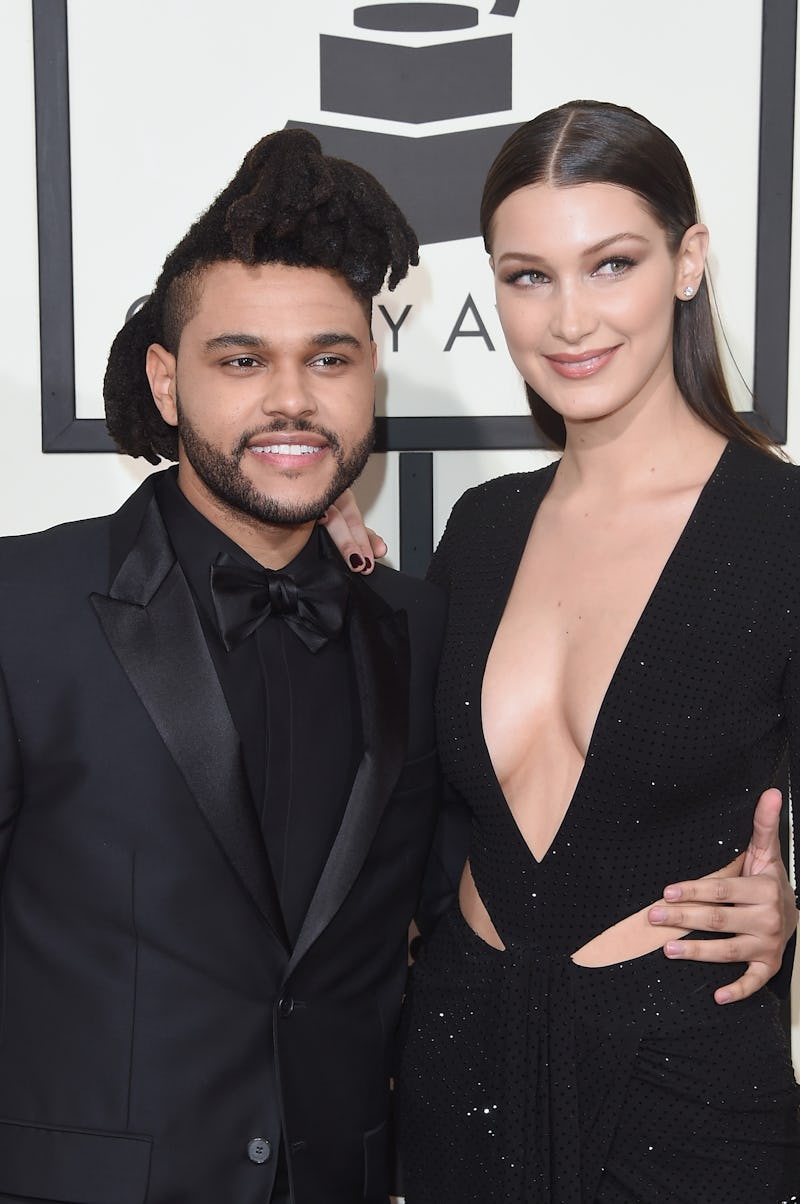 Jason Merritt/Getty Images Entertainment/Getty Images
If your mom is sharing photos of you and an ex-boyfriend that means you two are together again, right? Well, that could very well be the case here. Yolanda Hadid shared photos of Bella Hadid and The Weeknd at her Pennsylvania farm on her Instagram Story on July 29, as Us Weekly pointed out. The pictures seem to be further proof Bella and The Weeknd may actually be a couple again.
As you can see below, the former Real Housewives of Beverly Hills star shared a photo of her daughter with a horse and wrote, "Home is a feeling..." Then, Yolanda share another picture of The Weekend. You can only see half of the Starboy artist's face, but he's smiling big indicating he had a blast with Yolanda and Bella. According to Entertainment Tonight, Bella also shared a blurry photo The Weeknd walking down a spiral staircase at what appears to be her mom's house.
On July 28, The Weeknd also shared several Instagram photos of himself at the farm. There is one image of the singer by a horse and another photo of him kneeling next to miniature horses. He also posted a video of himself interacting with a goat. The Weekend even referred to himself as the "goat whisperer" in the caption. According to ET, Bella commented on the funny video as follows:
"hahahahahhahahahahahaghahahahahahahahahahhahahahhahahahhahahahahahahahaha."
In November 2016, Bella and The Weeknd broke up after a year and a half together. At the time, People reported the reason they split was due to scheduling conflicts. In a February 2017 interview with Teen Vogue, the model opened up about their split. She said, "It was my first breakup... and so public. As an outsider, you might think I handled it so well, but it's always in your heart, and you always feel it very heavily. It'll be hard for a while. Love hurts, but you have to pull through."
She later added about The Weeknd, "I'll always respect him, and I'll always love him. Sometimes you want to be sad about it or handle it differently, but at the end of the day, you never want to burn a bridge that you've fought so hard to build."
Well, it seems that bridge is still standing strong between them. In April, they were reportedly seen kissing at Coachella and they were also supposedly seen kissing in Cannes. In July, E! News they were vacationing in Japan together.
If that isn't enough, Bella shared a video of The Weeknd on her Instagram Story on July 23. She captioned it: "[heart emoji] muse forever [heart emoji]." (Bustle previously reached out to The Weeknd's rep and Bella's agent regarding the photo of them reportedly kissing in France and about rumors they're back together, but has yet to receive a response.)
Photos like the above are definitely hard to ignore. Whether Bella and The Weeknd are back together romantically or not, they are still very much in each other's lives. They also appear to be having fun together, which is certainly nice to see.