Here's What Happens During Bystander Intervention Training
Plus, how to find trainings near you (or on Zoom).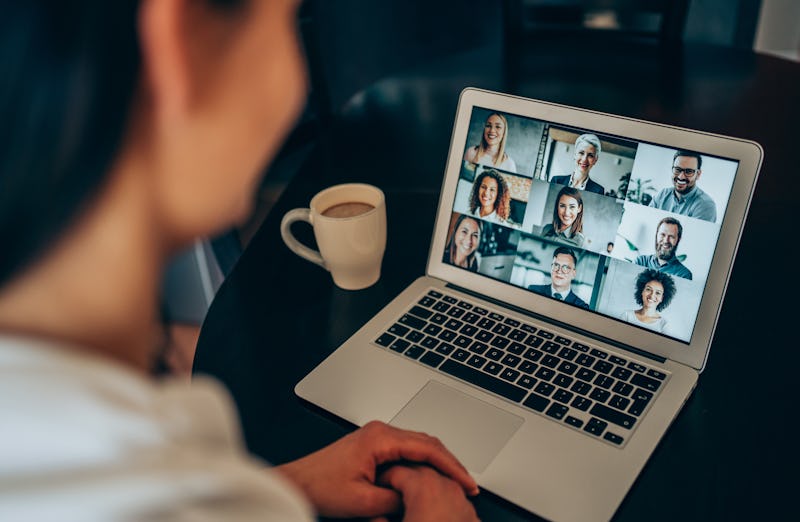 VioletaStoimenova/E+/Getty Images
Anti-Asian racism is not new in the United States, but more attention is being drawn to it in light of increasing violence against AAPI people and communities throughout the pandemic. Rather than feeling helpless in the wake of these attacks, many people want to know how to step in if they witness verbal or physical harassment.
Enter bystander intervention training, which teaches participants how to safely do just that. Since the March 16 Atlanta spa shootings that killed six Asian women, New York Magazine reports that more than 45,000 people have signed up for bystander intervention training hosted by New York non-profit Hollaback!, in partnership with Asian Americans Advancing Justice (AAJC) — that's more than double the total of people the organization trained in all of the previous year.
So, what is bystander intervention training? And why is it helpful? Knowing what to expect from bystander intervention training can help encourage you (and your friends) to sign up — because when they're free and happening on Zoom, they're more accessible than ever.
What Is Bystander Intervention Training?
Bystander intervention trainings are designed to help you get comfortable stepping in when someone is being harassed or otherwise targeted with verbal or physical violence. Sometimes, crisis response trainings also involve learning how to help people experiencing a mental health crisis without involving the police — instead of just "standing by." Trainings can offer tools for things like responding to your uncle's casual homophobia at the family Zoom table, or stepping in when a person won't wear a mask at the grocery store (and the interaction gets heated).
These trainings are useful in crisis situations, but they don't prevent violence from brewing in the first place. Many facilitators will point out during trainings that intervening is also about advocating for broader changes to oppressive systems — think joining protest movements, getting active in local mutual aid groups, and supporting anti-racist community organizations.
What Happens During Bystander Intervention Trainings?
Every bystander intervention training will be unique and have its own particular focus — many right now are centered on anti-AAPI violence, while college campuses often host trainings focused on sexual assault. Different facilitators have different styles, and certain organizations have their own formats. But in general, here are some things you might expect from bystander intervention training.
Establishing Shared Values & Language
"We had an internal bystander intervention training last month in my local trans support group," says Jackson, 29. "The first thing our facilitators did was help us establish some things we had in common, like believing that every person deserves respect and doesn't deserve abuse." Facilitators will also generally make sure everyone's on the same page about what language they're using.
People might define "bystander" or "intervention" differently, for example — the facilitators will often take participants through how they're defining these words, as well as discussing the difference between safety and comfort. "We all had to get on the same page so we knew what someone else meant by certain words," Jackson explains.
Self-Reflection
Intervening in a crisis isn't just about a moment of speaking up against racism on the street — it's also about getting to know yourself better so you can help most effectively when you need to. In a crisis response training led by grassroots community mental health organization Project LETS, facilitators ask that you pay attention to yourself as a potential bystander.
"How do you react to danger?," Stefanie Lyn Kaufman-Mthimkhulu, the founder and director of Project LETS, asks in their crisis response trainings. "Do you go fight, flight, freeze, or fawn? That can lead to different scenarios." Another part of the training might be unpacking how your identity and experiences impact how you might be able to show up in a dangerous situation. "If you are a white person who grew up thinking the police are here to keep us safe, you might be more inclined to call them for someone who is having a crisis in a public setting," Stefanie's training continues. "People who are negatively racialized may not feel that way." Knowing these things about yourself can help you gauge your own needs faster in a potentially dangerous situation.
Learning Why People Don't Intervene & What Happens When They Do
People stay silent while witnessing aggression or violence for many reasons — some people shut down due to their own traumas, or determine that their direct interference would make the situation even more unsafe. Many bystander intervention trainings involve taking a look at the "bystander effect," or the idea that people are less likely to help a person in need when other people are around (think: "someone else will take care of this").
During a training, you might be invited to think about — or even share — moments in the past when you have not helped out in a scary moment, and explore what happened in your mind that prevented you from acting. Reflecting on these things might better equip you to get in the necessary headspace next time.
Learning Bystander Intervention Strategies
The crux of bystander intervention training is learning how to safely intervene in violent situations. Right now, many Hollaback! bystander intervention trainings are specifically focused on stopping anti-AAPI and xenophobic harassment, and they've got five basic recommendations to keep in mind about stepping up against racist violence. You can:
Distract the aggressor from the situation;
Delegate by strategically asking for assistance from the people around you;
Document what's happening by recording with your phone (but don't post online without the consent of the target of the harassment or violence);
Directly respond by confronting the harasser if it's safe for their target and for you; or
Delay your assistance, making yourself available to care for the person's needs after the violence has passed.
In the moment, you'll have to choose your mode of action based on your safety levels, the specifics of the physical situation, your state of mind, etc.
Practicing Bystander Intervention Scenarios/Role Plays
Some trainings might guide participants through acting out (or at least discussing) different scenarios that might arise IRL, so you can practice intervening. You may also have the opportunity to ask follow-up questions, so if you have a particular or personal scenario you'd like to discuss, you might be able to ask individually after the training.
"I hate role plays in workshops," Jackson says, "but I let the facilitators know about my extreme social anxiety through the chat. They were really sweet and helpful, and let me offer ideas in the chat instead of making me act things out in real-time."
How Do You Sign Up For Bystander Intervention Training?
You can register for Hollaback!'s interactive, one-hour intervention training focused on anti-AAPI violence and harassment, or opt to sign up for local trainings based on Asian Americans Advancing Justice: Chicago's partnership with Hollaback!.
If you want to sign up for other bystander intervention trainings, do a basic search for these trainings + your city. You might also check out the offerings at local colleges or your favorite social justice organizations. Instagram is often a great place to find organizations that are offering bystander intervention training or advice.