13 Gorgeous Side Parts From The Golden Globes That Prove Gen Z Wrong
Just look at Emma Corrin.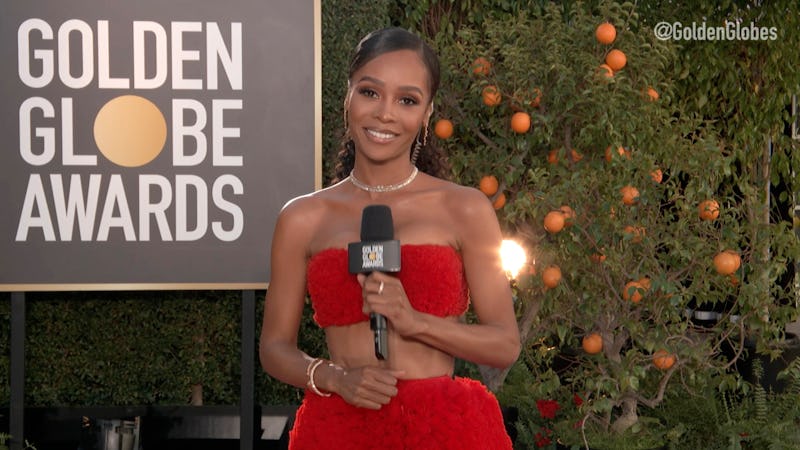 2021 HFPA Presents: Golden Globes Countdown Live/Getty Images Entertainment/Getty Images
Just in case you haven't been on the internet lately, side parts are out — at least, Gen Z says so. However, if the women on this year's red carpet are any indication, the assessment of the Youth is completely inaccurate. Just look at the best Golden Globe 2021 side parts worn on TV's biggest stars as proof.
According to Gen Z, the middle part is the superior way to style your hair, and side parts are merely unflattering (and indicate an "older millennial"). This isn't the case if you take a look at the beauty looks of this year's Golden Globes awards show: Some of the most stylish celebrities proudly rocked side parts — some of them even dramatically deep — in their glow-ups, and they looked far from outdated. That includes actors like Regina King, Amanda Seyfried, and Lily Collins (just to name a few), and there's no way you could call any of these stars "out of touch." Rather than appear as the scene emo kids stuck in the early aughts (as Gen Z thinks all side part wearers seem to represent), these celebs looked seriously glam.
Maybe you didn't see a bunch of presenters or nominees wearing skinny jeans (another look Gen Z has officially and incorrectly dubbed out of fashion), but the prevalence of side parts make a strong case for keeping that swoop across your forehead rather than parting your hair down the middle out of shame. Keep scrolling for the strongest case for side parts you'll ever see. #SorryNotSorry Gen Z.