Everything To Know About Emily In Paris Season 2
Love it or hate it, the Netflix series is returning.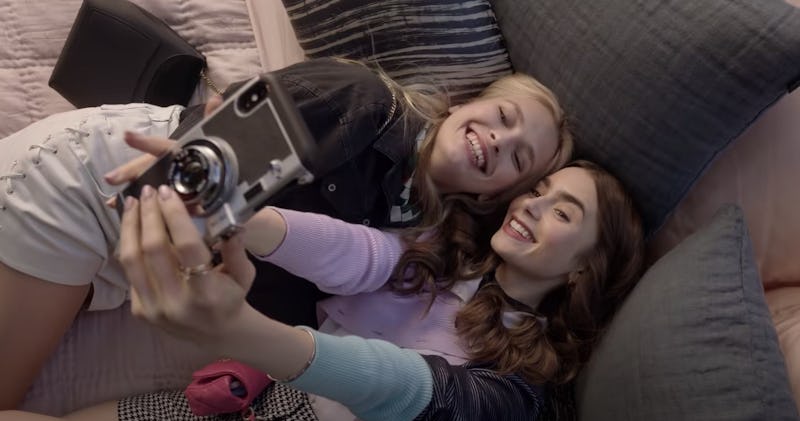 Netflix/screenshot
Love it or hate it, Emily in Paris is returning for Season 2. Though the series — which follows American Emily Cooper (Lily Collins) as she blunders through her new life in France — was one of 2020's most polarizing shows, that didn't stop everyone from begrudgingly tuning in. According to Nielsen, Netflix subscribers watched 676 million minutes in its first week.
This prompted Netflix to renew the show for a second season on Nov. 11, just a month after its premiere. The company delivered the news via a cheeky letter from Emily's boss Sylvie. "We hope that by extending her time in Paris, Emily will further the relationships she has already made, delve deeper into our culture, and perhaps pick up a few words of basic French," the letter reads. Here's everything we know about Emily in Paris Season 2 so far.
When Will Emily in Paris Season 2 Premiere?
As with everything else right now, it's hard to tell when a new season will air due to the pandemic, but it will likely be a while. The show is obviously filmed in Paris, which was under quarantine until Dec. 1, 2020. In October, Emily in Paris creator Darren Star told Glamour, "I hope we'll be back in Paris next spring and things will ease up a little bit," and it looks like he was right on track.
On May 3, Netflix announced that Emily in Paris had begun production on Season 2 in Paris, St. Tropez, and three other French locations. The streaming platform shared the announcement through another pseudo memo from Emily's boss Sylvie posted to the series' Instagram page. "We are writing to inform you that Emily Cooper's new work permit has been approved with a start date of May 3, 2021," read the note. "As per our prior correspondence, she is an asset to Savoir and we hope she continues to have impact with our clients who are very particular about the results they expect from their agency."
The fictional letter from Sylvie also teased more info to come: "As we often work with very unique brands, we hope that Emily continues to immerse herself culturally here in order not to make any egregious faux pas. We will continue to keep you updated on her progress and accomplishments in the coming months." Most Netflix shows take about a year to produce, so with filming underway in spring 2021, fans can likely expect a spring 2022 debut for Season 2.
Alongside the announcement, Netflix also shared a statement from Collins:
"As an actor, an artist, and a creative, the most meaningful gift is to connect with people through your art in some way. It's an honor to be associated with a project that provided people with some much-needed relief during a trying time when everyone was looking for a reason to smile and laugh. Not only did playing Emily teach me more about myself, but also about the world around me. I couldn't be happier to be back in Paris for Season 2 to expand upon those lessons, to continue to grow, and learn even more about this beautiful city and all of its character with Emily."
The streaming platform shared a comment from Star regarding Season 2 as well. "From the beginning, we always wanted to create this beautiful cinematic view of Paris. The timing of the series release was fortuitous for us as everyone around the world was able to become armchair travelers and live vicariously through our cast," said the series' creator. "We could not be more proud and are excited to bring more joy to our fans as we start production on Season 2."
The Emily in Paris Season 2 Cast
Based on the Emily in Paris Season 2 teaser trailer, we can expect all the usual characters to return. Mindy (Ashley Park), in particular, will likely have more of a central role after moving in with Emily in the finale. "Any excuse to see more of Mindy, I am all for," Star told Glamour.
As Emily slowly gains the begrudging respect of her coworkers, she'll also likely bond more with Sylvie (Philippine Leroy-Beaulieu), Julien (Samuel Arnold), and Luc (Bruno Gouery). Finally, chef Gabriel (Lucas Bravo) and his now ex-girlfriend Camille (Camille Razat) will undoubtedly be central to Season 2. Gabriel initially broke up with Camille and hooked up with Emily, but a late investment from Antoine (William Abadie) means Gabriel is staying permanently in Paris. He may now have his own restaurant, but his love triangle just got messier — especially since Antoine has officially been promoted from recurring character to series regular for Season 2, per TVLine.
On May 24, the outlet also reported that Emily will have a brand new serious love interest in Season 2, played by Lucien Laviscount (Katy Keene, Scream Queens). The actor will play Alfie, a cynical, snarky, and of course, charming American man — who refuses to learn the French language or dive deep into the nation's culture. Per the publication, the two have an "antagonist relationship" that becomes romantic by the end of Season 2.
Set to appear as guest stars in Season 2 are actor-playwright Jeremy O. Harris and French actor Arnaud Binard. Harris, who wrote the Tony-nominated Slave Play and the forthcoming A24 film Zola, will act as Gregory Elliott Dupree, a well-known fashion designer and the former apprentice of Pierre Cadault (Jean-Chrostophe Bouvet). Known to travel with luxurious clothes and a collection of beautiful men in tow, Gregory boasts over-the-top style, an extravagant personality, and a bitter feud with ex-mentor Pierre that began after he dramatically quit working with him.
Following a career mainly in French television, Binard will appear on Emily in Paris as an endearing, sociable Saint Tropez nightclub owner named Laurent G, whom TVLine describes as "a party boy who never grew up." In Season 2, Laurent offers to promote one of Emily's brands, but then she learns his relationship to Savoir is "more complicated than marketing."
Does Camille Like Emily?
Could Emily in Paris Season 2 include...a throuple? During an interview with Cosmopolitan, Bravo hinted that all those curious looks between Emily and Camille were purposeful. "When [Camille] kisses Emily on the mouth and she's like, 'I'm not sorry.' And then when [Camille and Emily are] in bed, and [Gabriel likes] the picture, it's all little seeds," he said. "Anything could happen between the three of them. I think Darren wants this second season to be really open-minded."
Collins said something similar in a Vogue UK interview. "There are tons of little moments where you're like, '…Does Camille like Emily?' You can't really get a vibe, and I feel like that ambiguity is what keeps Emily intrigued," she said. "I think anyone in that position would be like, you're my friend, but now I have this romantic connection [with Gabriel], and I don't want to hurt you, but… Oh my God! So, you know what, it's really confusing. I feel like the next season will only create more love triangle drama."
The Plot Of Emily in Paris Season 2
Emily was lampooned all over the internet for being an ignorant American, and Star told E! News that we'll see her grow in Season 2. "I think Emily has some surprising tough choices," he said. "The show's so much about the culture undermining her expectations of how things are and how things seem. And everything will not be as it seems. It's always about challenging her American worldview. We certainly have a lot of forks in the road and a lot of places to go."
While Season 2 will likely include at least one cultural faux pas, Star said that Emily won't be a complete fish out of water this time around. "She's going to be more of a part of the fabric of the world she's living in," he told Oprah magazine. "She'll be more of a resident of the city. She'll have her feet on the ground a little more. She's making a life there."
Emily in Paris' Golden Globe Nomination Drama
On Feb. 3, 2021, the Hollywood Foreign Press Association (HFPA) announced the nominees for the 78th Annual Golden Globe Awards. Emily in Paris nabbed two nominations: Best Musical/Comedy TV Series, and Best Performance by a Lead Actress in a Musical/Comedy TV Series. Lily Collins expressed her excitement on Instagram, but others felt like Emily in Paris' nomination was emblematic of a wider lack of diversity. Many pointed out that critically acclaimed shows from Black creatives, like P-Valley, Insecure, and Michaela Coel's I May Destroy You, failed to get any recognition from the HFPA.
Deborah Copaken, one of the Emily in Paris writers, wrote an op-ed for The Guardian about how their nomination was marred by the HFPA overlooking I May Destroy You, her favorite show of 2020. "Am I excited that Emily in Paris was nominated? Yes. Of course. I've never been remotely close to seeing a Golden Globe statue up close, let alone being nominated for one," Copaken wrote. "But that excitement is now unfortunately tempered by my rage over Coel's snub. That I May Destroy You did not get one Golden Globe nod is not only wrong, it's what is wrong with everything."
Things got even more complicated on Feb. 21, when The Los Angeles Times reported that in November 2020, journalist Kjersti Flaa filed a lawsuit claiming that the HFPA accepted "thousands of dollars in emoluments" from studios in exchange for favorable treatment, like Golden Globe nominations. As an example, the article mentioned that in 2019, more than 30 HFPA members were flown to France to see the Emily in Paris set. While there, Paramount Network treated them to a two-night stay at the five-star Peninsula Paris hotel, where rooms start at about $1,400 a night. They also had lunch at the Musée des Arts Forains, a private museum filled with amusement rides dating to 1850. "They treated us like kings and queens," one HFPA member anonymously told The LA Times.
The lawsuit was dismissed, but questions persist about the organization's ethnics — and whether Emily in Paris really deserved the nomination, after all.
This post will be updated with the trailer, release date, and additional plot and cast details as more information on Emily In Paris Season 2 becomes available.
This article was originally published on