Beyoncé's Hair Colorist Gave Me The "Golden Hour Brunette" Of My Dreams
My natural shade, but better.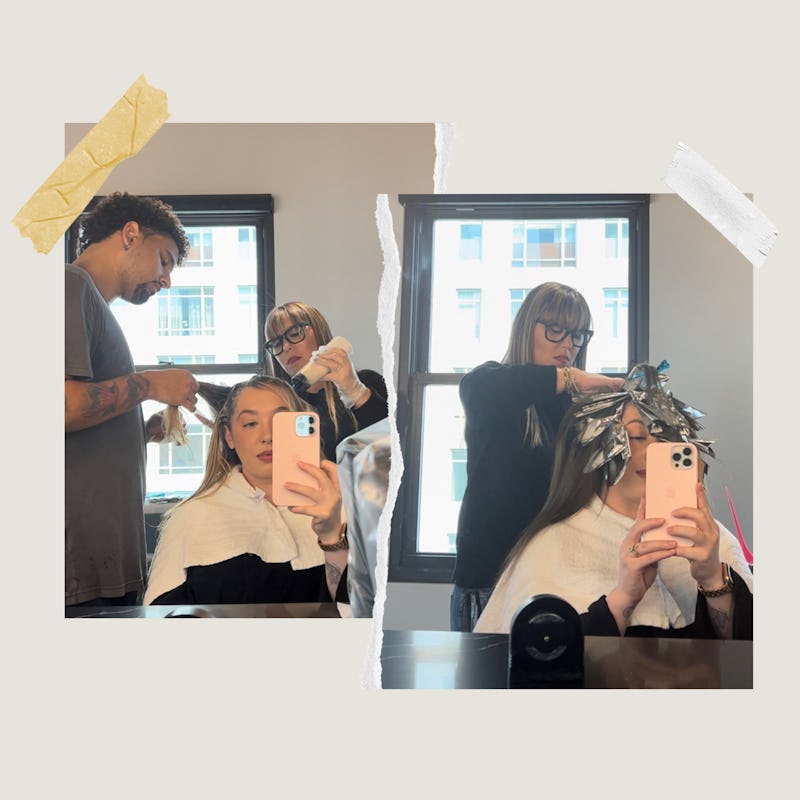 Olivia Rose Rushing
Right around the time when spring's morning chill is replaced by the warmth of summer, I always feel an innate desire for some visual change in my life — which, alongside some new wardrobe staples and a vacation with my husband, most often means I'm ready to switch up my hair. And just as countless others (like Kourtney Kardashian, for one), instead of going a more expected sunny blonde for summer, I've felt the need to go back to my natural brunette hue (but better, of course).
Rita Hazan is famously known Beyoncé's right-hand when it comes to coloring her tresses. Most recently, she gave the icon her "sun-washed blonde" hue for the headline-making Renaissance World Tour. Though I was ready to give up my lighter strands in lieu of something more natural, I still wanted that dimension and light-filled look that she is so known for — so I headed over to the Rita Hazan Salon off of NYC's Park Avenue, with an open mind to whatever Hazan may envision for me.
Admittedly, Hazan was sad to see the blonde go — but she stepped back, taking in the project at hand, and quietly I could see her wheels turning. With a sudden "let's do it," there was a feeling of all hands on deck, as she and her assistant, Lamont Gonzales, began mixing hair color and going straight into my roots with a rhythm that is of true mastery.
In a few words, Hazan has a no-fuss approach to color. And especially as a client, when giving her my trust to make creative moves and choices, she is able to make magic happen. In asking about her process, she notes that she considers all things — skin tone, eye color, etcetera — when dying one's strands. But most of all, she explains how she works off of "gut feelings" (even with her celebrity clients).
She notes that "most people look good with warm tones," and similarly with Beyoncé, she explains how she looks best with "a warm honey blonde, but not too light or ashy" so it doesn't wash her out, especially when on stage. For me in particular, she said we would be going dark, but with so much warmth that it mimics the glow of golden hour. And given that she was using vegetable dyes to "stain the hair," she said it would softly lighten over time.
After a first round of covering my blonde, washing it out, and drying, she took a few quick looks and said "let's go darker." After a second time of dying the entire head, washing, and drying my hair, she joyfully asked, "So much better, right?" Afterward, she added in very few golden highlights at my crown for that naturally sun-kissed effect.
When it comes to color, "golden hour brunette" is a warm-hued trend to watch, with Kendall Jenner the most recent to add in some serious warmth to her espresso locks. And while it may seem like a basic, ultra-natural brunette shade — it's the antithesis to the more mousy, cool-toned brown that could overall wash most out.
While my blonde moment was fun, I definitely noticed a decrease in my hair health and density (especially towards the ends). Not only does the deeper shade suit me more IMO, but it feels summery and warm all the same.