I Tried The Burgundy Mascara For Green Eyes Trick & I'm Hooked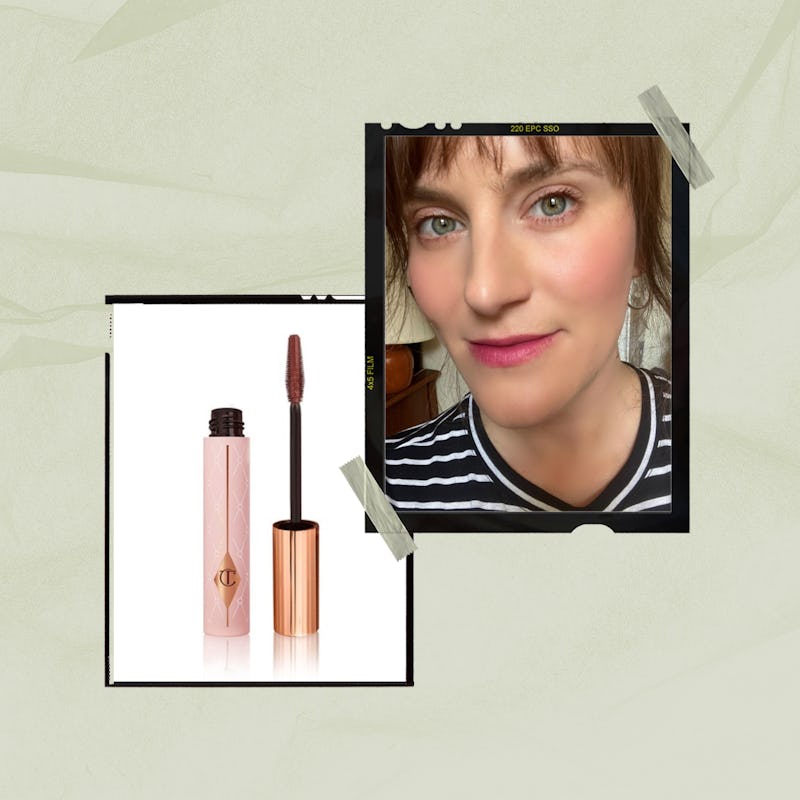 Charlotte Tilbury
We may receive a portion of sales if you purchase a product through a link in this article.
Raise your hand if you remember seeing different eyeshadow palettes for green eyes, brown eyes, and blue eyes on the beauty shelves. Because I do. As soon as my teenage self saw them in a magazine, I ran to CVS in search of purples and browns, because my peepers just had to look good in 10th-grade English class. Cut to today and you can find me with a burgundy mascara in hand — only this time it's because TikTok said it would make my green eyes pop. As soon as I spotted this trend, I knew I had to give it a try.
While the times may change, color theory doesn't. And that's exactly why the burgundy mascara trend has roughly 30 million views on TikTok: Just like those specially curated eyeshadow palettes from yesteryear, it definitely works. For a quick rundown, red is opposite green on the color wheel, which is why shades of maroon, burgundy, brown, and even purple are said to accentuate green eyes. It's the contrast that does the trick.
Brown-eyed girlies look amazing in plums and greens, blue-eyed folks rock bronze, pink, and peach — since orange is opposite blue on the color wheel — while those with hazel eyes look stunning in lavender. The color theory trick applies to everything from your eyeshadow to the color of your clothes, sure — but don't sleep on applying it to mascara. Here's what to know about the burgundy mascara trend on TikTok, as well as what it was like to give it a try on my green eyes.
TikTok creator @makeupbysamanthaharvey showed off the trend using Charlotte Tilbury's Pillow Talk Push Up Mascara in the new Berry Brown shade, along with the brand's eyeliner in the color Pillow Talk. After a few swipes, her eyes appeared to go from a light shade of hazel to a brighter green — and I immediately hit the like button.
Next, I spotted TikToker @glambythegram applying three coats of L'Oréal Paris Voluminous Mascara in the shade Deep Burgundy. She said the effect was subtle, but I thought the reddish hue added a fun pop of color — and it definitely brought out the green in her eyes.
As someone with lighter lashes, green eyes, and reddish bronde-y hair, I hoped the burgundy mascara would work for me, too, especially since I saw comments about redheads rocking the look. After several swipes, I was pleasantly surprised.
I followed the advice from the creators on TikTok and applied quite a few coats of the Charlotte Tilbury berry mascara, taking time to separate my lashes. To finish the look, I dabbed on BB cream and a blob of berry-colored lip and cheek stain. The end result? IMHO, my green eyes did look greener.
Typically I go for black mascaras — sup, Covergirl Lash Blast — but that only darkens my lashes and adds a little length. With the burgundy mascara, my eyes looked brighter thanks to the way the browny purple tones brought out shades of green. The unexpected pop of color made me feel fancy, too, which is always a bonus.
I noticed that the burgundy tones were much more noticeable in the sunlight, so I'd say this is the perfect daytime mascara for anyone looking to change things up — and maybe make lingering eye contact with someone in a cafe. I'll definitely be keeping my burgundy wands in my makeup bag, right next to my purple eyeshadows.