I Tried Dermaplaning To Help My Hormonal Skin
What to know about the DIY facial treatment.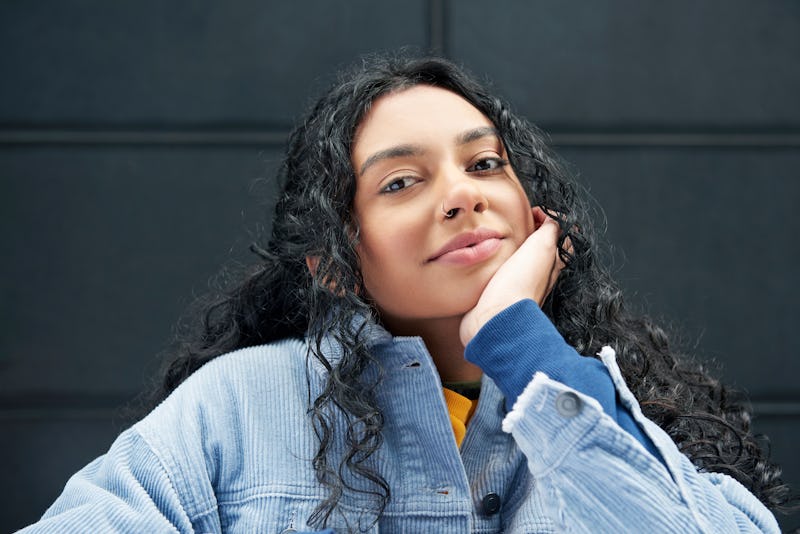 Getty Images/ We Are
My relationship with my skin is tumultuous — sometimes it's well-behaved, and other times it's that kid who's throwing a tantrum on the floor at Target. Less metaphorically speaking, I've recently gotten off of birth control, which has led to a slew of skin woes. But I've recently found solace in dermaplaning at home.
As my body's adjusted to not taking birth control anymore, my skin has revolted with hormonal acne, clogged pores, and newfound peach fuzz in areas I didn't have it before. And that's on top of my regular skin concerns, like hyperpigmentation and bumps that just won't go away. I was about to give up on treating my complexion and hope that things would calm down with time — but, as a beauty writer, I have about 50 skin care products arriving at my apartment each week. This is how I came across the Jenny Patinkin Pure Skin Smoothing Tool, a dermaplaning razor.
What Is Dermaplaning?
If you're not familiar, dermaplaning is a facial treatment that uses a tool with a small blade on it that you glide across your skin. So, yeah — basically it's shaving your face. You can get it professionally done by an esthetician — a treatment that usually costs somewhere between $75 to $150. But at-home dermaplaning tools exist... and it's pretty easy to DIY.
Why shave your face, you ask? There are plenty of benefits to the treatment. The most obvious, of course, is it removes any peach fuzz or unwanted facial hair. But the crux of dermaplaning is that it's a physical exfoliant that sloughs off dead skin cells, promotes cell turnover, evens out skin tone, and helps the rest of your beauty products penetrate deeper into your skin. TBH, I was drawn to the tool purely for getting rid of hair on my face — but I soon discovered the other benefits are just as enticing.
This particular tool is only $18, and each of the Jenny Patinkin razors can be used once for the full face and a few more times for touchups. Not only that, but they're a more eco-friendly option: The dermaplaning tools are made of wheat straw-based bioplastic and came wrapped in pink heart-shaped peanuts that dissolved in the water.
My Skin Post-Dermaplaning At Home
It can feel intimidating if you're taking a razor to your face for the first time. I followed instructions to a T: I thoroughly cleansed and towel-dried my skin, held my cheek taut, and glided the dermaplaning tool in quick, downward strokes. About 15 minutes later and I was done.
The first thing I noticed after finishing my full face was the... hairballs of peach fuzz I was cleaning off the razor's edge. I hadn't noticed it before, but some of the shadowing I assumed was part of the angles of my face was in fact just a bunch of very small and thin hair. There was instant gratification to that part — I liked being able to see how much fuzz I swept off my face. There was also an immediate result to that: unhindered by the tiny hairs, my skin suddenly looked brighter and more clear, especially around the jawbone.
The other benefit took a couple of days to notice. It's tough finding the right physical exfoliant when you have sensitive skin (as I do). For the most part, I avoid them — hence the continually clogged condition I mentioned previously. But the dermaplane razor took (what I assume was) a ton of dead skin cells off my face without any noticeable irritation. Three days out it looked like I had gone to a professional facialist.
Dermaplaning also purportedly has hyperpigmentation-lessening effects, but I haven't noticed them yet (TBD). As someone with finicky skin who's never found the perfect exfoliant, the clear, fuzz-free glow I've gotten from dermaplaning has me hooked — so I'm incorporating it into my regular beauty routine from here on out.
Studies referenced:
Neill, U. (2012). Skin care in the aging female: myths and truths. The Journal of Clinical Investigation. https://www.ncbi.nlm.nih.gov/pmc/articles/PMC3266803/
Rodan, K. (2016). Skincare Bootcamp: The Evolving Role of Skincare. International Open Access Journal of the American Society of Plastic Surgeons. https://www.ncbi.nlm.nih.gov/pmc/articles/PMC5172479/