Theophilio's Edvin Thompson On Ice Spice's Eras Tour Jumpsuit
He tells Bustle the inspiration behind one of 2023's buzziest looks.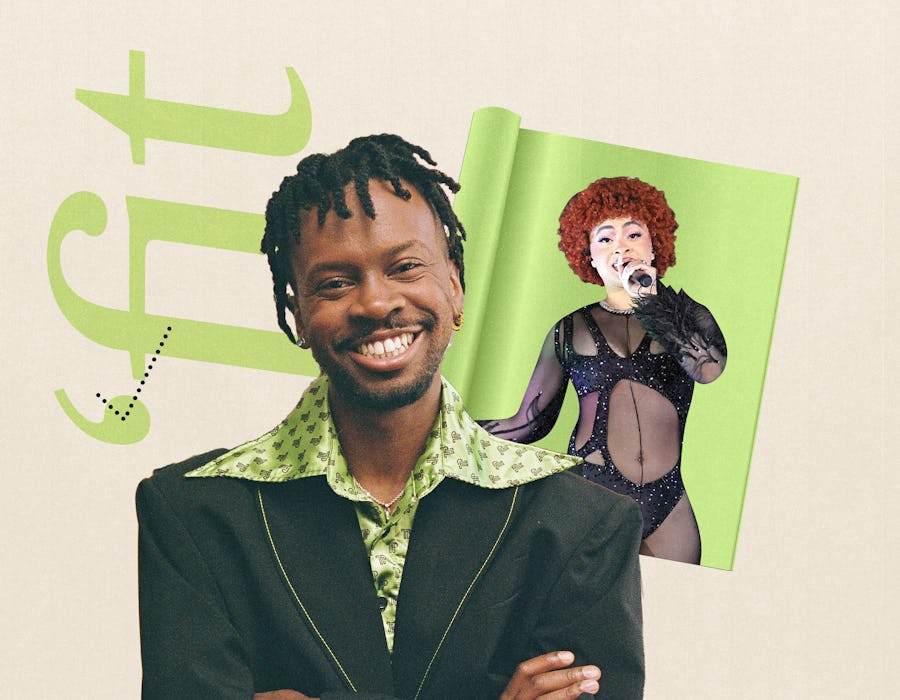 Courtesy of Ecco Domani, Kevin Mazur/TAS23/Getty Images Entertainment/Getty Images
Taylor Swift and Ice Spice's "Karma" remix is easily one of the most-talked-about performances of the year. When the rapper made a surprise performance during the New Jersey leg of Swift's buzzy Eras Tour, the pair duetted in coordinating, bejeweled outfits. Leaning into the "spice" part of her stage name, Ice wore a sheer catsuit covered in feathers and rhinestones. The man behind that saucy number is Edvin Thompson, founder of fashion-favorite brand Theophilio.
"I really genuinely loved, loved, loved, loved her verse," the designer tells Bustle. "It was an amazing opportunity to create something that was very sexy [and] champions the brand, because I do consider my clothes very, very sexy." Instructed to make the rapper look like a "new-age Cher," Thompson says his team created the now-viral look "within two to three weeks — ideating, creating a pattern, sample, and sketching. It was very seamless."
If Thompson's name sounds familiar, that's because he's been making waves in the fashion industry for years. Since launching Theophilio in 2016, he's become one of fashion's brightest stars, even taking home the CFDA award for American Emerging Designer of the Year in 2021.
"I work very, very hard," Thomspon said. "I've been operating from a very scarce space in the beginning, and out of that scarce space, it's been amazing products." Those products extend far beyond his own celebrity-backed label. He has partnered with brands like Luxury Stores at Amazon, and most recently, Ecco Domani, where he designed his own bottle of Pinot Grigio.
But perhaps his most notable full-circle moment was being name-checked in the Gossip Girl reboot last December. After all, he was "totally obsessed" with the original as a kid. In Season 2, Upper East Side's new queen bee Julien Calloway (Jordan Alexander) dons a striped jumpsuit boasting the brand's trademark Carribean-inspired hues. When asked the brand, she responds, simply: "Theophilio."
Ahead, more on the Eras Tour, Gossip Girl, and the advice he received from Telfar Clemens.
Could you tell us a little bit about the inspiration behind Ice Spice's Eras Tour look and how that collab came to be?
I knew her stylist, Marissa [Pelly]. She sent over a creative deck on the direction they were looking to go. She wanted Ice to be somewhat of this new-age Cher. This would be a really, really cool debut moment for her and Taylor Swift. It was an amazing opportunity to create something that was very sexy [and] champions the brand, because I do consider my clothes very, very sexy. I want people to feel good in my designs, and she definitely echoed that.
Kevin Mazur/TAS23/Getty Images Entertainment/Getty Images
Kevin Mazur/TAS23/Getty Images Entertainment/Getty Images
Kevin Mazur/TAS23/Getty Images Entertainment/Getty Images
Why did you select the sheer jumpsuit specifically for "Karma"?
It's Taylor Swift's tour, and usually, it's more of these somewhat gaudy, very sexy, bright pieces. Working with different textiles and trimmings, it was right up my alley — especially, with the rhinestone embellishments. It's just an echo of our design aesthetic over here at Theophilio. It's somewhat similar to our souvenir "I Love TP" T-shirt, and it also reminded me of when I did Alton Mason's custom [look] for his very first Met Gala, back in 2021. So, I wanted to really follow that cadence.
In Gossip Girl, Jordan Alexander wore a Theophilio look and name-checked the brand. How did that come about?
I wasn't told directly that it would be part of the script. I was so excited that [they chose] one of our hero products: our sleeveless pleated rasta jumpsuit, a complete stunner. Her wearing that trench coat, the bag, and the heel — it was right on cue. It was such an amazing moment. I was just like, "I would totally wear this to a party, for sure." And, ironically enough, it somewhat represented the Ecco Domani bottle that I designed. I loved that.
Tell me more about the Ecco Domani wine collab. What elements are quintessentially Theophilio?
The black, gold, and green, really represent my Caribbean heritage — Jamaica, of course. Green is somewhat of their hero color, and it's the same over here at Theophilio. So the whole process came naturally. I found it a very cool and unique way to extend the brand into the wine industry.
Celebrities like Keke Palmer, Chloe Bailey, and Bella Hadid have worn your pieces. Which meant the most to you?
That Keke Palmer moment was very gratifying, because she's someone who I look up to — especially, her being in the industry for over two decades now. Her wearing my piece in the British Vogue — I'm like, "Wow, she's wearing a dress I made with my hands." It was amazing. Shout out to Law [Roach]. I'm so happy that he created that moment for me.
I believe the shoe that she wore was Brother Vellies and, Aurora [James] also coming from Caribbean descent, it was a very important moment for me. I feel like that's the most genuine, honest way we can really support each other — just really amplifying our true voice.
Who's your dream client to dress?
I would absolutely say Beyoncé. I even [drafted] up sketches for her world tour, fingers crossed. Of course, Rihanna. I feel like she echoes our ideals. We just share the same message: really want to champion where we're from, be a pillar of our community, and just speak to the world about our community through our work.
Is there a piece of advice you've gotten from another designer that really stuck?
Telfar Clemens. I asked him at [a] party once: "I'm progressing. There's obstacles every day. How have you overcome all of that?" Because Telfar is it. His community is my community. He just shared: "You already have it. Just continue." I felt that.
This interview has been edited and condensed for clarity.