Billy Porter's Wings & 2 Other Emmys Looks Worth Copying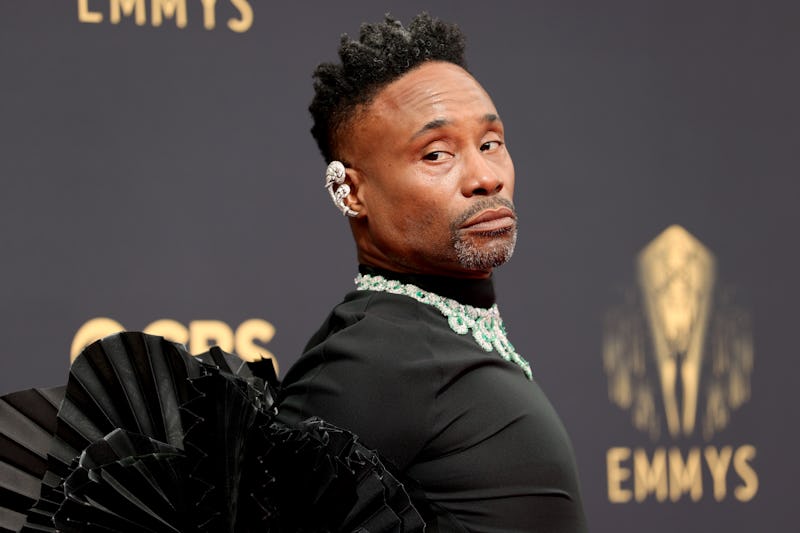 Rich Fury/Getty Images Entertainment/Getty Images
The Emmys red carpet is always one to watch, but you can't help but think that the first one after lockdown was a bit more fun, more whimsical, more glam. As in-person events are just starting up again after a year of virtual gatherings, celebrities are pulling out all the stops when it came to fashion.
Yes some are still taking the safe route, but luminaries like Billy Porter, Dan Levy, and Anya Taylor-Joy made a bold fashion statement, embracing bright color like blue and yellow, and fancy flourishes like feathers.
While you likely don't have plans to hit your next cocktail event in, say, Taylor-Joy's luxurious yellow cape, you can use those looks to inspire your going-out outfits.
Take Porter's fairy wing ruffles, for example. Those are easily replicated with the feather trim look that's trending this season, whether you choose a turtleneck with details along the sleeves or an off-shoulder dress with a textured neckline.
From Anya Taylor-Joy's yellow ensemble to Dan Levy's all blue layered suiting look, take a cue from the most stylish red carpet stars when building your wardrobe this season. Shop looks inspired by the best Emmys 2021 outfits ahead.
Bustle Shop is Bustle's shoppable guide to editor-approved buys in fashion, beauty, wellness, and lifestyle. We may receive a portion of sales if you purchase a product through a link in this article.
Bustle Shop brings you the editor-approved buys we can't get enough of and think you'll adore, too. Best of all, you can shop all of the products above directly on this page without visiting multiple retailers. Simply click on an item to learn more, choose your size or favorite color (if applicable), and then hit "add to cart." When you're done, you can click over to your cart in the top right corner of your screen to purchase all your stellar selects at once. How easy is that?
Questions about shipping, returns, or your order in general? Click here for more information.
Explore more of Bustle Shop (and our fashion, beauty, and lifestyle must-haves) here.