9 Pro Tips For Getting Perfectly Precise Eyeliner
A sharp wing is within reach.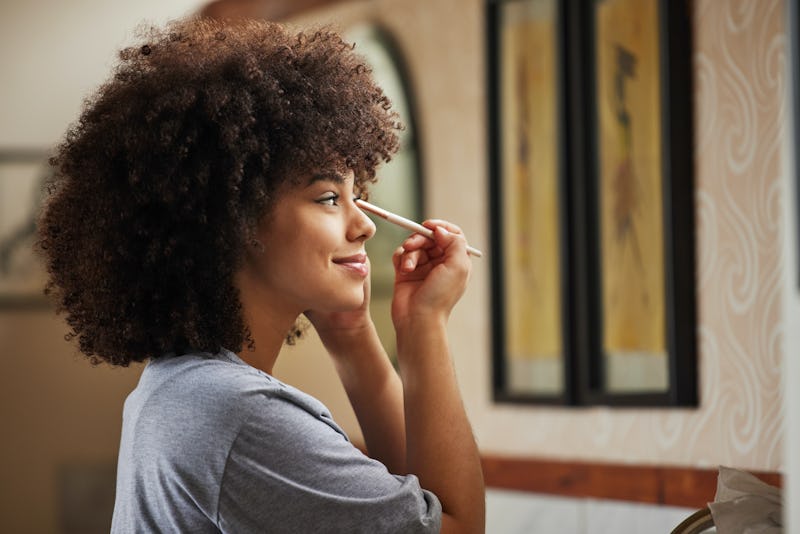 PeopleImages/E+/Getty Images
Eyeliner can easily level up your overall makeup look, but application isn't always so easy. Very few people have perfectly steady hands — but thankfully, professional makeup artists are willing to share their expert eyeliner tips for shaky hands that will help you create crisper, more precise lines. (And just in case you make a couple mistakes along the way, there are some quick fixes below, too.)
Read more: 21 Eyeliner Tips For Hooded Eyes That Are Totally Genius
Even if you already have the basics down, attempting to recreate a graphic eyeliner look can be a little (or a lot) more difficult and require more artistic abilities. You may have scrolled through Instagram or TikTok and spotted some of the many eyeliner hacks on the platforms, showing how items like dental floss and even a banana can create perfectly even eyeliner.
Luckily, the advice below doesn't involve household items or produce. In order to get practical and straightforward eyeliner tips for shaky hands, Bustle spoke to Terri Bryant, celebrity makeup artist and founder of Guide Beauty, and Charlie Riddle, Stila's global beauty director. It could simply be a matter of switching to a different eyeliner formula or adjusting the way that you hold your makeup brushes. Read on and you'll be applying like a pro in no time.