9 Winged Eyeliner Hacks That Make Cat Eyes Ridiculously Easy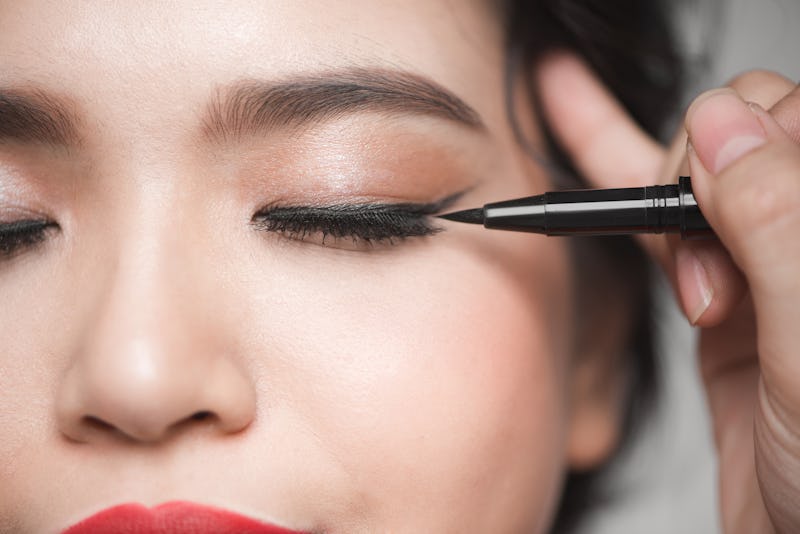 Shutterstock
When you think of winged eyeliner, you might think of a cat eye, the timeless look immortalized by icons like Sophia Loren and loved by modern-day pop stars like Ariana Grande and Dua Lipa. Adding a little flick to your liner is an excellent way to elongate and enlarge the eye — but the distinct, slightly upturned and curved direction of the liner can be tricky to master, even for the most dexterous of makeup artists.
Getting the perfect angle on both eyes is a challenge, too; you might have attempted to extend your eyeliner before, only to end up with mismatched, uneven wings that looked more like distant cousins than identical twins. Luckily, just as there are a ton of general eyeliner hacks on TikTok, there are also a number of beginner-friendly tutorials depicting foolproof ways to tackle winged eyeliner.
Whether you have hooded eyes or monolids, love liquid liner or are a pencil devotee, these genius tricks — which include the use of unconventional materials (like flossing picks and clear tape), winged eyeliner stamps, and a simple connect-the-dots method — will help you achieve a look that's truly *chef's kiss*. Once you take a look, you'll see it's not so hard after all.