Florence Pugh Just Wore Her Most Daring Cut-Out Dress Yet
And she completely owned the look.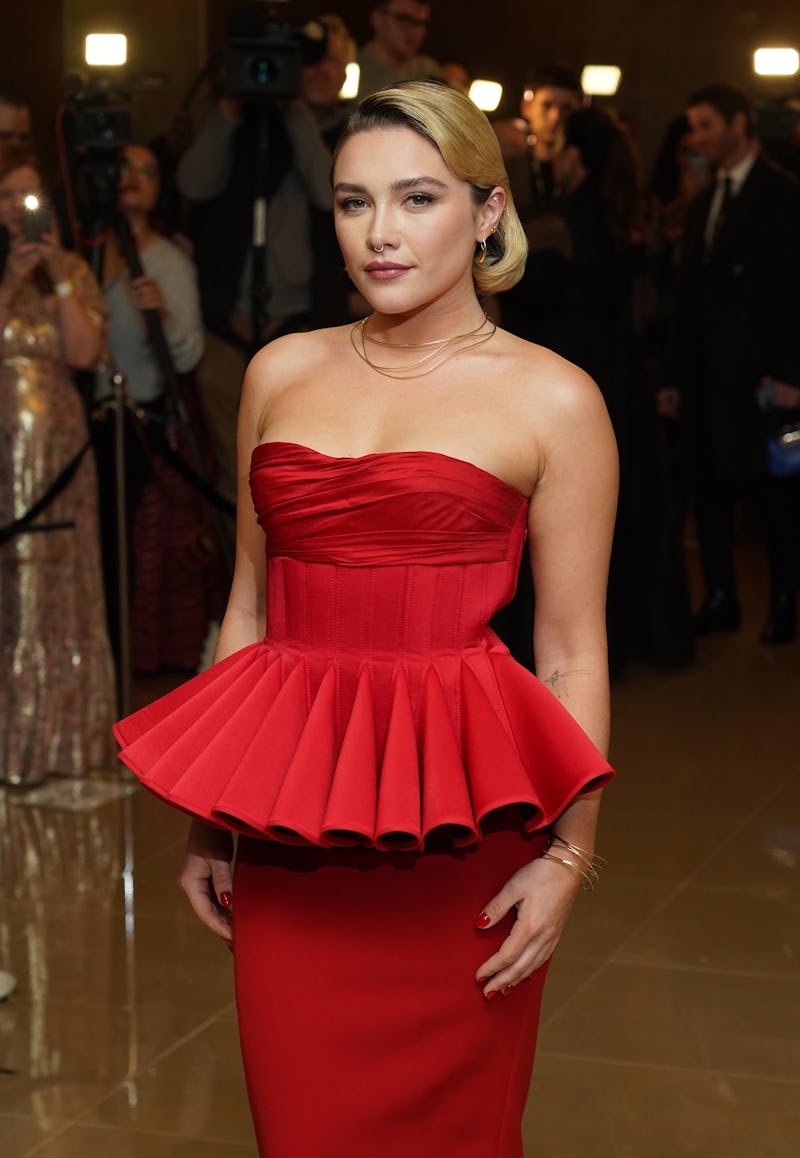 Ian West/ PA Images /Getty Images
Vanity Fair's star-studded celebration of "The In Crowd" featured a new wave of up-and-coming names who are taking over Hollywood, including Austin Butler, Regé-Jean Page, and Emma Corrin. And Florence Pugh took centre stage, embracing the cut-out fashion trend as she opened up about her rapid rise to fame, and how she does her best to stay grounded. The actor is a well-documented fan of striking silhouettes, having wore a pastel yellow Loewe dress with subtle cut-outs for a Vogue feature in January 2023.
In this latest shoot, meanwhile, Pugh wore a black cut-out mini dress by the Australian label Dion Lee. She finished the minimalist look off with slicked back hair and abstract Tiffany & Co. earrings from their Elsa Peretti collection, along with matching bracelets. The look was styled by Patti Wilson, photographed by Steven Klein. Elsewhere, Pugh graced the 29th annual Hollywood Issue cover in a flesh-toned Valentino dress and cape combo.
Accompanying the shoot, the actor also opened up about toxic beauty standards, and the reality of putting together red-carpet looks or high-fashion photo shoots. "There's no pretending with me," she said. "When I put on makeup and step in a wonderful dress, I give credit to the people that made me look like that, and I also want my fans to know that (a) I don't look like that all the time and (b) I also have stress acne, I also have hairy eyebrows, and I also have greasy hair. I've always thought that was a way better way to do it," Pugh pointed out. "Just be honest and open, then no one has to call you out for anything. You are who you are."
That said, certain topics still remain off-limits. As speculation swirls around Pugh's dating life — with recent photos sparking rumours that she's dating a man called Charlie Gooch — she says that she has become better-practised over the years when it comes to carefully curating her social media, and being cautious about how much of her life she shares with fans.
Pugh, who previously dated Zach Braff, said: "The more follows you get, the more aware you are of what it is that you're saying. Not that I say a lot of bad stuff, but not everybody understands who you are when they start following you... Then you get this new wave of people coming in who don't like the way that you are. Suddenly you're not just owning an account for yourself, you're owning an account for millions of people."
Questioned about the Don't Worry Darling press tour chaos, meanwhile, Pugh politely dodged the matter completely. "I don't really feel the need to go into the nitty-gritty details of Don't Worry Darling," she said. "So if it's okay, I'll probably just let that one sit."