Your Comprehensive Guide To Recreating Hailey Bieber's Everyday Makeup Look
It's model-off-duty meets glazed donut.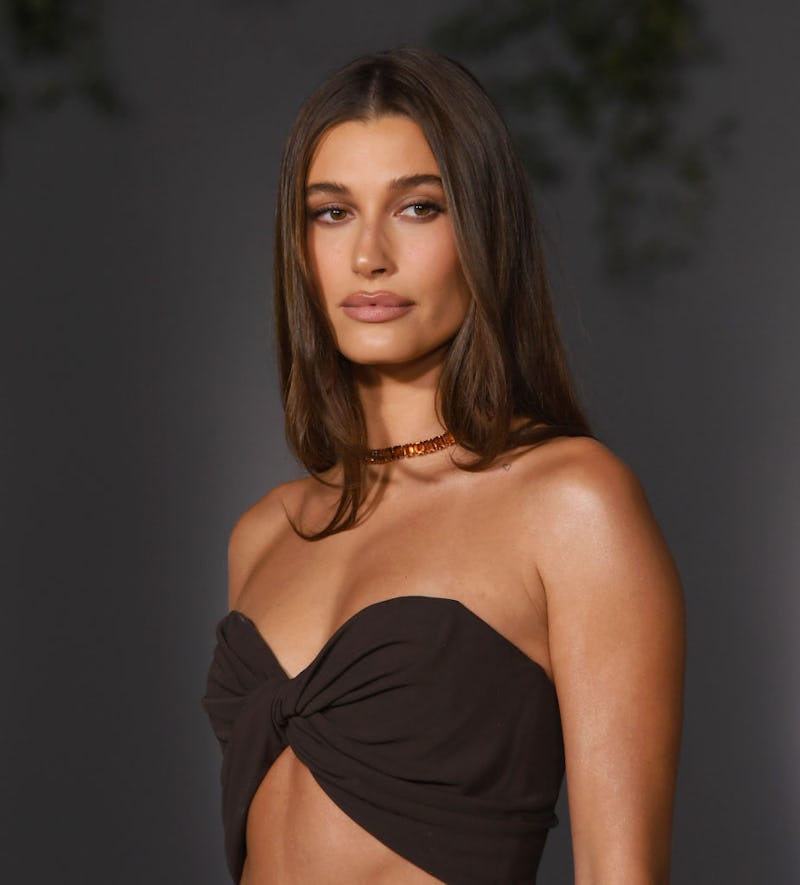 Getty Images/Jon Kopaloff / Stringer
We may receive a portion of sales if you purchase a product through a link in this article.
Hailey Bieber is the queen of the simple, dewy makeup look. You know the one: It's sleek and minimal, yet perfectly glowy like a glazed donut. And if you've seen her videos on TikTok or her YouTube channel, it's very clear that she's got her glam technique down to a science.
Bieber's makeup look is the epitome of that model-off-duty vibe, and it goes with e-v-e-r-y-t-h-i-n-g, whether it's baggy low-rise jeans, oversized blazers, or sweats and a T-shirt. It's basically like her signature glazed donut nails but in skin form.
Of course, if you've ever attempted to nail that no-makeup makeup glow that Bieber wears like a pro, you know that it's not as straightforward as one might think. To look this fresh-faced, there are actually quite a few strategic makeup techniques going on. First of all, it's key to take proper care of your skin, which Bieber largely does with the products from her own line, Rhode. She then lays a good foundation, and then applies washes of color, a touch of contour, and just the right amount of shimmer. Want to give it a try? Here's how to do your makeup like Hailey Bieber, based on her TikToks.
1. Prep Your Skin
Before applying any makeup, Bieber likes to prep her skin with four pumps of Rhode Skin Peptide Glazing Fluid. The trick is to apply just enough product so that your skin looks fresh and dewy without feeling tacky. Next she smooths on the Rhode Barrier Restore Cream. If you don't have it, go for a light moisturizer instead. Finish with a few dots of Weleda Skin Food — or a rich, heavy cream you have on hand — on extra-dry bits or wherever you want some extra sheen. For Bieber, that's her forehead, cheekbones, chin, and under eyes.
2. Apply Contour
Bieber is a fan of makeup artist Mary Phillip's contour trick for a sculpted look. Before you apply concealer or foundation, grab a contour stick and draw lines on your cheekbones, above your temples, and along your jawline. Use a makeup brush to blend and sweep in an upward direction.
3. Blend In Concealer
Bieber likes to mix the Rhode Glazing Fluid with her Kosas Cosmetics Revealer Concealer (she also likes the Milk Makeup Future Fluid) for coverage. Blending some hydrating skin care with the makeup product provides that glow that's so essential to the glazed donut look.
4. Dab On Creamy Blush
Bieber says she can't live without creamy blush, so it always finds its way into her makeup routine. To get the look, the Saie Dew Blush is always a good bet. Dot it on your cheekbones and blend for that natural, flushed look Bieber is known for.
5. Pat On Pink Eyeshadow
For an extra touch, swipe a pink eyeshadow across your lids, then gently bring it down underneath your eyes, as Bieber does here. Tap a small amount of shimmer into the center of your lid for a barely-there eye look that matches your blush.
6. Slick On Mascara
Bieber is often seen applying copious amounts of Milk KUSH Mascara to make her eyes look more awake. Sometimes she'll opt for a more minimalist brown mascara instead of black.
7. Line Your Lips With Brown Liner
Nothing says '90s supermodel quite like brown lip liner. Line (or slightly over-line) your lips to add definition a la Bieber.
8. Apply Lip Treatment
Of course, Bieber doesn't go anywhere without a thick layer of her Rhode Peptide Lip Treatment, which acts as both a nourishing lip balm and a gloss. If you don't have any Rhode products on hand, opt for a lip oil like Versed Silk Slip or ILIA Lip Wrap Reviving Balm for that glowy pout.
9. Brush Up Your Brows
For fuller, fluffier arches, Bieber brushes up her brows. Grab a clear brow gel like Bieber's fave, the Anastasia Beverly Hills Strong Hold Clear Brow Gel, and don't be shy about using extra product —you want that sleek laminated look.
10. Add A Touch Of Highlighter
Once Bieber's done applying her base, she'll add a few dots of highlighter along her cheekbones and her nose. She'll finish it off with just a touch of powder on her T-zone. Et voila: You are now a glazed donut.