11 Heat-Free Hairstyles That Anyone Can Master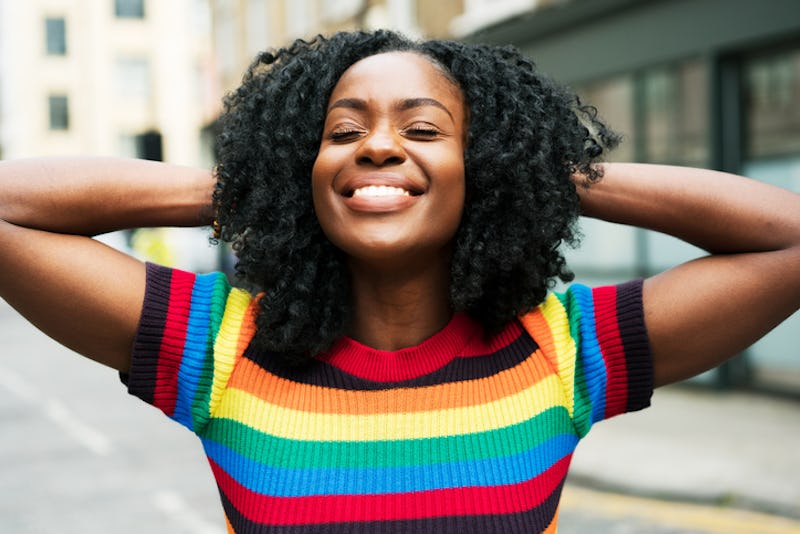 Getty Images/Tim Robberts
Heat-free hairstyles don't need much by way of a sales pitch — especially during the sweltering summer months. Honestly, who wants to spend hours in front of the mirror, sweating under bathroom lights and hot tools? On top of that, using too much heat too often can lead to damaged hair, which could mean dry, brittle strands or once-textured locks that lay limp and lifeless. As celebrity hairstylist and makeup artist Jess Elbaum puts it: "Once your hair is damaged by heat, at a certain point, you have no choice but to cut it. Deep conditioners and treatments only go so far." With this in mind, it's a good idea to keep a few heat-free hairstyles — ones that will cause zero damage to your strands — in your arsenal.
Another reason to opt for a heatless style? According to Antonia Wazir, hairstylist and Mizani global curl specialist, the heat and humidity that come this time of year often makes it difficult to maintain certain styles that you'd typically achieve with hot tools anyway. Still, no matter the season, if you are going to use a hot tool (they're hard to resist sometimes), Wazir says to remember to use the appropriate kind — and styling products — for your hair type. "Some hair can handle high heat and others, specifically fine or color-treated hair, needs lower heat," she explains. Whatever the setting, Wazir says to never, ever skip the heat protectant.
So, if you're looking to stave off heat damage and keep your hair looking healthy without sacrificing the look, scroll on for 11 guilt-free, easy-to-master heat-free hairstyles — there's one for every mood and hair type.
1. Robe Curls
If you want to achieve beachy waves or curls minus the hot tools, consider robe curls. All you need is a thick belt from a robe, your favorite hairspray, a couple of hair ties, and a good night's sleep. Follow user Jessica Vu's instructions and you'll wake up with such gorgeous volume and bounce — no one will believe you made it without any heat.
2. Twist Out Curls
Kinky hair types know that the twist out is a classic when it comes to achieving tight, defined curls. While most curly gals have their own tried-and-true techniques, with some curl-defining cream, hair oil (and a bit of patience), YouTuber Trophie Douglas shows how you can rock spring-like curls without any hot tools.
3. Flexi Rod Curls
No natural hair care kit is complete without a set of flexi rods. Here, user TheChicNatural demonstrates how, with just mousse, medium and large rods, and a bit of edge control, you too can achieve fluffy curls that are perfect for the office or the beach.
4. Messy Bun
Perfect for lazy days, a night out, and everything in between, user Alexsis Mae shares tips on how to achieve your new favorite heat-free messy bun. On second or third-day hair, spritz your roots with dry shampoo, hit the shafts with hairspray, and then throw your locks into an effortless-looking bun.
5. Heatless Blowout
Voluminous '90s blowouts are here to stay all summer long — and you can get the look without using a blow-dryer. Here, user Cool Calm Curly uses curl formers to stretch and subtly curl her hair for the natural girl version of the trend.
6. Braid Out Curls
The cousin of the twist out is the braid out. On dry, stretched hair, user Shaneice Crystal zhuzhes super voluminous curls with just hair butter, a little holding gel, and a mix of thick cornrows in the front and single braids in the back.
7. Beach Waves
If you need another way to accomplish soft beach waves without a hot tool, consider user Beauty Confessionz' method. Starting on hair that's about 80% dry, spritz your strands with your go-to texture-defining spray and then use your hands to scrunch. Once your hair's dry, it'll have the perfect barely-there wave.
8. Pull-Through Braid
If you want to add a head-turning updo to your repertoire, then check out this tutorial from Another Braid. It may take some practice to nail, but with patience, a bunch of hair ties, and zero heat, you can rock this pull-through braid that'll look great at both a dressed-up affair or a summer festival.
9. High Puff
For an easy natural hairstyle that requires no heat, opt for a high puff. Get shampooed hair nice and hydrated with plenty of leave-in conditioning cream and oil, and then, as user Tupo1 demonstrates, gel your edges and use a shoestring to secure your hair into a cute pineapple.
10. French Braids
Two cornrowed French braids always pair nicely with a summer day spent out and about — and, of course, zero heat is required for this version. User Rayann410 breaks down the easy style, which simply calls for hair butter, a strong brush, and a bit of gel at the edges.
11. Bohemian Front Row Braids
In need of another heat-free braided look? Consider this "front row" face-framing variety. Here, user Amber Fillerup offers a how-to for the intricate design, which is easier to achieve than it may look.
This article was originally published on