Love Island Tanyel's Latex Versace Dress Was Gifted By A Former Islander
Did you recognise the blue number?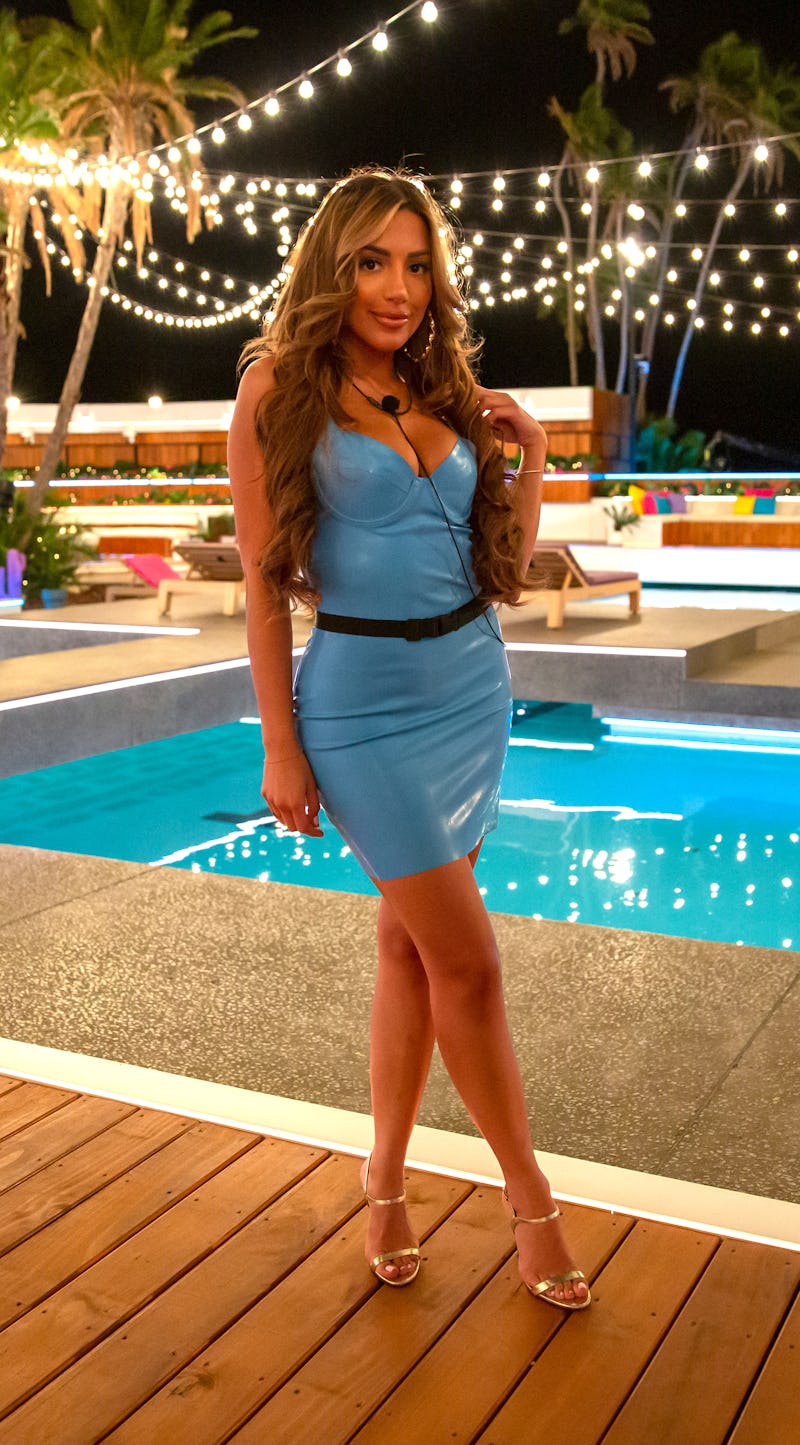 eBayUK
On Jan. 25, the current batch of contestants partied it up at a '90s themed bash in the Love Island villa, soundtracked by bangers of the era like Black Box's house classic "Ride on Time." Rising to the occasion, the entire gang donned double denim, diamante sunnies, and bucket hats, while Tanyel rocked up in an eye-catching, and strangely familiar dress. If her pastel-blue Versace number has just conjured up a strong sense of deja vu, you're on the right track already; it used to belong to former Islander Tasha. That's right, the 2022 contestant made somewhat of a return to the villa via the wardrobe department.
After long attracting criticism for propping up unethical fast-fashion brands, Love Island partnered with eBay UK for the first time in 2022, to kit Islanders out with pre-loved garms instead; a tradition that has continued into this year. As well as appointing dedicated stylist Amy Bannerman to help the Islanders in putting together second-hand looks, former Islander Tasha Ghouri, who came fourth with Andrew Le Page last season, is also on board as a pre-loved ambassador with the brand, and donated her blue dress to the show in the hope it could be enjoyed by another new owner in the future
Thanks to the reality show's partnership with eBay, the dress has now found its way into Tanyel's wardrobe – and fitting for the villa's latest party, the '90s vibes are strong with this one. Tasha previously wore the latex dress, by Versace, out to a reunion dinner with her fellow Islanders in Aug 2022, shortly after Season 8 drew to a close. Most of her fellow contestants attended the party, at Camden mezze spot Azura, a few days after Tasha celebrated her 24th birthday. The baby blue frock is from the Italian designer's Versace Resort 2022 Collection, and has also been worn by fellow Versace fan Hailey Bieber.
Nodding to '90s counterculture fashion, Donatella Versace previously told Vogue that she wanted to capture a "renewed sense of optimism" with the Resort Collection. "This season is about having fun again and it feels right to put something positive into the world."