How To Get Shiny "Liquid Hair" Like J.Lo
It's soft, it's shiny, and stylists say it's actually pretty easy to recreate.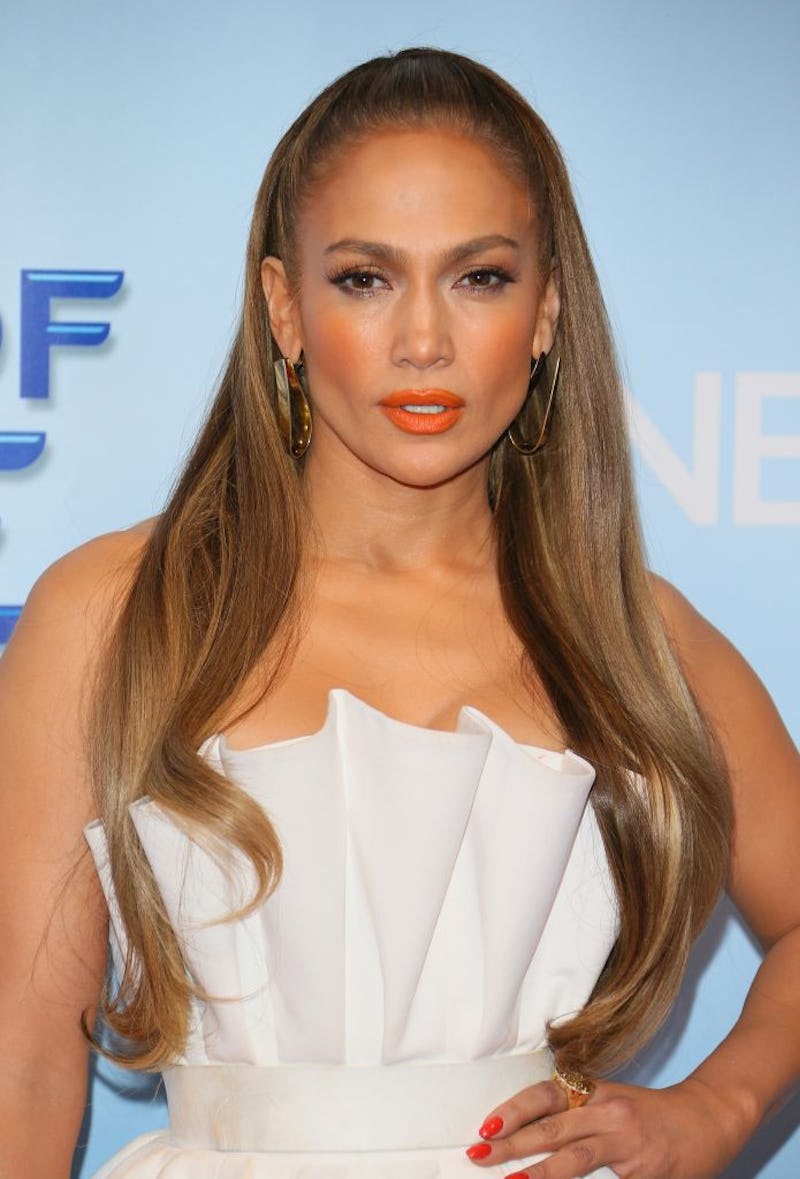 Getty Images/Jean Baptiste Lacroix / Stringer
If you've seen folks on TikTok showing off hair that looks almost like water, you're not alone. This trending style — spotted on celebrities like Dakota Johnson, Kim Kardashian, and Zendaya — has been dubbed "liquid hair" because of the way it glistens while cascading down over the shoulders. It's soft, it's shiny, and stylists say it's actually pretty easy to recreate.
Similar to the mirrored-finish you get with the glass hair trend, liquid hair is silky and totally frizz-free, says Jerome Lordet, an expert stylist and director of Pierre Michel Salon. It's typically seen on long, pin-straight hair, he tells Bustle, but you can also create liquid hair on blunt bobs and other short styles, which is great if you've been considering a chop.
To make your strands flow like a river, you'll need a little wave to reflect the light. "Liquid hair feels like how you would imagine Rapunzel in a storybook — long, full, healthy, 'juicy' hair that flows out of your scalp," says Juliana Ohlmeyer, a colorist at Bassia Bassia NYC. "It's shiny with a mirrored finish and supremely soft without looking wet or oily. It has natural body and is styled smooth with the softest of bends."
According to Ohlmeyer, hair stylist Chris Appleton first mastered this style on clients like JLo and Kim K, who rock glossy strands on the regular. It's why you might conflate liquid hair with brunettes, but Lordet says the look truly works on all hair colors and types. It might take some extra time, product, and effort to get the sleek shine if you have curly hair, he tells Bustle. But it's totally doable.
Here's how to create glossy strands of your own for flowing liquid hair.
How To Get Liquid Hair
1. Schedule A Gloss Treatment
Ask for a gloss treatment at your next salon visit. A Keratin or glossy glaze will add shine by sealing your hair cuticle for extra softness, while also amping up your color, Ohlmeyer says. "A gloss is a quick, easy appointment and will allow you to maintain that shine for up to two months," she says.
To achieve a similar look on your own, try an at-home glaze or gloss treatment like the Kristen Ess Signature Hair Gloss or the It's A 10 Miracle Coily Hair Kit.
2. Take Care Of Your Hair
Since liquid hair is healthy hair, Ohlmeyer recommends applying oil to your roots to add moisture and nourishment. Work it in, smooth the oil down toward your ends, and then braid your hair or put it in a bun.
Let the oil marinate, and then shampoo and condition. "This treats and supports hair health," she says. Ohlmeyer suggests May11 Revitilizing Hair Oil or Virtue Hydrating & Heat Protectant Healing Hair Oil.
3. Apply Serum
Before styling your hair, Lordet suggests applying an anti-frizz oil or serum to wet hair. "Use it conservatively so your hair won't look greasy when dry," he says.
4. Grab A Blow Dryer
Apply a thermal protectant, like ColorWow Dream Coat, before drying your hair with heat. Go section by section with a round brush to get your strands as smooth as possible, Lordet says. Then finish with a blast of cold air on each section to close your cuticle and lock in shine.
"If you're heat styling, a pro tip is to gently run your hands throughout your hair afterward," Ohlmeyer says. "The natural oils in your palms may be enough to smooth any flyaways or gather your ends together."
5. Use A Bristle Brush
A Mason Pearson-style brush, with its oil-distributing bristles, is the best tool to use for a polished blowout. "The key is to smooth your hair while still achieving body," Ohlmeyer says. "You can also schedule an appointment with your stylist to get a blowout, or to show you the best way to achieve this look on your own."
6. Go Back In With A Flat Iron
Once your hair is smooth and dry, "go back over each section with a flat iron, sectioning as if you were blow drying and using a brush on each section," Lordet says. Use the iron to get rid of any excess frizz and to add waves.
Avoid using heavy products like pomades or hairsprays, which can weigh down your strands. "Less is more," Ohlmeyer says. "You can always [add] a couple drops of finishing oil at the ends, but the hair is supposed to have movement." Let it flow and you'll be well on your way to liquid hair that would make Dakota Johnson proud.
Sources:
Juliana Ohlmeyer, colorist at Bassia Bassia NYC
Jerome Lordet, expert stylist, director of Pierre Michel Salon