2023 Is The Year Of The "Power Bob" Haircut
Change your hair, change your life.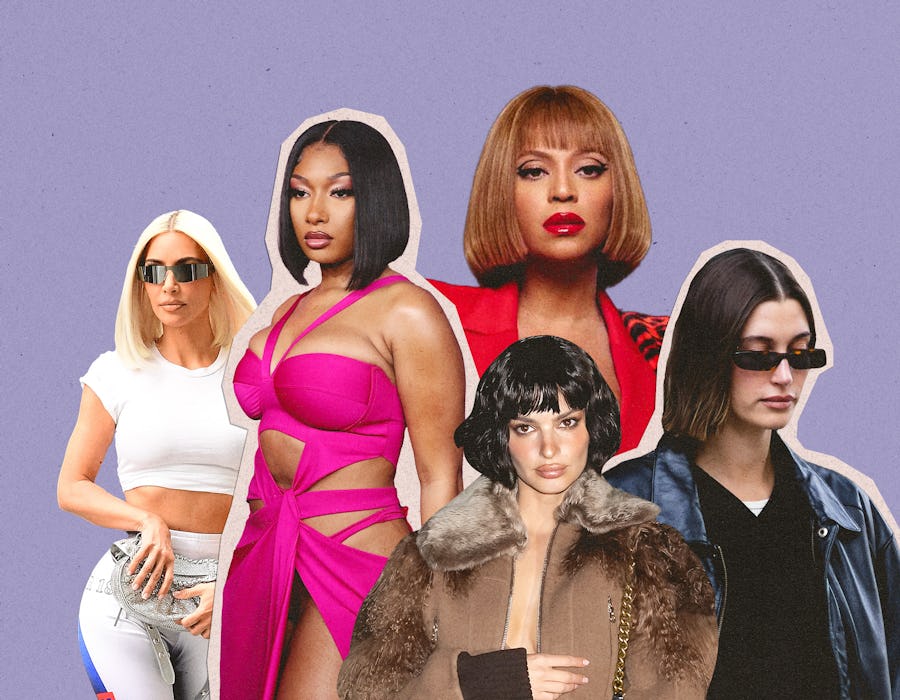 For women of every race, religion, and sexual orientation — hair, perhaps more than any other attribute, often speaks before they do. And whether it be a luscious color or intricately ornate hairstyle, in a way, hair can tell the world who women are, or more powerfully, who they want to be.
In recent history, voluminously long tresses have been closely tied to a certain sensual femininity that is traditionally accepted. And while there is nothing wrong with wearing your hair that way (I've chosen to grow my hair long, too), in some ways, that classically beautiful look is perhaps more safe or expected than others, and is especially comely to the domineering male gaze born of the patriarchy.
The bob haircut, too, has quite the history, albeit much more controversial. Debuting with popularity around the roaring '20s, the short chop actually first dates back to the 1890s and is closely linked to a French singer and actress by the name of Polaire. Her short bob cut was in many ways a form of rebellion in her time, and because of it, she was deemed the "ugliest woman in the world." Though about 30 or so years before it became an accepted look for women, Polaire was fearless in her own right, and showed exactly the kind of woman she was.
Seeing major resurgences in more recent decades — namely throughout the '60s, '70s, and early 2000s — today, it's clear that women are taking back their power, and more literally, taking back the bob.
What Is The Power Bob Haircut?
From sliced bobs to boyfriend bobs; Botticelli bobs to the hybrid bixie style: Countless iterations of the bob haircut have made their way to the mainstream as of late. Though in 2023, it truly is all about the power bob.
What exactly is the power bob, you ask? Well, in a way, it looks exactly as it sounds. Graham Nation, SexyHair's Lead Artist and a celebrity hairstylist who names Shay Mitchell, Hailee Steinfeld, and Emma Chamberlain as clients, tells Bustle: "To me, a power bob is a one length bob embracing the weight and having minimal texture." And typically, the sharp cut it is paired with a crisp middle part or some blunt bangs.
In recent pop culture, the power bob is often seen on women who emit a powerful energy and are truly unafraid to embrace their unique strength and use their voice. Further, Nation notes that the look "just seems so much more freeing" by nature.
Lori Harvey went for the meaningful power bob cut around the launch of her brand SKN by LH (and notably after her headline-making split from Michael B. Jordan), while Megan Thee Stallion arrived to a courthouse with her fresh new 'do in tandem with a purple power suit. Kim Kardashian has opted for the look on countless occasions, though it often seems to make an appearance when she's working towards criminal justice reform and holding her own in a room of officials in Washington, D.C. And most recently, the Rhode founder and undisputed it-girl of 2022 (Hailey Bieber, of course) decided to enter 2023 with the empowered chop.
Should You Consider A Power Bob?
All that to say: It's no mindless feat to wake up one morning and completely change your appearance — *especially* if you're the kind of girlie who has rocked their tried and true inches for some time.
Though if the history and intention behind a mindset-shifting power bob has intrigued you, Nation has some tips you may want to consider before booking your appointment.
"Face shapes play a big part in fringe, face framing, and bobs — [so] I would first consider your own face shape. For instance, if you have a round or pear shaped face, is [a shorter cut] going to elongate your face and help give it balance, or is it going to make your face look more round than you would like? If you do have a more round face, you will want to have the power bob be a little bit longer to elongate your face shape and give it that balance."
Your go-to hairstylist can keep your features in mind to find the power bob length that best suits you.