Your Guide To Fighting Butt Pimples, Straight From Dermatologists
And the best products for the job.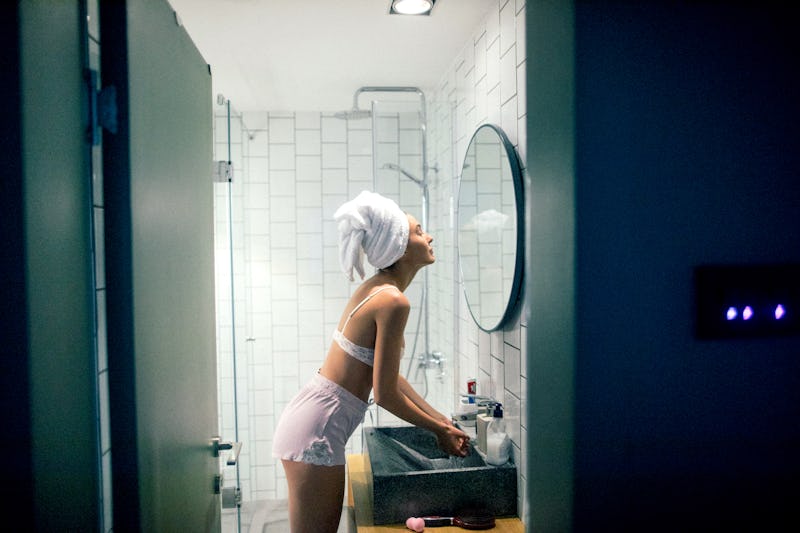 Getty Images/Credit: AleksandarNakic
Look: Butt pimples happen. Even though no one else will see the zits on that part of your body (unless you're wearing a cheeky swimsuit), they're annoying — your bum is supposed to have untouched-by-the-sun, soft AF skin. And so: Want to know how to get rid of pimples on your butt? Dermatologists are sharing all the intel you need.
What's interesting about butt breakouts is that they're not actually considered acne. "They usually represent a condition called folliculitis rather than true acne," says Dr. Joshua Zeichner, MD, a New York City-based dermatologist. The pesky zit appearance comes from inflammation of the hair follicle, he explains, and can show up for all sorts of reasons. "Friction, sweat, and humidity disrupt the outer skin layer, allowing bacteria to enter into the follicles and cause a superficial infection," says Zeichner.
While these pimply bumps are certainly not desirable, the silver lining is that they're extremely common and often harmless. "It's nothing to be panicked about, but it can cause a lot of discomfort and can frankly be embarrassing for people," says Dr. Seemal Desai, MD, FAAD, a board-certified dermatologist based in Plano, Texas. The only time to be concerned? "If you're getting a lot of very painful lesions on the buttocks — the ones that almost resemble small boils — they can sometimes get really big and cause larger infections like a pilonidal abscess," says Desai. "In that case, it's really important to see a board-certified dermatologist to get evaluated.
As for how to quash them so your butt is smooth and healthy? Read on for the star ingredients to look for, along with editor-approved products that do the caboose zit-zapping job.
How To Treat Butt Pimples
The most important thing in your butt pimple treatment is to keep your pores clean, which means ridding the area of any bacteria that can exacerbate your inflamed follicles or lead to even more zits. Both Zeichner and Desai highly recommend using products that contain benzoyl peroxide, a potent acne fighter that targets inflammation.
"Benzoyl peroxide treats not only acne-causing bacteria, but will also lower other bacteria on the skin like Staph, which is the bug most often responsible for folliculitis on the buttocks," says Zeichner, who recommends applying it all over the bum before bed (just note it can bleach dark fabrics, so stick to pajamas you're not a big fan of). You could also just use a BP-based cleanser for less of a mess — Desai says there are plenty of body washes and bar soaps that contain the active ingredient and have the same zit-quashing effect.
Also key? Exfoliate. "I recommend a gentle exfoliating cleanser to remove dead cells and keep the pores clear," says Zeichner. These can contain ingredients like salicylic acid or fruit-based chemical exfoliants (think glycolic or malic acids). Desai is a fan of salicylic as it breaks down oil and debris in your hair follicles. If you're going this route, be sure to use this type of treatment a few days a week, depending on your skin type.
When moisturizing, steer clear of any comedogenic (read: pore-clogging) ingredients. "Be careful with moisturizers," says Desai. "When you're putting them on the buttocks, you don't want them to be occlusive, so avoid anything heavy like petrolatum jelly-based products." These can plug your follicles and lead to even more breakouts.
As for what to buy, these are the top butt pimple treatments I've personally tried that do the trick (and have expert-approved ingredients). Read on to shop.
We only include products that have been independently selected by Bustle's editorial team. However, we may receive a portion of sales if you purchase a product through a link in this article.
Best Products For Treating Butt Pimples
The Multitasking Cream
My personal fave butt pimple treatment is the newly launched Bom Dia Bright Cream. Technically it's an all-over body moisturizer that contains fruit-based alpha hydroxy-acids and vitamin C to brighten and gently exfoliate. After applying it to my bum after an evening shower, I woke up to see my butt zits had shrunken by four sizes – they were smoother, way less inflamed, and barely visible. It also smells like a sweet popsicle that you'd buy on a tropical vacation, so that helps too.
The Drugstore Buy
Zeichner highly recommends this drugstore find, as it uses a blend of gentle chemical exfoliants and tiny sea minerals to slough off dead skin cell buildup to soothe and clear breakouts. And, even though it's an exfoliant, it's gentle enough to use every day if you need it.
The Acne & Scar-Treating Option
If you've got marks from former butt pimples, the Topicals Faded Serum works double duty to lighten those — thanks to tranexamic acid — as it prevents new zits from forming with azelaic acid. You simply squeeze out a tiny amount of the magical glue, apply to your problem areas, and reap the benefit of a brighter, more even-toned buttocks after regular use.
The Mask
This one's unique: It's actually a clay mask for your booty. So if you aren't in the right environment to lie on your stomach with your bare butt in full view for 15 minutes as the treatment works its magic, it may not be for you. For the rest of you, though? The clay in the formula functions the same way as it does in face masks and sucks gunk out of your pores to reduce acne irritation. It also contains willow bark extract, a natural source of salicylic acid, plus sodium hyaluronate for moisture.
The Zit-Vanishing Body Wash
When it comes to breakouts, it never hurts to turn to Dr. Pimple Popper — AKA dermatologist Dr. Sandra Lee, MD — herself. Her skin care line features this benzoyl peroxide-spiked body wash that takes care of the zits on your derriere while you're in the shower, no popping required.
Studies referenced:
Rosso, J. (2008). What is the Role of Benzoyl Peroxide Cleansers in Acne Management? The Journal of Clinical and Aesthetic Dermatology. https://www.ncbi.nlm.nih.gov/pmc/articles/PMC3016935/
Williams, L. (2010). Evaluation of the medicinal use of clay minerals as antibacterial agents. Int Geol Rev. https://www.ncbi.nlm.nih.gov/pmc/articles/PMC2904249/
Winters, R. (2020). Folliculitis. StatPearls. https://www.ncbi.nlm.nih.gov/books/NBK547754/
Zander, E. (1992). Treatment of acne vulgaris with salicylic acid pads. Clin Ther. https://pubmed.ncbi.nlm.nih.gov/1535287/
Experts:
Dr. Joshua Zeichner, MD, a New York City-based dermatologist
Dr. Seemal Desai, MD, FAAD, a board-certified dermatologist based in Plano, Texas