How To Reapply Sunscreen Over Makeup Without Wrecking Your Look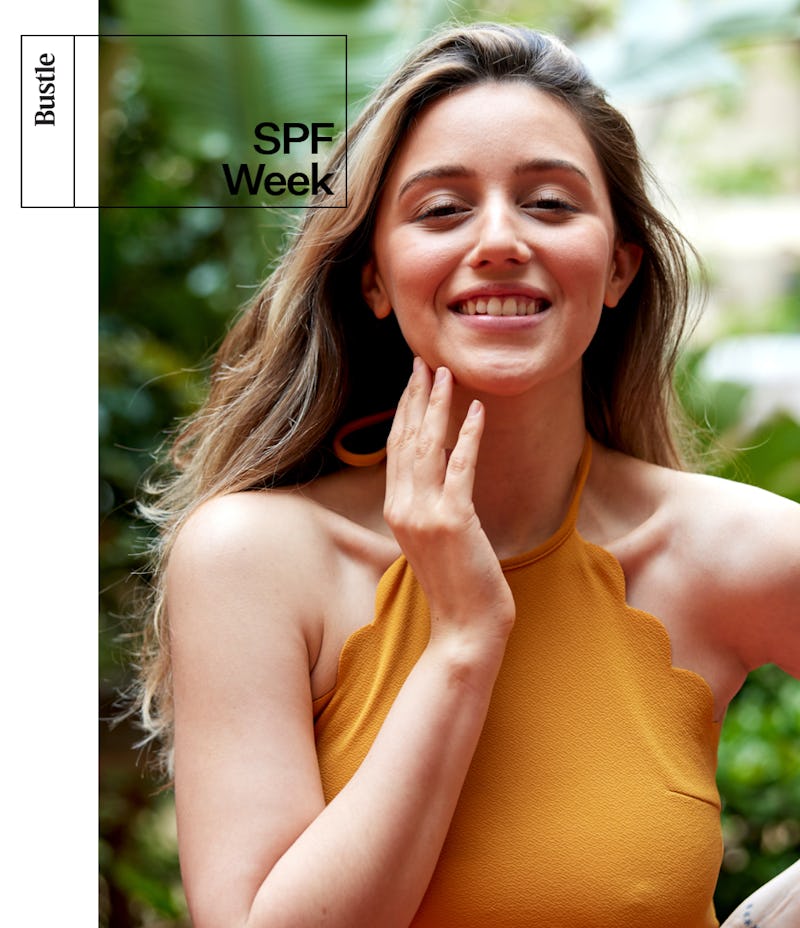 Tempura/E+/Getty Images
Sunscreen is going through a major glow-up. From sunscreen-serum hybrids to SPF that doubles as makeup, these new formulas actually make you *want* to reapply. In Bustle's Suncare Week, we're doing a deep dive on the latest innovations in sun-care, from textures to technology.
You know that wearing SPF is one of the most important things you can do for your skin. Putting it on is easy. But you also know that sunscreen needs to be reapplied roughly every two hours, which begs the question: How do you reapply sunscreen over makeup throughout the day without messing up your look?
To go over some basics, the typical sunscreen will be in a cream or lotion formula — even when you use a tinted or serum-based SPF. But Dr. Nava Greenfield, M.D., a board-certified dermatologist at Schweiger Dermatology Group and Coppertone dermatologist partner, says you can also effectively get your SPF in powder, stick, and spray formulas (though with different tradeoffs). And this is great news because these formats are more convenient for discretely applying (and reapplying) over your makeup.
While these sunscreen categories certainly get a win for their convenience factor, some might wonder about their efficacy compared to the more creamy SPF products you can actually see going onto your skin. No need to stress, though: "If you're applying as directed, which is a generous amount of product on the face, you should be getting the listed SPF protection," says Greenfield. As is the case with all formulas, the exact amount you'll need differs from product to product — so always check the instructions on the label. Dr. Dhaval Bhanusali, M.D., a Manhattan-based dermatologist, says that he believes these kinds of SPF products are fine — just keep in mind the general rule of thumb with daily sunscreen use: "The big issue is people under-apply, especially with powders," he tells Bustle. His take? Proper application means covering the entire circumference of your face with SPF.
Another point of differentiation between sunscreen powders, mists, and sticks is their staying power compared to lotions, says Greenfield. "Some [of these] don't last as long, especially in water or when you're active and sweating," she tells Bustle. In this case, she recommends more frequent reapplication depending on what you're doing. The upside is that these over-makeup formulas usually have the advantage of being more lightweight and therefore less likely to weigh down or clog the skin when you're out in the summer heat.
Ultimately, the plethora of SPF options is a good thing. As Bhanusali puts it: "At the end of the day, the best sunscreen is the one you'll use!" Keep scrolling for the best solutions on how to reapply sunscreen over makeup using three different kinds of SPF.
We only include products that have been independently selected by Bustle's editorial team. However, we may receive a portion of sales if you purchase a product through a link in this article.
1. SPF Powders
One great sunscreen-over-makeup option? Brush-on powders. The powders are generally translucent but still sun-protective, and tend to come in two forms: one is a tint-free powder that doesn't leave a noticeable finish; the second is a makeup-SPF hybrid, aka tinted powders that can be used as foundation or cover-up that also provides sun protection.
Although the latter category has pigment, they tend to be subtle enough that they don't drastically change the look of any existing makeup you're wearing. Dr. Adarsh Vijay Mudgil, M.D., a New York City-based board-certified dermatologist, is a fan of these brush-on formulas. "Powders are perfect if you're wearing makeup," he tells Bustle. "As long as they're SPF 30 and contain either titanium or zinc, they're great." (Titanium and zinc oxides are mineral-based sunscreens that give you a physical barrier of protection from the sun, and they're what you get in powder formulas.)
2. SPF Face Mists
Besides dusting yourself with sun protection, you could spritz it on with a mist. There are the sunscreens with a spray nozzle dispensing method (ideal for your body), and then there are those specifically formulated to work with and set your makeup (the perfect two-in-one for summer, basically).
Face mist sunscreens are an easy way to reapply your sun protection while reaping the added perk of a cooling refresh. Mudgil recommends starting with a more full-coverage SPF lotion or serum before turning to these, then the "SPF mists are perfect for reapplication after applying the base coat," he tells Bustle.
3. Sunscreen Sticks
Sunscreen sticks are a good option if you like balmy textures or want something completely mess-free for your on-the-go bag. "I love these formulas," Mudgil says. "They provide an easy to use, neat way to apply sunscreen." They're also great for ensuring full coverage.
Similar to powders, there are two options. You can pick a foundation or concealer-like stick that has pigment and SPF — this is better for touch-ups throughout the day. But instead of just hitting the spots where the product has rubbed off, you're going to have to apply it all over your face because of, you know, proper sun protection. There are also sunscreen sticks that go on clear, which would be easier to apply over a face of makeup. Just rub the stick onto your fingers, wait for the product to warm up and become emollient, and then tap all over your face.
Experts:
Dr. Nava Greenfield, M.D., a board-certified dermatologist at Schweiger Dermatology Group and Coppertone dermatologist partner
Dr. Dhaval Bhanusali, M.D., a Manhattan-based dermatologist
Dr. Adarsh Vijay Mudgil, M.D., a New York City-based board-certified dermatologist