Twitter's Fashion Huns Have Big Concerns About The Mugler x H&M Collab
"I'm about to abandon my clothing consumption morals."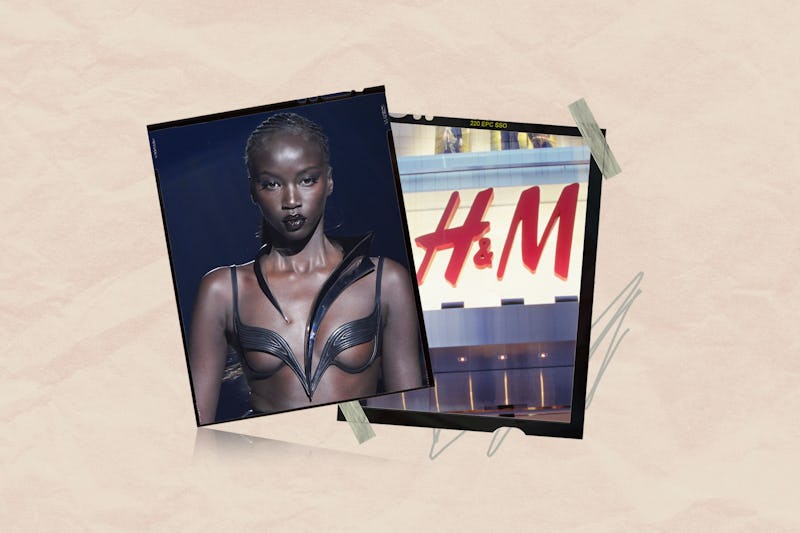 Getty Images/Victor VIRGILE/Erik Freeland
Swedish high street destination H&M is already well-known for linking up with some of the biggest names in fashion for affordable capsule collections. From Karl Lagerfeld and Comme des Garçons to Versace and Stella McCartney, these collabs unsurprisingly prompt massive queues on launch day. Now the chain has announced its latest will be with the French fashion house Mugler.
Founded by the late Thierry Mugler in the 1970s, Mugler is known for its futuristic textures and grand, architectural silhouettes, and has been worn by the likes of Madonna, David Bowie, and Lady Gaga. After mostly retiring from fashion altogether in the early noughties, founder and designer Mugler died in 2022.
His label's iconic designs meanwhile, including the motorbike-inspired corsets from 1992 and the "popstar" bodysuits that have become a trademark under current creative director Casey Cadwallader, are both influential and oft-imitated. Kim Kardashian — another high-profile fan of the label — previously called out the fast fashion brand Fashion Nova when they sold a copy-cat version of her 1998 vintage Mugler gown back in 2019. "It's devastating to see these fashion companies rip off the designs that have taken the blood, sweat, and tears of true designers who have put their all into their own original ideas," she said.
With this in mind, some fans have pointed out the irony of Mugler now linking up with H&M, albeit willingly. The second-largest fashion retailer in the world came second on Earth.Org's list of the world's most polluting fashion companies last year. Others, meanwhile, just have their fingers crossed for a full-blown body-suit comeback.
Here's what the internet is saying about Mugler x H&M ahead of its launch in Spring 2023.