Vanessa Hudgens Is Also Obsessed With Chrome Nails
The actor and singer reveals everything that's in her beauty routine.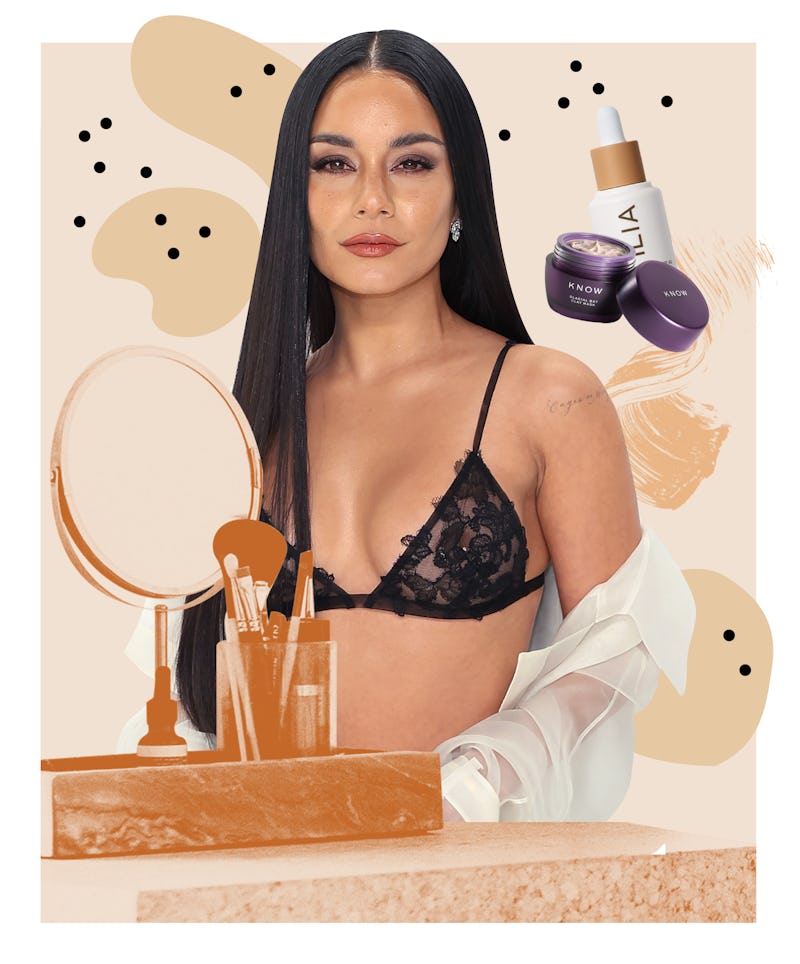 Getty Images/Taylor Hill / Contributor
Beauty Detail
We may receive a portion of sales if you purchase a product through a link in this article.
In Bustle's Beauty Detail, we dive into the beauty bags of our favorite talents for intel on the rituals that keep them glowing and the MVPs (most valuable products) they can't live without. Here, Vanessa Hudgens tells Bustle about the all-in-one makeup product she swears by and the nail trend she's obsessed with.
A scroll through Vanessa Hudgens' Instagram will show that the star loves to have fun with beauty. One day she's rocking braided pigtails under a bucket hat, and the next she's wearing a sophisticated updo on the red carpet. On Halloween, she tends to follow Cady Heron's school of thought, dressing up in intricate costumes versus the more Regina style of just showing as much skin as possible. "I think it's so fun to be able to express yourself and really embrace your femininity and not play to social norms of what is [considered] 'sexy,'" the 34-year-old tells Bustle over Zoom.
Hudgens genuinely loves playing around with makeup and hairstyles, and is particularly into the resurgence of early 2000s trends. (She has been unofficially named the "queen of Coachella", after all.) "I've always been a fan of throwing stickers on my face and playing with color and glitter on my roots," she says. "During the lockdown, I can't tell you how many times I would wake up and be like, 'what cute kooky hairstyle can I do on myself today?'"
While the actor and singer is experimental with hair and makeup, she takes a more careful approach to her skin care routine. "I have very oily skin, really sensitive skin, and I've been dealing with acne for as long as I can remember," says Hudgens, who notes that she's tried "everything under the sun" to keep her breakouts under control. And that's largely why she's relaunching her skin care brand Know Beauty as a line of products that target specific concerns. First up? One product: the Glacial Bay Clay Mask, a purifying treatment that clears out the pores without drying out the skin.
"Clay masks have always been something I've used as someone who's dealt with acne," says Hudgens. "But I had always found them to be way too drying for me, so I wanted to create a product that's going to rid your skin of toxins while also being hydrating — the product I've always needed."