7 Sex Positions For When You're Tired But Horny
Time to properly embrace sleepy sex.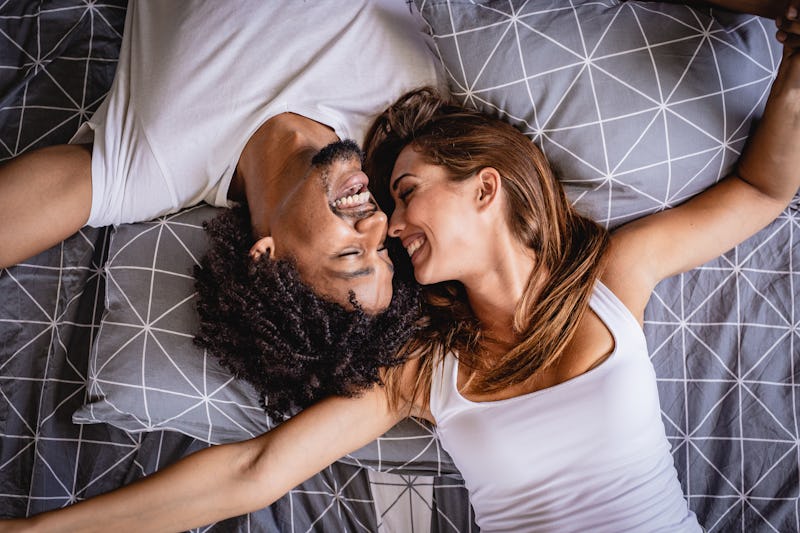 blackCAT/E+/Getty Images
Humans can be chock full of conflicting emotions. We want to go to yoga, but we also want to sleep in. We want to make dinner, but we also really love take-out. And we often want to have sex but are tired at the same time — you know, that lazy in-between where you don't really feel like leaving the duvet, but you're still in the mood.
Well, fear not. While it might be tough to muster the strength to go to yoga, you can definitely have great sex, even when you're out of energy. In fact, sleepy sex can still be great sex, Marla Renee Stewart, MA, a sexologist and relationship coach, tells Bustle, especially since fatigue often takes the pressure off of performing.
When you're in a "hazy," half-awake state, she says sex can feel extra intimate, as you'll be focused on the sensations more than anything else. Of course, it's important to think about the sex positions that'll be easiest to do, too. To properly embrace sleepy sex, you won't want to be flailing around or maneuvering in a way that requires a lot of strength or effort.
Luckily, there are plenty of options that are perfect for a lazy Sunday morning or a late-night romp. Here are the best positions to try, that won't require you and your partner to get out from under the covers.
If you're sleepy but horny, pick a position that's cozy and comfortable. With the right moves, you can still have some great sex even when you don't feel like swinging from the rafters.
Expert:
Marla Renee Stewart, MA, sexologist and relationship coach
This article was originally published on