26 Sex Positions That'll Spice Up Your Love Life In 2022
Bring some "WAP" energy into the new year.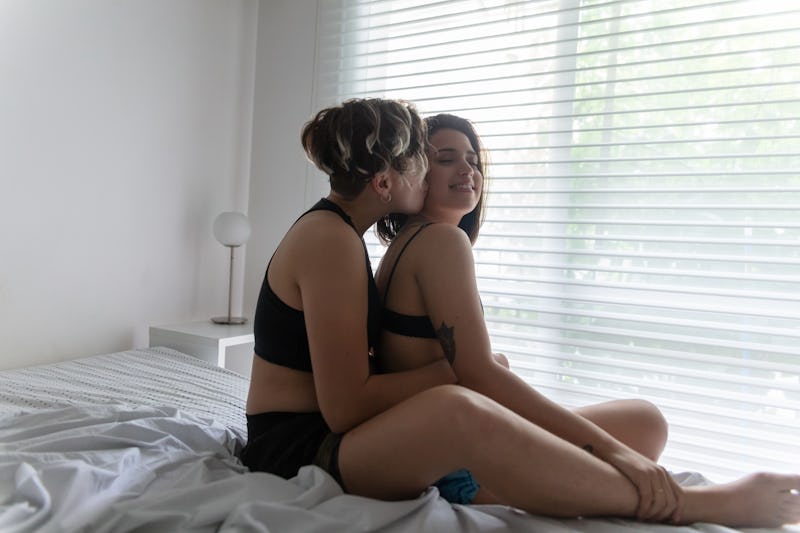 Authentic Images/E+/Getty Images
As wild as it sounds, 2022 is just around the corner. If one of your New Year's resolutions is to spice up your love life, this list of sex positions to try in 2022 will definitely give you and your partner(s) plenty of inspiration to go on. Regardless of what you're looking for in particular, there's something in here for everyone to try in the new year.
For instance, if you're looking to build more intimacy in your relationship, there are positions that'll help you achieve exactly that. According to Gigi Engle, certified sex educator and intimacy expert for SKYN, The Lotus is considered to be one of the most intimate and romantic sex positions.
"It's been a favorite for thousands of years, first appearing in Tantric sex," Engle says. "Instead of bouncing, embrace the position fully. Rock back and forth on your partner's penis, dildo, or pubic region. This will create more closeness and skin-to-skin contact." Deep kissing and whispering sweet nothings in your partner's ear will make this position even better.
Even if your relationship is better than ever, it never hurts to intentionally switch things up — particularly in the bedroom. Besides, experimenting with different sex positions may help you discover interests you never knew you had.
Whether you're looking to deepen your relationship, have more orgasms, or be more adventurous, here are some steamy sex positions to try in 2022.
Sources
Gigi Engle, certified sex educator and intimacy expert for SKYN
This article was originally published on