9 Burpee Variations That'll Test Your Full-Body Strength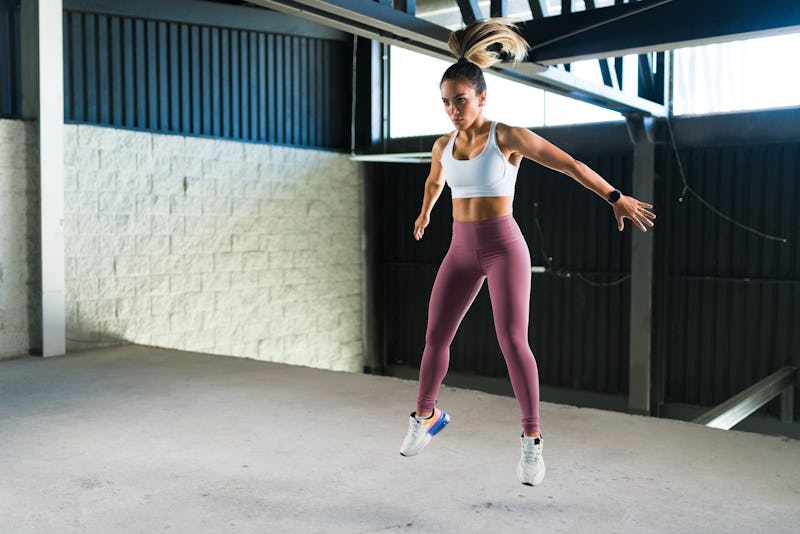 Shutterstock
Few exercises are as dreaded as the burpee. While many people hate to do them, the classic move is a staple for a reason: It delivers a super fast and effective dose of cardio. And since it requires an array of muscles to do, it also counts as a full-body exercise, especially if you incorporate other burpee variations into your workout routine.
No matter which variation you choose, burpees are known for making a workout extra challenging, says Pierre Armand, a NASM-certified personal trainer with Fhitting Room. But that tough factor is why they're so effective: The burpee is an explosive movement that combines multiple tough moves — like a plank, squat, and push-up — into one plyometric exercise that trains your agility and power, Armand explains.
Andrew Lenau, an ISSA-certified personal trainer, likes burpees because they truly do hit every major muscle group: They work your chest, triceps, and biceps during the push-up; your shoulders, back, and core during the plank; and your legs and glutes in the squat. Moving through them all really quickly, as you're supposed to, is what boosts your heart rate.
To make the most of the exercise, Armand recommends focusing on form. To do a classic burpee, start with your feet shoulder-width apart. From there, lower into a squat, place your hands on the floor in front of you, then kick your feet back into a high plank. Lower your body with your back straight, do a push-up, then spring your feet back into a wide squat. Complete the move by jumping into the air.
While you can always stick with the traditional version, there are plenty of burpee variations to try. Read on below for a few options, including those that make the move even more challenging.
Studies referenced:
Machado, AF. (2018). Description of training loads using whole-body exercise during high-intensity interval training. Clinics (Sao Paulo). doi: 10.6061/clinics/2018/e516.
Sources:
Pierre Armand, NASM-certified personal trainer with Fhitting Room
Andrew Lenau, ISSA-certified personal trainer
Kate Cherichello, certified fitness professional, founder of Be. By Kate
TJ Mentus, ACE-certified personal trainer