7 Challenging Yoga Poses That Turn Up The Heat
For when you're feeling brave.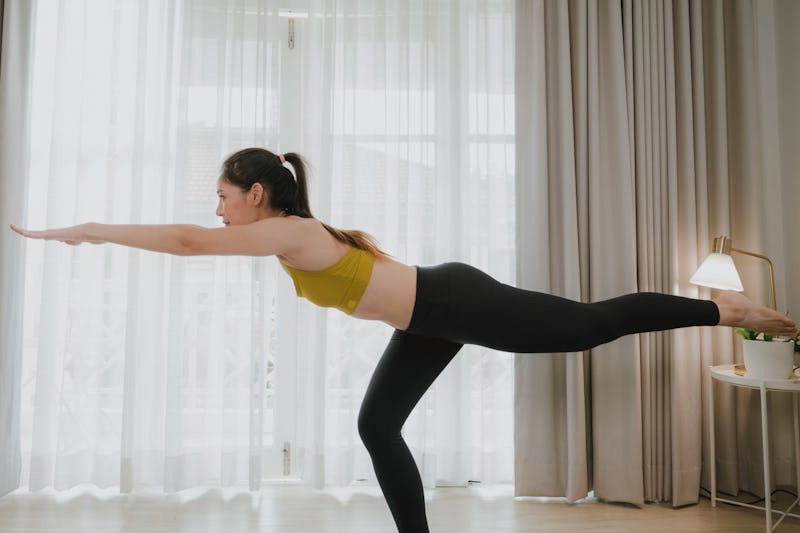 Getty Images/Chanin Nont
There are so many reasons to add a few more challenging yoga poses to your lineup of forward folds, warriors, and downward dogs. Not only do tough postures work different muscles and boost your flexibility, but they also serve as a fun goal to work towards as a practicing yogi.
"On a physical level, more challenging yoga poses require balance, flexibility, mobility, and strength," says Lisa Braun, a yoga instructor with Equinox. The toughest moves tend to be the impressive-looking backbends, inversions, splits, and other postures that require a ton of flexibility, which you might be inspired to work towards over time.
Other yoga poses are considered challenging because they call on your mind-body connection. These are the moves that teach you how to breathe and stay calm while your limbs are in an uncomfortable position, Braun explains. It can be tough to stay focused, remain still, and hold yourself in a weird posture for an extended amount of time, which is where the mental component comes in.
Of course, it takes both physical and mental practice to nail a tricky pose. "Conquering challenging poses doesn't happen overnight," Braun says. And, BTW, you don't have to know how to get into a side crow pose in order to participate in yoga or reap the many benefits of the practice. "You know your body best," says Braun, so you should only try these more advanced poses if you feel ready. With that in mind, here's a list of challenging yoga poses that you can slowly incorporate into your routine.
Studies referenced:
Sherman, KJ. (2010). Comparison of yoga versus stretching for chronic low back pain: protocol for the Yoga Exercise Self-care (YES) trial. Trials. doi: 10.1186/1745-6215-11-36.
Sources:
Lisa Braun, yoga instructor with Equinox
Sabrina Washington, yoga teacher with CorePower Yoga