9 Oblique Crunches That'll Strengthen Your Side Body
Your core won't know what hit it.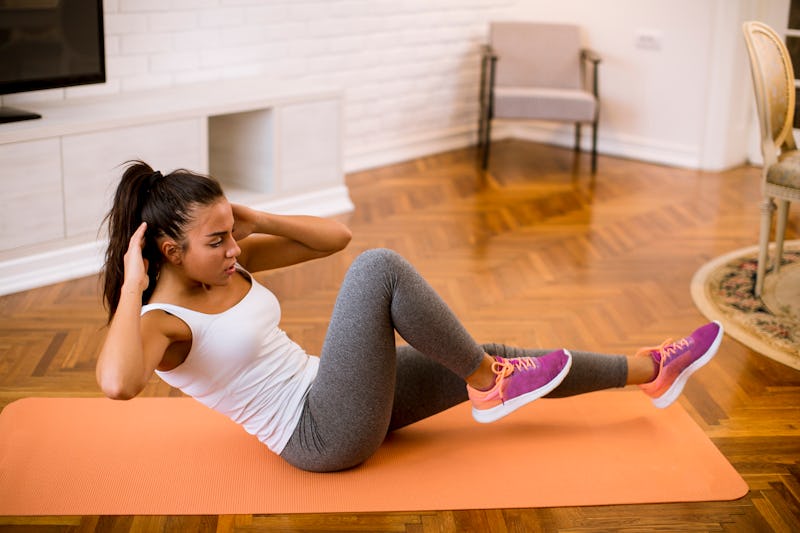 Shutterstock
While standard crunches strengthen the muscles down the center of your core, oblique crunches target the ones down your sides. These muscles play a role in all sorts of nifty things, like core stability and good posture, and thus deserve a little extra attention.
Oblique crunches are similar to regular crunches, except they tend to incorporate some sort of twist or rotation as you crunch, say Lauren and Kelly Collins, Paceline fitness trainers and owners of SISSFiT. "The slight twist is what activates the muscles in the sides of your abdomen," the sisters tell Bustle. You can do them while standing or sitting, making them pretty versatile.
Once you strengthen your obliques, you'll likely notice that you feel more stable as you move about your day. "Having strong obliques helps support your back and overall posture," the Collins say, "which is important for avoiding back pain." Strong obliques also help you maintain good form when exercising and running, they add, and they also promote good balance by helping you stay upright.
They recommend focusing on this area two to three times a week as part of a core workout. Here, 9 different oblique crunch variations to get you started.
Studies referenced:
Nakai, Y. (2021). A self-oblique exercise that activates the coordinated activity of abdominal and hip muscles–A pilot study. PLoS One. https://www.ncbi.nlm.nih.gov/pmc/articles/PMC8360586/
Sources:
Lauren and Kelly Collins, Paceline fitness trainers, owners of SISSFiT
Joe Samara, personal trainer, owner of Delray Boxing Club
Laura Wilson, trainer, founder of Natural Pilates and Natural Pilates TV
Denise Chakoian, owner, founder of CORE Cycle.Fitness.Lagree
Michele Riechman, DPT, doctor of physical therapist, personal trainer
Christina Dorner, fitness trainer