Dip Your Toe Into Yoga With These 10 Beginner-Level Peloton Flows
From 5-minute sequences to restorative flows.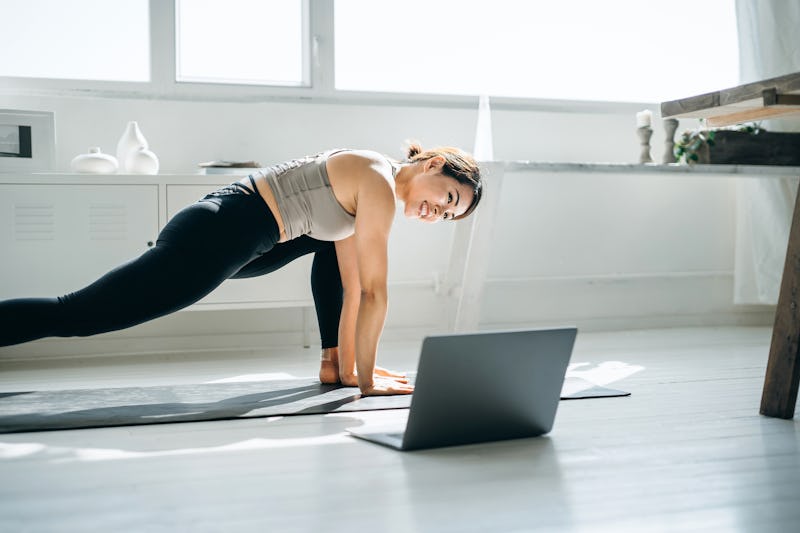 Getty Images/ AsiaVision
Peloton's library of classes features so much more than the cycling workouts it's famous for. The massively popular fitness platform offers practically every form of exercise you can think of — including all sorts of vinyasa flows. Stepping onto your mat for the first time? Just work through any of the best Peloton yoga classes for beginners.
The workout app first introduced yoga to its offerings in 2018, and its bendy classes have been booming ever since. And, starting April 19, Peloton Yoga has launched globally, so users in the platform's available markets can now stream classes in different languages (Spanish and German) and pick from even more types of flows.
Much like Peloton's other workouts, you can choose how long you want your yoga session to be — its flows range from 5 minutes to 75 minutes. And you can pick your theme, difficulty level, and music, too (it is Peloton, after all). Scroll through the platform's exercise catalog and you'll find things like a 30-minute Shakira flow, a 10-minute restorative practice, and a spicy 45-minute power yoga class. It's even got 5-minute tutorials of basic yoga poses so you can perfect your form before doing a full flow. So yoga newbs have plenty of novice-friendly options.
If you're ready to move through some downward dogs and hip-opening warrior poses, here are some of the best Peloton yoga classes for beginners to try. All you need is your mat (and maybe your favorite pair of leggings).