9 Chest Exercises With Dumbbells To Try For Better Posture
Functional strength training FTW.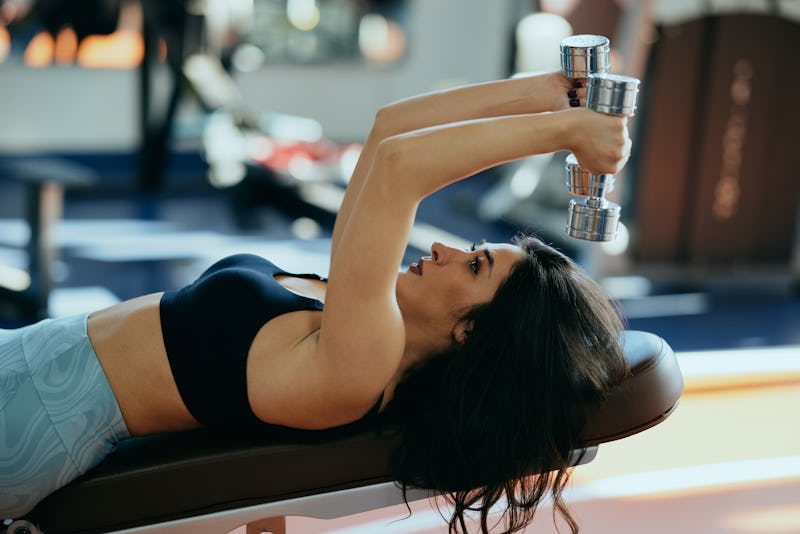 Shutterstock
While exercise routines often center around the glutes, abs, and arms, the chest muscles deserve a little love, too. This area is often ignored or forgotten, and yet there are so many benefits to be had by simply picking up a pair of weights and adding a few chest exercises with dumbbells to your routine.
The chest muscles, located by your sternum, include the pectoralis major or "pecs". And they're one of the main powerhouses of the body, says personal trainer Michele Riechman. "They allow you to do daily activities, including pushing and pulling," she tells Bustle, which is why chest strength is actually considered functional. According to Stephanie Butterfield-Richardson, a fitness coach and founder of Activate House, you engage your chest muscles whenever you push open doors or get up off the ground — all movements that rarely garner a second thought, but can often feel difficult.
That's not all: Your chest muscles play an important role in good posture, upper body stabilization, and they support deep breathing, Butterfield-Richardson explains. Whether you want to keep this area in top working order or have a goal to build more muscle, experts recommend strength training your chest about three times a week.
"Muscle mass is lost very fast, so you want to make sure you are consistently working your chest," Riechman adds. "And since these muscles expand in different directions, it helps to do a variety of exercises so you can target all parts of the chest." To get started, grab a pair of dumbbells and try some of the chest exercises listed below.
Studies referenced:
Lung, K. 2021. Anatomy, Thorax, Serratus Anterior Muscles. In: StatPearls [Internet]. Treasure Island (FL): StatPearls Publishing; 2022 Jan-. Available from: https://www.ncbi.nlm.nih.gov/books/NBK531457/.
Sources:
Michele Riechman, personal trainer
Stephanie Butterfield-Richardson, fitness coach, founder of Activate House
Oscar Colon IV, certified personal trainer, founder of fitness studio MTHD by OCIV
Rachel MacPherson, certified personal trainer