What Happens If You Lose Your COVID Vaccine Card?
It's not like it's a credit card, but you'll still want to safeguard it.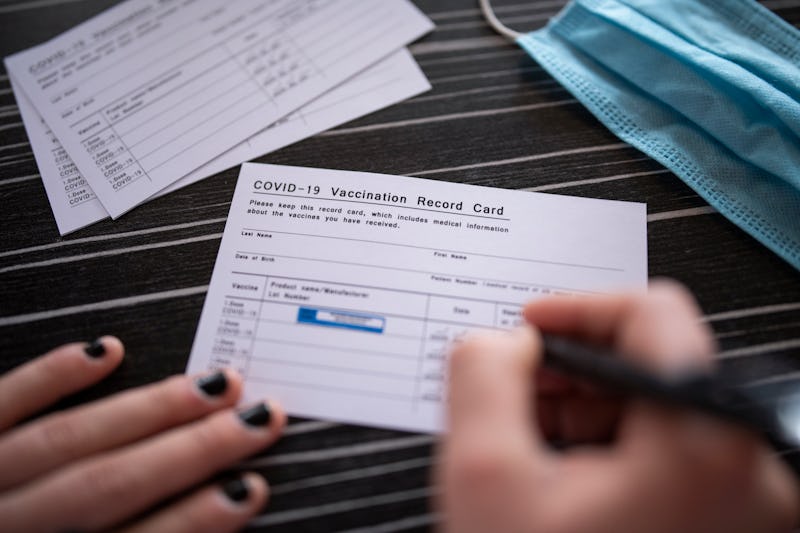 ArtistGNDphotography/E+/Getty Images
You've gotten your COVID vaccine, and are one step closer to being able to hug your bestie for the first time in eight centuries. But whether you're in between your two appointments or are fully vaccinated and preparing to go on that long-postponed vacation, that panic of figuring out what happens when you lose your COVID vaccine card is becoming all too common (hint: check under your laptop).
Even though it doesn't look like anything special, your COVID vaccine card is the only proof you'll have on hand that you've gotten your vaccination. As such, it's the closest thing there is to a vaccine passport, which may well become essential for everything from international travel to attending college classes. Sure, your vaccination provider should have your appointment information on record — but having your vaccine card on you means you won't have to go through the hassle of checking in with someone else to prove that yes, you are in fact fully vaccinated (if someone asks). That's why it's a good thing to keep protected — or, figure out how to get a new one if you lose it.
How Can I Protect My COVID Vaccine Card?
Protecting the info on your card starts with preventing yourself from misplacing your COVID vaccine card to begin with. At the very least, you'll want to take a picture of the card — but if you want even greater peace of mind, there's more than one way to keep your vaccine card safeguarded.
Take A Photo Of Your COVID Vaccine Card
The Centers for Disease Control and Prevention (CDC) recommends taking a clear photo of your COVID vaccine card as the fastest and easiest way to safeguard the information on it. It'll only take a second, and it'll make sure your info is saved even if you accidentally toss the card with last week's mail.
Just don't include your vaccine card photo in your social media-ready vaccine selfie. According to the U.S. Department of Veteran Affairs, people could use the info on it to open bank accounts under your name. People have also been creating and selling counterfeit cards. But as long as you don't post it, you can take a photo of your vaccine card for yourself, save it to your phone or upload it onto your hard drive, and call it a day.
Get Your COVID Vaccine Card Laminated
If you want to make sure you've got a hard copy at all times, grab your mask and head out to your local Office Max or Office Depot. CNN reports that if you bring a coupon through July 25, these stores will make a free copy of your COVID vaccine card and laminate it, too. Staples is also offering to laminate COVID vaccine cards for free through May 1, reports CBSN Boston. If you're a "keep-it-in-your-wallet" kind of human, laminating your card will keep it safe as you're lugging it around in your back pocket every day. If you're between COVID vaccine doses, though, you might want to wait to laminate it until you get your second shot; otherwise, the tech won't be able to record that you are, in fact, fully vaccinated.
Keep Your COVID Vaccine Card With Your Passport
Assuming that you keep your passport in a consistent and safe place, slip your COVID vaccine card (or a copy of it) in the book and secure it with a paperclip. That way, you'll always know where it is in your apartment — especially when you're getting ready to head out on a post-vaccination vacation.
How Do I Recover A Lost COVID Vaccine Card?
Your first stop after accidentally putting your vaccine card in with the laundry should be your vaccine provider. According to the CDC, the location where you got vaccinated should be able to help you replace your card.
If you can't get in touch with your vaccination provider, the CDC recommends reaching out to your state health department's immunization information system (IIS). Although the CDC itself isn't collecting information on who's getting vaccinated, vaccination providers are required to share that info with their state's IIS — so they're a good backup to call when you spill coffee all over your card.