20 Subtle Signs Your Marriage Might Not Last
#8 You need to win arguments.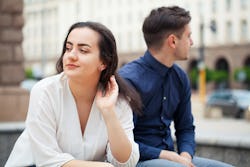 Elisaveta Ivanova/E+/Getty Images
Some couples can pinpoint the exact moment they knew they were going to get divorced. Others truly believed they were happily married until the very moment they signed their papers. While major compatibility issues or infidelity can be obvious signs that a marriage won't last forever, experts stress the importance of paying attention to the small stuff.
"Small things can be much more dangerous to a marriage because it's easy to let little things slide," Celia Schweyer, a dating expert at Dating Scout, tells Bustle. "It might not bother your relationship too much in the moment, but one too many 'small things' may cause pent-up anger and ill-feelings." The more resentment that builds up inside, the more explosive it can be for the two of you at some point down the line.
A lot of effort that goes into making a marriage last. According to divorce attorney Steven J. Mandel, some happily married couples go into their commitment with the best intentions, but many may still inevitably get divorced down the line. And while divorce is in no way the only way to deal with the issues listed below, experts say there are certain subtle signs to look out for if you're worried your marriage might not last long-term.
If you notice any of these subtle signs happening in your relationship, start openly communicating with your partner. But if you've done all the work and see no end in sight, remember that sometimes it's in everyone's best interest to walk away.
Sources:
Celia Schweyer, dating expert
Steven J. Mandel, divorce attorney
Jeanette Schneider, relationship expert
Jeannie Assimos, eharmony's chief of advice
Jess McCann, relationship coach and author
Audrey Hope, relationship counselor and author
Valerie Tocci, partner at Stutman, Stutman and Lichtenstein
Suzie and James Pawelski, PhD, relationship experts
Dr. Tony Ortega, licensed clinical psychologist and author
Genesis Games, LMHC, licensed mental health counselor
Dr. Randy Schroeder, couples' counselor
This article was originally published on