9 Flirty Dares To Text Your Partner To Heat Things Up
#6 will definitely set the mood.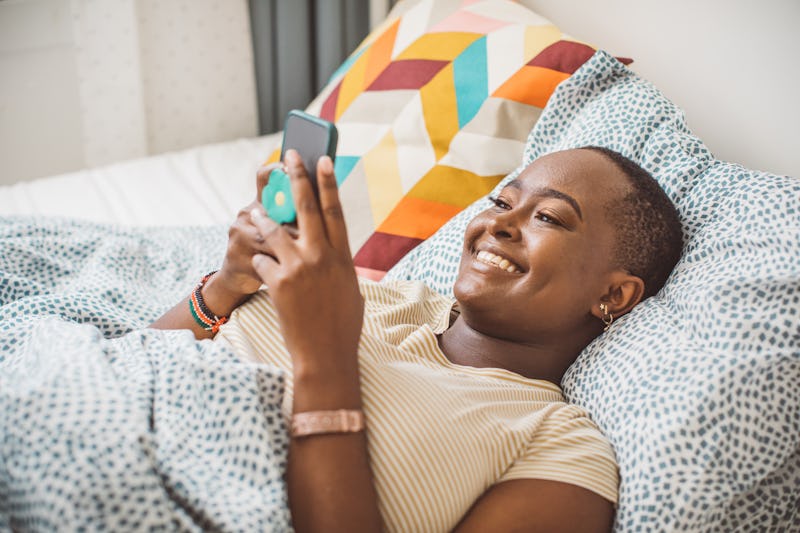 svetikd/E+/Getty Images
Whether you're in a long-term relationship or seeing where things go with someone you just started dating, shooting them an unexpected steamy text message is a great way to keep things spicy between you two. If you're looking for a new way to excite your partner, why not try sending them flirty dares over text? You never know where things may lead.
"Flirty dares are well, flirty, and that makes them fun!" Susan Trombetti, matchmaker and CEO of Exclusive Matchmaking, tells Bustle. "Anytime you can flirt, you are building a romantic relationship and solidifying the attraction and spark. Everyone needs to learn to flirt, and what better way than to send flirty dares? It's a welcome break from monotony."
There's an endless amount of dares you can send over text. For instance, if you just started seeing someone, dating coach Blaine Anderson suggests sending a "lightweight" dare that moves the relationship forward. For example, "I dare you to call me" or "I dare you to FaceTime me."
"Experts estimate that 90 percent of communication is non-verbal, so we miss out on 90 percent of the texture, richness, and pleasure of communicating with a crush when we relegate our dialog to SMS," Anderson says. "It may not sound like much of a dare, but it is, because most people default to SMS."
If you were always more of a "truth" person and don't know what to send, here are some ideas for flirty dares over text to get you started.
Sources
Susan Trombetti, a matchmaker and CEO of Exclusive Matchmaking
Blaine Anderson, dating coach
Callisto Adams, Ph.D., dating coach