20 Questions To Ask Your Partner To Make Sure You're On The Same Page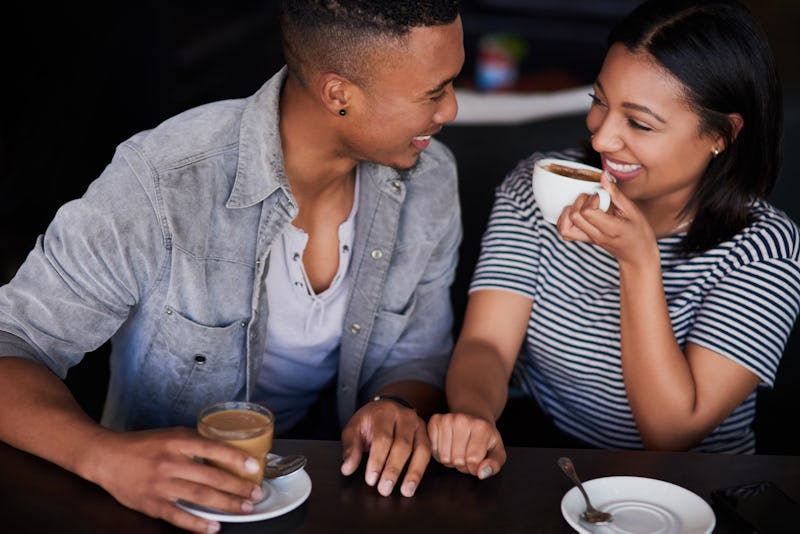 Adene Sanchez/E+/Getty Images
The early days of a relationship are a wonderful whirlwind, because falling in love is fun. It's all dates and make outs and exciting conversations, as far as the eye can see. But if you're looking for something long-term, there are a few questions to ask your partner to determine if you're on the same page — and the sooner you ask, the better!
Of course, there's always the famed 36 questions to fall in love from The New York Times, which include things like, "Would you like to be famous?" and "What does friendship mean to you?" They're specifically designed to get a couple talking because learning more about each other, even if it's just fun facts, will bring you closer. But you'll want to get down to the nitty gritty, too.
"Knowing what you and your partner's expectations are when it comes to your relationship status, sex, intimacy, and future is the difference between making it and breaking it in a relationship," relationship coaches Diana and Todd Mitchem, tell Bustle. "When you are in a relationship, you should never assume that your partner wants exactly the same things that you do."
They call this "mind-reading" and say it only ever results in stress, anxiety, and miscommunication. Checking in, however, and asking honest questions will make your expectations clear, and ensure you want the same things for the future.
Here are 14 questions to ask each other to make sure you're staying on the same page, according to experts.
Open-ended questions like these can be a great way to get to know your partner better, and keep track of whether you two are on the same page — without having to guess. Very few questions will end in obvious dealbreakers, but almost all of them will end in more clarity than you started with. And if you see a future with this person, that's super important.
Experts:
Diana and Todd Mitchem, relationship coaches
Susan Trombetti, matchmaker
Tacha Kasper, MA, LMFT, licensed marriage and family therapist
Kristin Marie Bennion, licensed mental health therapist and certified sex therapist
Kendra A. O'Hora, Ph.D., LCMFT, licensed clinical marriage and family therapist
Carla Romo, dating and relationship coach
James Cochran, MA, LCPC, NCC, counselor
Anita A. Chlipala, LMFT, licensed marriage and family therapist
Ned Presnall, LCSW, licensed clinical social worker
Sean Paul, MD, pscychiatrist