Halle Berry Has Perfected The Self-Care Bath Soak — Here's Her Secret
The actor shares her go-to wellness habits and current favorite workout.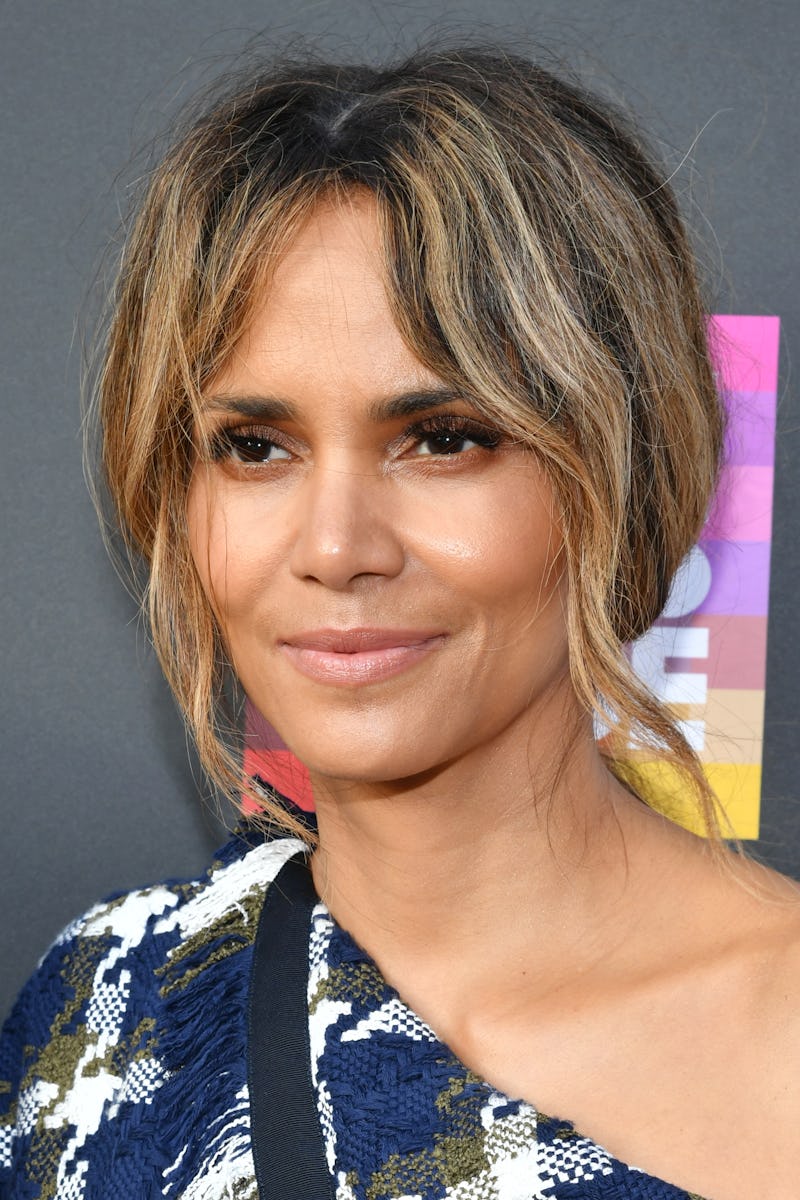 Getty Images/ Amy Sussman / Staff
It doesn't take much scrolling through Halle Berry's Instagram feed to figure out she's a wellness enthusiast. You can see the Oscar-winning actor doing upside-down sit-ups while hanging on a punching bag in one post, breezing through squats with her son in her arms for resistance in another, and indulging in an at-home face mask treatment, to name just a few examples.
Berry is, after all, a self-professed wellness devotee. "I've learned over the years how important self-care is and de-stressing," she tells me over Zoom. That's why she launched a health platform in 2020, Re-Spin, an online destination that shares mind- and body-nourishing practices through articles, a virtual shop, workouts, and a line of athleisure staples.
Here, Berry shares the three self-care practices she turns to for a full-body (and mind) reset.
1. A Souped-Up Bath Sesh
One go-to method for some TLC? "Wine and a bath," Berry says, laughing. "I like to take long baths with oils and salts." A glass of wine in the tub is always a must, and her soak essentials differ based on what she needs that day. "If I've been training really hard and have lots of body aches, I use all types of organic sea salts, like minerals from the sea, magnesium," she says. "If I'm just relaxing for the sake of relaxing, then I use lavender or eucalyptus oils, or [bath] bombs infused with CBD and different kinds of flower petals."
When she gets out of the tub, Berry loves using Finishing Touch's Flawless Hair Remover. (She recently teamed up with the beauty device brand as it extends its collection.) "For so long, being a woman shaving hair off our face didn't seem like a sexy thing to do," says Berry. "[The Flawless tools] are so sexy and beautiful, so I don't feel like I'm holding a razor to my upper lip — it just makes me feel good about having to shave hair off my face."
2. A Solid Workout
Berry's starred in a number of action movies (including Catwoman, of course) and has been posting her workouts on #FitnessFridays to her Instagram account for more than a year now. These days, however, she's into another extra-impressive way to sweat: "I've been really into martial arts," Berry tells Bustle. "So I'm doing jiu-jitsu, Taekwondo, judo, kickboxing, boxing — and then there's some traditional weight training and cardio exercises like the Stairmaster or the elliptical or running up and down real stairs."
Her current training regimen makes her feel particularly strong. "I've worked out my whole life, but now I'm learning how to actually protect myself," says Berry. "It's such a good feeling of confidence to be prepared and to walk through the world feeling safer."
3. A Regular Meditation Practice
Berry also credits mindfulness for keeping her wellness game in check. "Meditation has been important for me over the years to de-stress," she says. "I try to make time at least once or twice a week to check in with myself." Berry admits quieting her mind is challenging, and has some advice for meditation newbies. "Take it in small increments," she says. "Try five minutes at a time, five minutes, five minutes, then don't move onto the next five minutes until you can master the first five minutes. Getting your mind to think about absolutely nothing is probably one of the hardest things we'll ever learn to do, and I still struggle with that, but I continue to stay on the journey."