8 Signs You & Your Partner Are Officially Out Of The Honeymoon Phase
Plus, why this can actually be a good thing.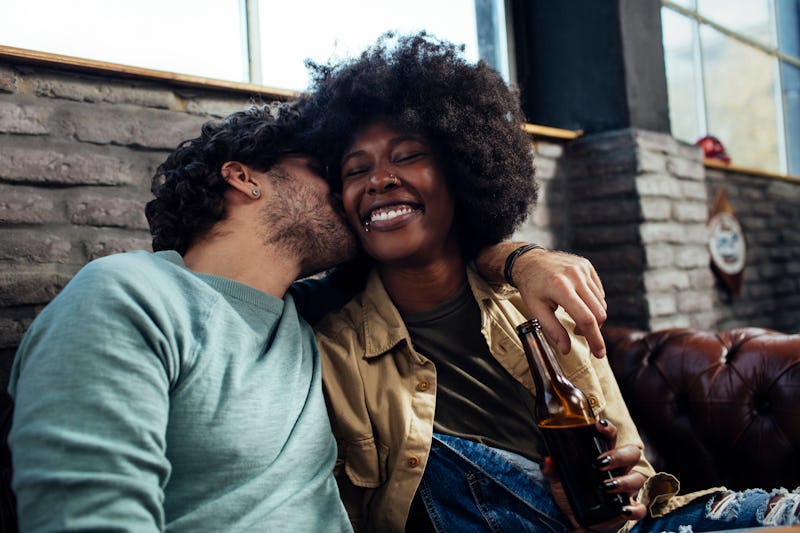 mihailomilovanovic/E+/Getty Images
During the first few weeks or months of a relationship, it's normal to be slightly skeptical of your feelings for another person. We've all been warned that these early feelings can be chalked up to the honeymoon phase, when you're infatuated with the thrill of a new relationship and just excited that your partner wants to date you. Every honeymoon phase length is unique, but eventually that feeling will fade — and that's not necessarily a bad thing. It might mean that your relationship is progressing to something more serious and meaningful.
According to a 2020 study published in Frontiers in Psychology, the feelings of early love are maintained by specific dopamine- and oxytocin-rich regions of the brain — meaning we have brain functions basically built to sustain romantic love. (How cool is that?) And there's no set amount of time before those intoxicating feelings start to shift. In a 2015 study out of New York University, researchers found that the honeymoon phase can last up to 30 months — that's two and a half years! Given that amount of time, how do you know if your relationship has been based on genuine love or just early infatuation?
The honeymoon phase is over when "romantic partners lose some of their 'newness' and the excitement fades — and, for many people, the unhappy reality sinks in," certified counselor Jonathan Bennett, founder of Double Trust Dating, tells Bustle. "Although it sounds negative, the ending of the honeymoon phase can be positive. It allows you both to see each other openly and honestly and decide if the relationship is worth continuing. In addition, you can prolong the passion and happiness; it just takes more work. If you're dating a great person, [they] should be more than willing to put in that effort!"
How do you know if you and your partner have withstood the test of time and survived the honeymoon phase? When the honeymoon phase does end, these are some signs that will tell you you're out of it.
These signs may not all sound pleasant, but they do mean that if you're still together, your relationship is the real deal. All that's left to do is to put in the work to maintain it.
Studies referenced:
Acevedo, B.P., Poulin, M.J., Collins, N.L., Brown L,L, (2020). After the Honeymoon: Neural and Genetic Correlates of Romantic Love in Newlywed Marriages. Front. Psychol. 11:634. https://doi.org/10.3389/fpsyg.2020.00634
Lorber, M. F., Erlanger, A. C., Heyman, R. E., & O'Leary, K. D. (2015). The honeymoon effect: does it exist and can it be predicted?. Prevention science : the official journal of the Society for Prevention Research, 16(4), 550–559. https://doi.org/10.1007/s11121-014-0480-4
Experts:
Jonathan Bennett, certified counselor and founder of Double Trust Dating
Marissa Nelson, marriage and family therapist
Jalesa Tucker, content coordinator at One Love
This article was originally published on