10 Things You Can Try With Your Partner If They Don't Like Kissing
"Kissing in itself isn't important to a relationship."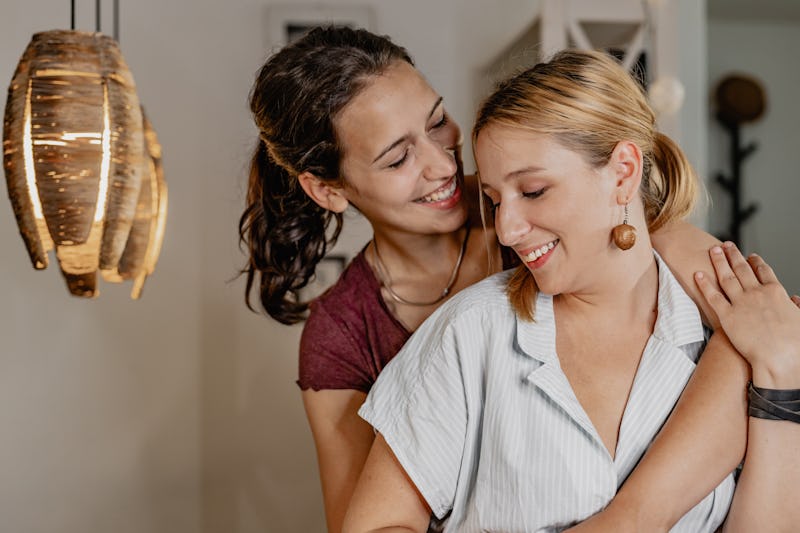 Milko/E+/Getty Images
Kissing is one of the easiest ways to show someone love and affection. It's also a good way to test sexual chemistry with a partner you just started dating. It's such a common act that it's just something we automatically assume all couples do. But that's not necessarily the case — in fact, some people don't like kissing.
Hearing your partner say, "I don't like kissing" for the first time may shock you — especially if you love to make out. It may even make you wonder whether it's just their way of saying they're not attracted to you. After all, a 2020 study published the journal Sexual and Relationship Therapy, found that kissing frequency is a strong indicator of relationship connectivity. The more you kiss, the happier you tend to be in your relationship. You're also much more likely to develop a stronger bond with your partner, and have a better sex life.
But even if kissing seems like the one of the most natural things a couple can do, some cultures don't recognize it. In fact, a 2015 study published by the American Anthropological Association found that 45% of North American cultures don't kiss, not even in a romantic or sexual way. And due to the COVID-19 pandemic, some people may be a little more hesitant to kiss.
Gigi Engle, certified sex coach, tells Bustle that the reason someone might not like kissing can vary. "For some people, they just find it 'gross' or weird. For others, it just doesn't have the same 'pair bonding' or nurturing effect that is has for most people."
But as long as you and your partner communicate about it, there are plenty of kissing alternatives you can explore.
Studies referenced:
Busby, D.M., Hanna-Walker, V., & Leavitt, C.M. (2020) A kiss is not just a kiss: kissing frequency, sexual quality, attachment, and sexual and relationship satisfaction, https://www.tandfonline.com/doi/full/10.1080/14681994.2020.1717460
Jankowiak, W.R., Volsche, S.L., & Garcia, J.R. (2015) Is the Romantic–Sexual Kiss a Near Human Universal?, https://anthrosource.onlinelibrary.wiley.com/doi/abs/10.1111/aman.12286
Experts:
Gigi Engle, certified sex coach and author
Dr. Rose Schlaff, DPT, women's sexual health coach
Carol Queen PhD, Good Vibrations staff sexologist and author
Dr. Carly Claney, Ph.D., licensed clinical psychologist
Amy K. Bucciere, LCSW, sex and relationship therapist
Susan Trombetti, matchmaker and CEO of Exclusive Matchmaking
Dr. Wyatt Fisher, a licensed psychologist
This article was originally published on