13 Signs Your Partner Is Emotionally Abusive
What therapists caution to look for.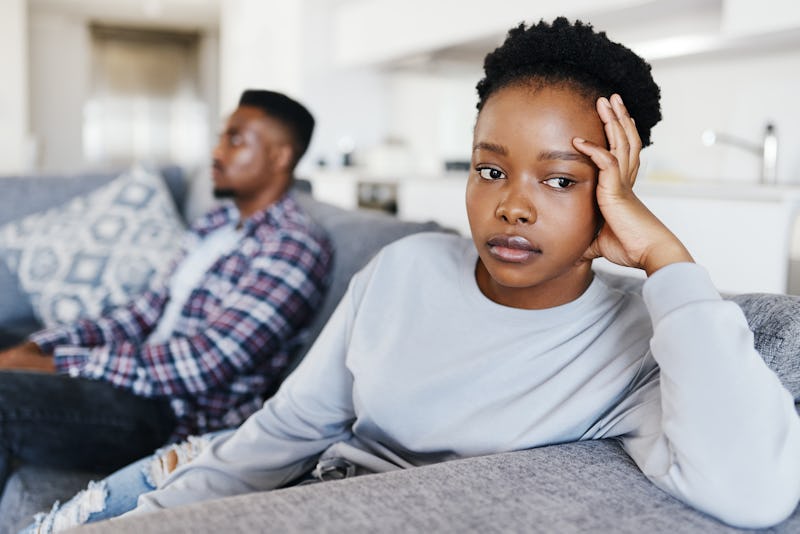 PeopleImages/E+/Getty Images
Recognizing the subtle signs your partner is emotionally abusive isn't always easy. Everyone wears rose-colored glasses when they're in love, which can make it difficult to spot ongoing problems. And then there's the gaslighting and other types of manipulation, which can make it even more confusing.
But if you ever catch yourself wondering, "Is my partner emotionally abusive?" consider it your first hint that something isn't quite right — then keep digging. There's often a lot of unfairness and inequality to be found in these types of relationships, Kimberley Hershenson, a New York City-based therapist, tells Bustle, and that's often what sparks the initial sense something's "off."
If your partner is emotionally abusing you, over time you might start to experience lowered self-esteem, anxiety, and even depression, she says, which is why it's important to talk about these things ASAP. Approach your partner and point out what you've noticed, and see if it's possible to establish better boundaries, healthier communication, etc.
Keep in mind, though, that if someone is toxic and manipulative, they often aren't able to change That's why, while leaving a toxic relationship can be difficult, experts recommend doing so as soon as possible, since it isn't likely to get better. Emotional abuse is detrimental to your entire well-being, so if you recognize the signs of abuse listed below, it may be best to move on.
Experts:
Kimberley Hershenson, therapist
Rhonda Milrad, LCSW, therapist
Taccara Martin, relationship expert
Davida Rappaport, counselor
Dr. Josh Klapow, clinical psychologist
This article was originally published on