Mandy Moore On The Out-There Wellness Treatment She's Obsessed With
The actor/singer chats about self-care, fitness, and smoothies.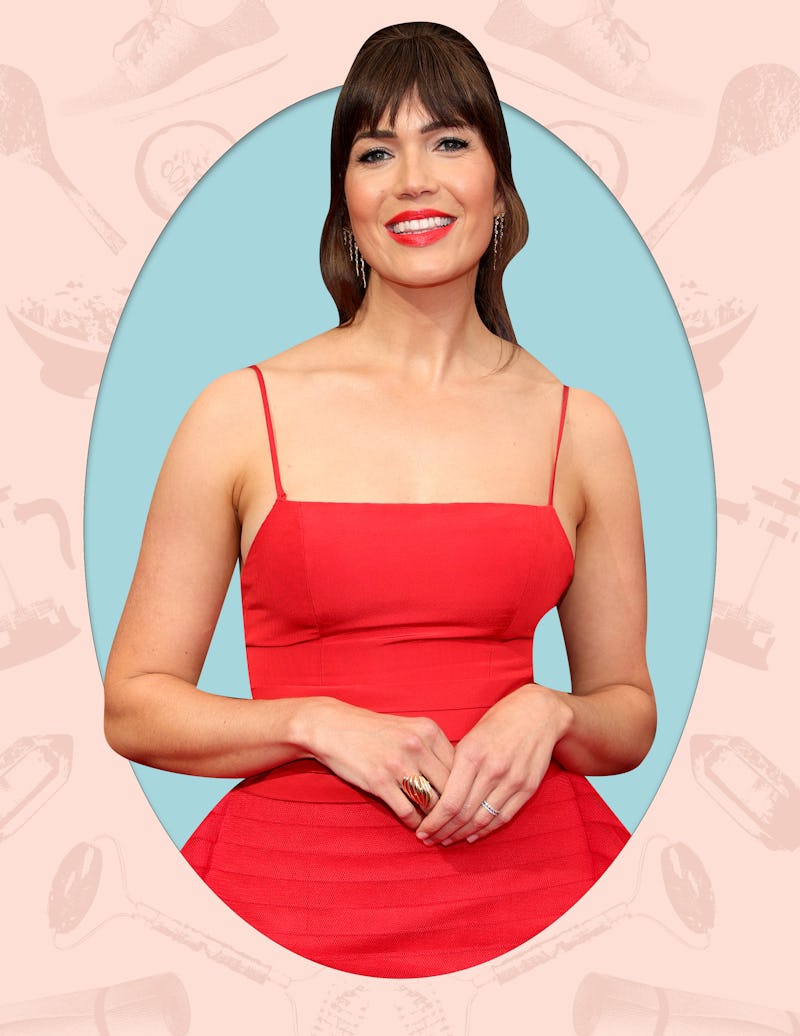 Rich Fury/Getty Images
In Chill Chat, Bustle sits down with stars to chat about all things wellness, from their favorite skin care products to their hacks for getting a good night's sleep. Here, Mandy Moore shares her favorite morning ritual, the most relaxing wellness treatment she's ever tried, and the ingredient she'll always put in a smoothie.
Mandy Moore is currently getting reacquainted with wellness and what it looks like to her. "I was definitely a little bit better at [wellness] like a year ago," she tells me over the phone. And that's totally OK — I mean, the star just finished a six-year run on the hit show This Is Us, has a 1-year-old boy, and is getting ready to go on tour for her new album, In Real Life.
Every day looks different for the 38-year-old actor/singer-songwriter, which is why she doesn't follow a strict daily routine. "Depending on what's happening, I'll try to weave in some semblance of self-care," says Moore. "It might be a bath one day. It might be a nap when Gus [her son] takes a nap. I don't ever know, but I leave myself open to wherever the day is going to take me and try to have as much grace for myself as possible."
When she does have time to squeeze in something wellness-y, Moore notes that she loves getting outside. She also relies on OptiLight, a non-invasive light-based therapy she recently discovered for treating dry eye disease — it's worked so well that she's partnered with the brand to help spread the word.
Here, Moore tells Bustle about her morning rituals, what she always adds to a salad, and how she sets up the perfect bath.
How do you start your day?
We usually are woken up by Gus and go in to greet him and change his diaper. My husband will usually make tea or coffee, and I'll bring Gus into our bed, and we sit and just look outside as he drinks his milk. We sit in the dark and watch the sun come up together. It's the most incredible thing — we have unadulterated family time for a good hour.
I love that. What kind of coffee do you usually drink?
We're a big pour-over family. I just take it with a little bit of milk — no sweeteners, nothing fancy.
What's something you will always put in a salad or a smoothie?
I'm always going to go with a scoop of almond butter in a smoothie. Everything's better with it. I'm not super picky with salads, but I do love arugula. And maybe throwing in garbanzo beans — if it can be crunchy, all the better.
Do you have a go-to self-care practice for when you need to de-stress?
A bath — without a doubt. Sometimes I just want to get in an Epsom salt bath, or I'll use a really yummy floral bath bomb. I like to have some sort of bath crystals, light a candle, have a glass of wine or a cup of tea, and listen to a record or a podcast. Slipping into a warm bath is always, always, always my favorite thing.
What's the most out-there wellness treatment you've ever tried?
I love floating. It's wild and so much fun. I feel like you can get past that fear that you might have to be in a contained space alone in the dark — you're just alone with your thoughts and it's so inherently relaxing. I think it helps you tap into your creative unconscious. That's something I would love to incorporate into my life more often, but I can't find the time.
What's your favorite workout these days?
It's been really tough with work — I've given myself a little bit of a pass to not be on my workout game as much. If I can go on a daily walk with the family, then I'm doing my part. We have a 3-mile loop we like to do with our dog and Gus. If I can find the time, I love a Peloton ride. I want to start hiking again and feel more connected to the outdoors; I love to feel grounded and sort of slowly climb uphill. That's my favorite thing.
What do you need to get a good night of sleep?
Not a lot [laughs]. I don't have a ton of requirements. I feel like that's a skill set that I've really leaned on in life — I'm the person that can fall asleep before the plane takes off.
This interview has been edited and condensed for clarity.