Paula Sutton Is Instagram's Queen Of Cottagecore
Zooey Deschanel, Amanda Seyfried, and Bryce Dallas Howard all follow @hillhousevintage.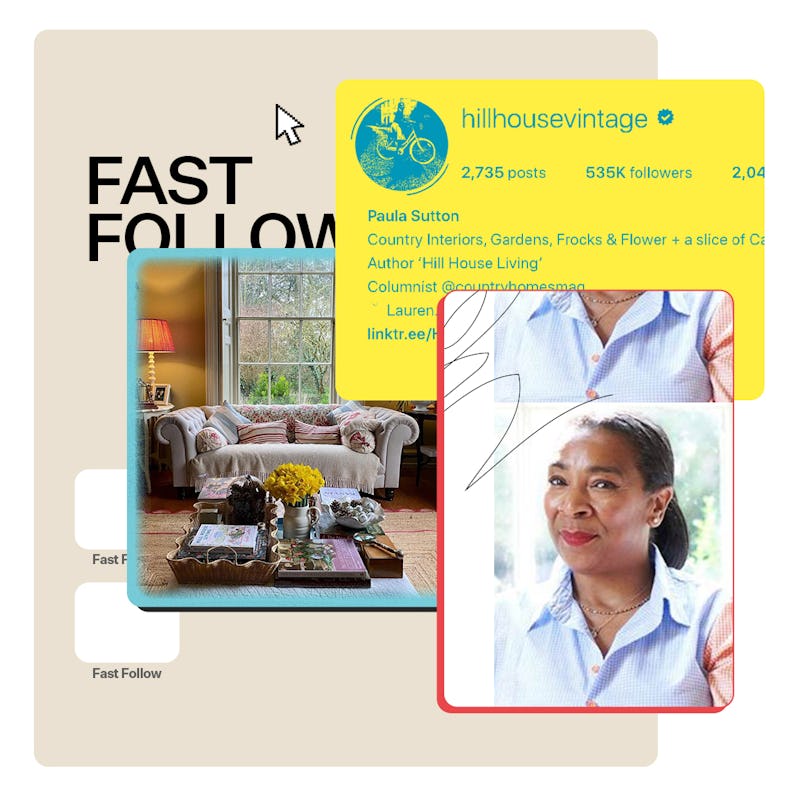 If you had to describe Paula Sutton's IG, @hillhousevintage, it would without a doubt be cottagecore. Creating and curating content around country living, her posts range from beautiful imagery of her country home interiors, her outfits and fashion inspo, to gardening videos of her colourful flowers in her kitchen garden. In a previous life, Sutton worked in fashion publishing in London but decided to upend her life and move to a manor in the Norfolk countryside. Because why not? She's now amassed 535k followers on Instagram sharing her life through country interiors, fashion, and gardening, as well as being a regular columnist for Country Homes & Interiors and publishing her book, Hill House Living, in October 2021.
Now, as a gardening enthusiast herself, she's partnered with Meta to celebrate its second appearance at the RHS Chelsea Flower Show, the annual garden show hosted in the grounds of London's Royal Hospital Chelsea and a fave of the royal family. "After last year's Autumn event, I'm thrilled to be part of the iconic Spring return," explains Sutton. 2021's Chelsea Flower Show was hosted in September instead of the usual May dates, due to lockdown. "It's such a wonderful feeling to be part of something like this," she adds.
Designed by Joe Perkins, The Meta Garden: Growing the Future has been designed to highlight the connection between plants, soil, and fungi in the woodland ecosystem. "We want to bring to life the complex underground communication webs found in nature," Sutton tells me, comparing those connections to the ones we find on social media platforms like Facebook and Instagram. After the garden show ends, The Meta Garden will be re-homed as part of the Queen's Green Canopy Jubilee campaign, a tree-planting initiative to mark her Majesty's Platinum Jubilee.
Below, Sutton talks to Bustle about gardening tips, mental health, and celebrity follows.
What's the last Wikipedia hole you went down?
Keeping my box hedging in pristine condition. We've nurtured it since they were small plugs and I'm always conscious of keeping it looking healthy and making sure we avoid the dreaded blight.
Who's your favourite person you're following right now? And why?
There are several, but currently I'm obsessed with my garden. It's that incredible time of year when everything is flourishing and the crops are really about to explode. So, I'm enjoying getting tips from Charles Dowding and Claus Dalby.
What's the best article you've read (or thing you saw) on the internet this week? What did you learn from it?
I've been reading a lot about the mental health benefits of gardening and wellbeing. It's wonderful how much information there is right now citing how gardening is able to reduce stress and improve mood. I've personally found both of those things to be true. There's a community of over two million Brits in gardening-related Facebook groups, so I'm certainly not alone with this.
Describe the first post you ever shared on your Instagram. What do you think of it now?
It was a picture of the front of my house. It was through a filter which was very popular back in 2013, so it has a slightly dream-like quality to it. What I do notice is the complete lack of styling or embellishment. Oh, how times have changed!
What's the weirdest thing you currently have written down in your notes app?
The words "costume fiorintura tomatoes" which, when you Google, comes up with lots of fancy dress outfits images with random people in tomato ketchup bottles or tomato suits. I often write things down too quickly and forget to check what I've written. I think in this instance I must have seen some Costeluto Fiorentino tomatoes and wanted to remember the name.
What's the best thing you've purchased on the internet recently?
A Victorian rhubarb forcer. I love to add beautiful and useful structure in my garden - even better when it's vintage, of course.
What links do you currently have up in your tabs?
Sarah Raven and David Austin Roses (gardening and floral services).
Who's the person that followed you that you were most excited by?
It always amazes me when I find out that someone famous in Hollywood follows me. I'm so honoured that they find me in any way interesting. Zooey Deschanel, Amanda Seyfried, and Bryce Dallas Howard gave me brownie points when I told my children recently.
Have you ever slid into someone's DMs? What came of it?
[Laughing] No, but I've replied politely to people who gave slid into mine.
What's the weirdest DM slide you've ever received?
Oh, you tend to get weird offers – which as a 52-year-old woman known for the unadventurous pursuits of vintage hunting, styling, baking and gardening – always raises a twinkle in my eye.