A Wellness Entrepreneur's Secret For Shutting Down Her Inner Critic
"We always talk about how the mind is working against us, so why not remember how it can work for us?"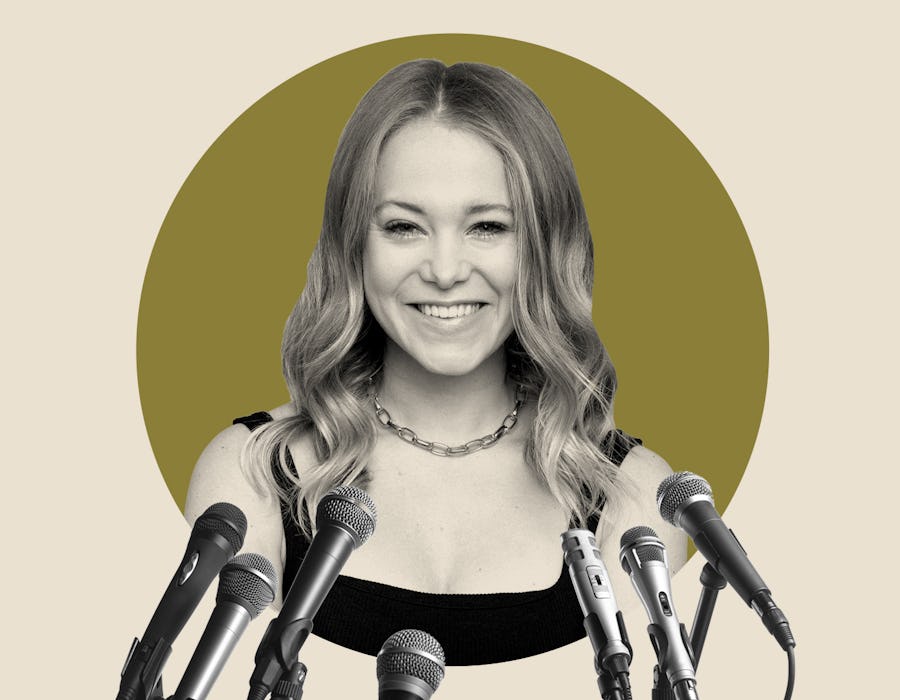 Poppy Jamie
In Bustle's Quick Question, we ask women leaders all about advice — from the best guidance they've ever gotten to what they're still figuring out. Here, wellness entrepreneur and author Poppy Jamie talks about her company and new book, Happy Not Perfect, plus her hack for flexible thinking.
Poppy Jamie grew up learning about mental illness — so launching her mental health-centered Happy Not Perfect app, which today has more than 90 million subscribers, was basically in her genes. "My mother is a psychotherapist and my father suffered from chronic mental illness from anxiety and depression, so I grew up very aware of [mental health]," says Jamie.
Because of her family, Jamie, 30, had an understanding that things can get better. "I was always inspired by my mother's work and how there are incredible tools out there to help us," she tells Bustle. "And also the fact that none of us are stuck with our mental health. That was the greatest thing I learned when I was little — no matter what you're experiencing, it doesn't last forever and you can change it."
She felt compelled to spread the message. In 2015, she launched the first episode of her popular Snapchat talk show, Pillow Talk with Poppy, in which Jamie talked about her own mental health struggles. She was blown away by the thousands of fans who shared similar experiences but a lack of accessible resources to tackle them. This sparked her idea for Happy Not Perfect: "I wanted to create a psychotherapist in an app ... to [create] a sense of peace when life is topsy-turvy," she tells Bustle. "We always talk about how the mind is working against us, so why not remember how it can work for us?"
In 2018, her app — what Jamie calls a "gym for your mind" — launched as a platform that bundles the science of happiness into games. Today, it features simple guided activities to support emotional wellbeing, like gratitude journaling, breathing exercises, sleep wind-downs, mindfulness mini-games to disrupt cycles of harmful thinking, and more. Happy Not Perfect has also grown into a company that includes her Not Perfect podcast, which launched in 2019, and her book by the same name that was released in June 2021.
"No matter what you're experiencing, it doesn't last forever and you can change it."
Here, the author and wellness entrepreneur shares how she uses tools from her company to look after her own mental health, her method for positive thinking, and the best career advice she's ever received.
What do you do to take care of your mental health?
I use the "flex method," which I wrote about in my book, to turn stiff thoughts into flexible ones. Step one is connection — connecting and understanding where your energy is at. I always say that you can't think your way out of a problem — you have to move your way out of it. If I get up and dance or walk, suddenly that problem is much easier. Step two is curiosity. Our thoughts are not facts, so questioning the truth of self-critical thoughts is essential. Step three is choice. I always have the choice to think of a new thought — like, how would I treat or advise a friend at this moment?
Lastly, I write down the actions I need to commit to. [When I'm] buckling under the pressure of life, I have to keep reminding myself to commit to being slightly uncomfortable at times, because that's when we're growing.
What is your advice to aspiring entrepreneurs?
Get a great team. Being an entrepreneur is about surrounding yourself with people who have better skills than you, because finding good teammates means you can share the stresses, the wins, and the work. There are not enough hours in the day to control everything.
What is the worst piece of career advice you've ever gotten?
If it's not working, keep pushing. If a fly is trying to get into a room and keeps bashing on the window thinking it's going to open, it just becomes exhausted. But if we pause and notice that the window next door is open, suddenly there's no struggle. Learning to pause, be flexible, and stretch around something is an easier way forward than pushing through.
How about the best?
Be a racehorse with blinkers on. Don't compare yourself and your career journey to someone else's, because you have no idea where they started from. Stick to your values, try your best, and know that everything is unfolding in perfect timing for you.
If your Happy Not Perfect audience walks away with one takeaway, what do you hope it is?
Mental health is a product of everything we've learned since our psyches developed. Questioning all those self-critical thoughts is the central tool to improve our thought health. Know that the past is not the future — the present is where we create the future.
This interview has been edited and condensed for clarity.