15 Signs You Had An Emotionally Abusive Parent
#7: You apologize too much.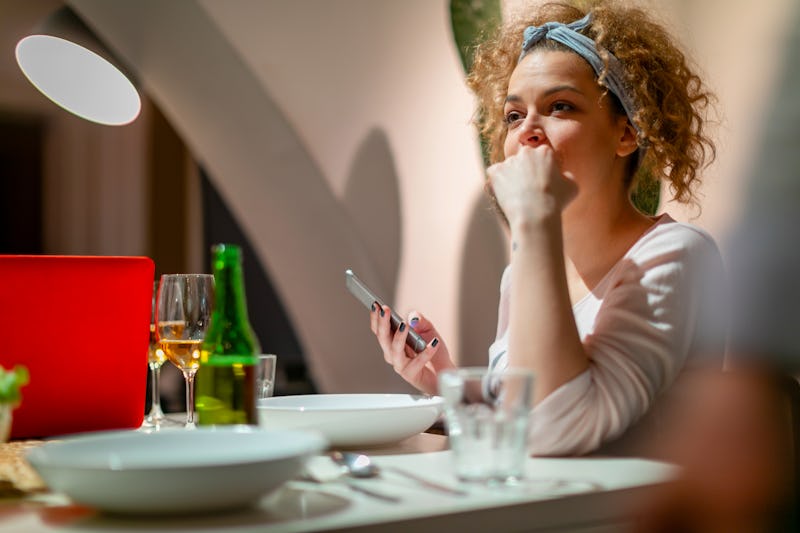 zoranm/E+/Getty Images
In a perfect world, all parents are role models who treat their children, as kids and adults, with respect. That's unfortunately not always the case. Some kids grow up with mothers and fathers whose behavior can cause their children harm to the point of emotional abuse. And as an adult, there are some distinct signs you had an emotionally abusive parent. While you can't go back in time and change the dynamic that was present in childhood, you can use this information to help gain back your confidence and self-esteem as an adult, as well as learn from their mistakes so you don't treat the other people in your life the same way.
"Emotional abuse is behaviors by caregivers that includes verbal and emotional assault such as continually criticizing, humiliating, belittling or berating a child, as well as isolating, ignoring, or rejecting a child," psychotherapist Mayra Mendez, Ph.D., L.M.F.T., tells Bustle. "Emotional abuse results in injury to a child's self-esteem and damages a child's emotional or psychological well-being."
These damages can linger later in life, too. A small 2014 study of 300 teenagers in Pakistan Journal of Medical Sciences found that emotional abuse from parents in childhood was linked to mental health problems in adolescence, with the degree of mental health issues increasing the more abusive the children perceived their parents. A similarly sized study published in 2015 in the journal Child Abuse & Neglect found a link between childhood emotional abuse, and alcohol use and impulsive behaviors in young adulthood.
Parents are human, and therefore flawed, but some have deeper issues that end up affecting how they treat their children. Not all children of emotionally abusive parents will exhibit the same signs in adulthood, and relating to these signs isn't proof that your parents were emotionally abusive. But if you have a strained relationship with your parents and think it may be a result of emotional abuse, look out for these 15 signs.
Having emotionally abusive parents can make childhood and even adulthood exceedingly difficult, but you don't have to suffer alone. Seeking help from loved ones or a mental health professional can start the healing process for you, in order to move forward.
Experts:
Mayra Mendez, Ph.D., L.M.F.T, psychotherapist
Dawn Friedman, M.S.E.d, family therapist
Holly Brown, M.F.T., therapist
Lisa Bahar, L.M.F.T., L.P.C.C, counselor
Studies Referenced:
Iram Rizvi, S. F., & Najam, N. (2014). Parental Psychological Abuse toward children and Mental Health Problems in adolescence. Pakistan journal of medical sciences, 30(2), 256–260.
Shin, S. H., Lee, S., Jeon, S. M., & Wills, T. A. (2015). Childhood emotional abuse, negative emotion-driven impulsivity, and alcohol use in young adulthood. Child abuse & neglect, 50, 94–103. https://doi.org/10.1016/j.chiabu.2015.02.010
This article was originally published on