7 Signs Your Partner Is Crushing On Someone Else
"It's normal for someone to find others attractive, but the intensity of the attraction is what matters."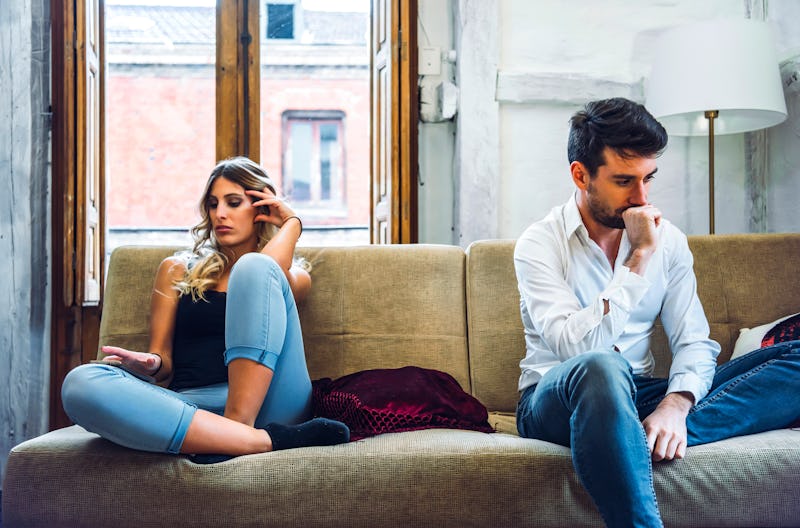 Westend61/Westend61/Getty Images
Over the course of a relationship, it's perfectly natural for one or more of you to be attracted to someone else. There is, however, a line between an innocent crush and cheating, however the two of you define the term. If your partner may be attracted to someone else, paying attention to the signs and having open conversations can help.
First, it's important to understand the nuances of being attracted to others while in a relationship. Most likely, no one can completely turn off their natural attraction to others, even if they're totally in love and committed. It's the scale of these attractions that is significant, however. "It's normal for someone to find others attractive, but the intensity of the attraction is what matters," David Bennett, certified counselor and relationship expert, tells Bustle. Crushing on a celebrity, for example, is a completely different ballpark than being attracted to a coworker you interact with every day.
It's also important to remember that as unpleasant dealing with these concerns may be, it's not at all uncommon. One study looking at infidelity in young adults aged 18-26 found that just 16.6% percent owned up to sexual infidelity in their current relationship. However, when the criteria changed to include things like romantic interest or online-based activity as well, that number increased to 78.6%.
But even a real life attraction doesn't have to be that big of a deal, however. "Having your partner be attracted to someone else doesn't feel good, but it can be good for your relationship if handled properly," licensed therapist Dr. Jameson Mercier, tells Bustle. "See it as an opportunity to talk with your partner about your relationship. People change over time and so do their needs and desires. Remember also, that not all attractions lead to romantic encounters." The fact that this attraction is happening doesn't necessarily indicate serious problems in your relationship — but it could be an opportunity to communicate more.
Finally, it's especially important to recognize any personal insecurities that could be affecting how you see the situation. "If your ex partner cheated on you and that was the reason why you broke up, you may have developed trust issues around infidelity and cheating, which will now need to be talked about in your current dating life and relationships," licensed marriage and family therapist Katie Ziskind, previously told Bustle.
Here are seven signs your partner may be attracted to someone else — but hasn't acted on it, according to experts.
This article was originally published on