11 Signs Your Relationship Won't Make It Past The 7-Year Itch
Experts say these little things add up.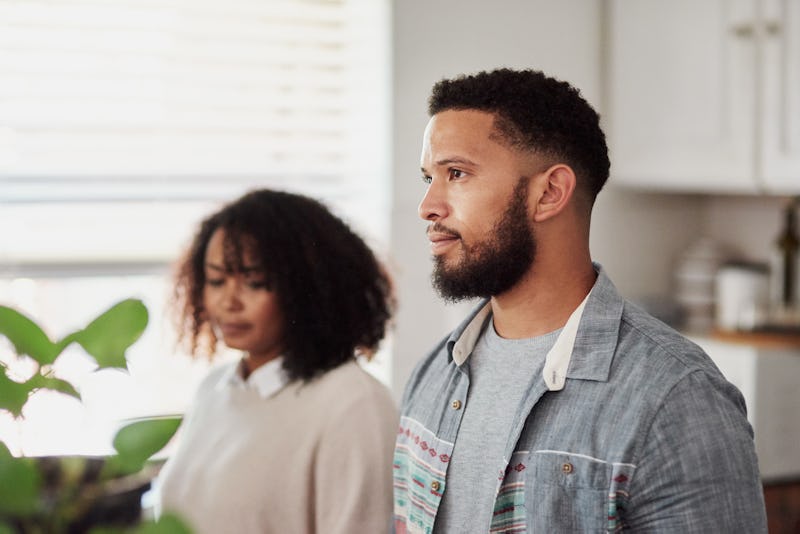 Adene Sanchez/E+/Getty Images
If you haven't heard of the 7-year itch, it's the idea that long-term couples tend to fall into a relationship slump after they've been together for seven years. One or both partners may start to feel restless, they might start questioning their feelings, and they may even feel less satisfied in the relationship as a whole. Of course, not every couple will experience this. But if you think the 7-year itch is just another old wives' tale, relationship experts actually say otherwise.
According to Mitchell Smolkin, certified couples therapist, the 7-year itch isn't typically due to any big relationship problems. It's just a phenomenon that can happen after seven years together when the excitement is gone and there's more at risk.
"Understandably, a lot of relationships start with a Hollywood-like feeling, being on top of the world and feeling like you've found your soulmate," Smolkin tells Bustle. "As the stakes get higher with marriage, career, children, and sometimes relocation, negotiating different values and expectations can really put a dent in that new car smell. The hard work of getting to know someone is supremely less sexy than the earlier years, and there is a tendency to panic and freak out, hence the 7-year-itch."
As licensed psychotherapist and IMAGO Relationship specialist, Josh Magro, LMHC tells Bustle, things like blame, criticism, contempt, a lack of boundaries, stonewalling, or attempting to change your partner are some of the worst pitfalls he sees. "While any one or two of these would not immediately spell 'death' for a relationship, they erode the foundation of the relationship and can worsen over time," he says.
So what are other little signs your relationship has cracks? Below, experts share the 11 signs your relationship may not make it past the 7-year itch.
Experts
Mitchell Smolkin, certified couples therapist and host of "The Dignity of Suffering Podcast"
Josh Magro, LMHC, licensed psychotherapist and IMAGO Relationship specialist
Alisha Powell, PhD, LCSW, couples therapist
Dr. Sanam Hafeez, neuropsychologist
Roxanne Francis, licensed psychotherapist
Merissa Goolsarran, LCSW, licensed therapist
This article was originally published on