Here's What To Do If You Can Only Get Off Solo
It's time to have a 1:1 chat with yourself.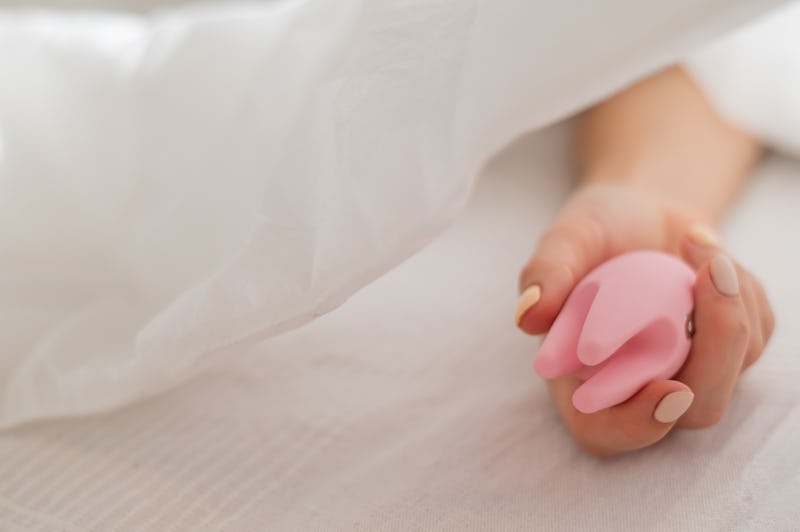 Mikhail Reshetnikov / EyeEm/EyeEm/Getty Images
Additional reporting by Chika Ekemezie
For many people, masturbation is a tried and true friend. Whenever they need to get off, they can always dim the lights, shed the clothes, and get down and dirty solo. The fact that so many people are masturbating — Tenga's 2021 Self-Pleasure report found that 86% of U.S. adults between 18-54 have masturbated, and 42% have been doing it more often now than before — means that there's an endless amount of questions about solo sex out there. And sex experts, like Dr. Laura Deitsch, aka Dr. Shameless, Vibrant's Licensed Clinical Counselor & resident sexologist, have heard them all.
One of the most common questions Dr. Deitsch gets is: "I can only make myself come when I masturbate and not with my partner. How can I fix this problem?" For starters, most people with vulvas can't climax from penetrative sex alone, so that's something worth noting. So if you can only climax by yourself, you're definitely not alone. But while that's true, there can also be other factors standing in the way of you getting off during sex with a partner. Here are some tips for trying to orgasm with a partner, according to sex experts.
Experts:
Dr. Laura Deitsch, aka Dr. Shameless, Vibrant's Licensed Clinical Counselor & resident sexologist
Tara Skubella, sexual health expert and tantra coach
Dr. Jess O'Reilly, Astroglide's resident sexologist
Sunny Rodgers, a clinical sexologist and certified sex coach
Vanessa Marin, a sex therapist
This article was originally published on