9 Yoga Poses To Try For Better Digestion
Don't worry: None of them are inversions.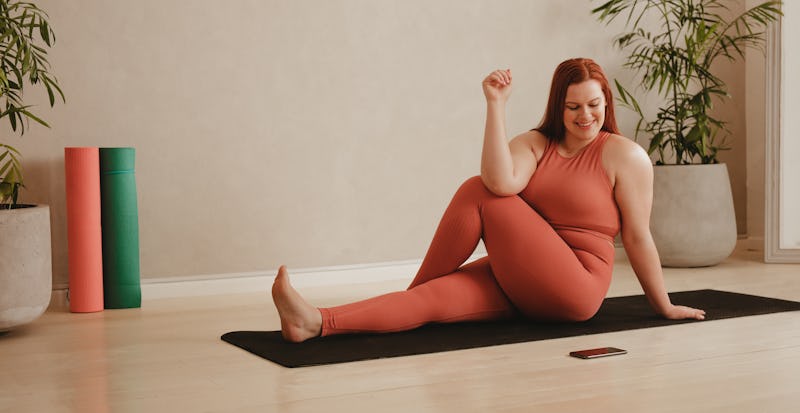 Shutterstock
Yoga melts away stress, improves your mobility and flexibility, and works as a moving meditation. If you choose the right poses, it can even be good for your digestion, says Kate Lombardo, yoga director at YogaRenew Teacher Training. "You wouldn't want to eat a big meal and then jump into a sweaty vinyasa class focused on inversions," she tells Bustle. "But taking time to move through poses that aid in digestion can be very beneficial."
Yoga can be good for your gut in two ways. First, "it helps to reduce stress and bring more balance to the body, which allows for all systems — including the digestive system — to work at an optimal level," Lombardo says. Do yoga on the regular, and you'll likely notice that you have better digestion — and less bloating, constipation, cramps, etc. — as a result.
Some poses can also play a role in, uh, moving things along. "Certain yoga poses, especially twists, can help acutely treat symptoms of poor digestion like gas or bloating," Lombardo says. "These poses help to stimulate the organs that are part of the digestive system to move food through the body more smoothly and relieve the effects of digestive issues."
Lombardo recommends doing these yoga poses first thing in the morning as a way to set your digestive system up for a good day. You can also do them later on in the day, whenever gut issues strike. "If you're experiencing any discomfort or signs of poor digestion after a meal, then moving through some gentler twists about 30 minutes after eating can help the body to digest food," she says. Scroll through for some of the best yoga poses for better digestion.
Studies referenced:
Kavuri, V. (2015). Irritable Bowel Syndrome: Yoga as Remedial Therapy. Evid Based Complement Alternat Med. doi: 10.1155/2015/398156.
Mari, A. (2018). Bloating and Abdominal Distension: Clinical Approach and Management. Advances in Therapy, 36(5), 1075-1084. https://doi.org/10.1007/s12325-019-00924-7
Pascoe, MC. (2015). A systematic review of randomised control trials on the effects of yoga on stress measures and mood. J Psychiatr Res. doi: 10.1016/j.jpsychires.2015.07.013.
Shree Ganesh, HR. (2021). Role of yoga therapy in improving digestive health and quality of sleep in an elderly population: A randomized controlled trial. J Bodyw Mov Ther. doi: 10.1016/j.jbmt.2021.04.012.
Woodyard, C. (2011). Exploring the therapeutic effects of yoga and its ability to increase quality of life. Int J Yoga. doi: 10.4103/0973-6131.85485.
Sources:
Kate Lombardo, yoga director at YogaRenew Teacher Training
Jason Deutchman, yoga pro, founder of Yoga Strong
Jessica Mahler, yoga instructor
Anita Perry, yoga instructor