Nick Viall Deserves To Be The Next 'Bachelor'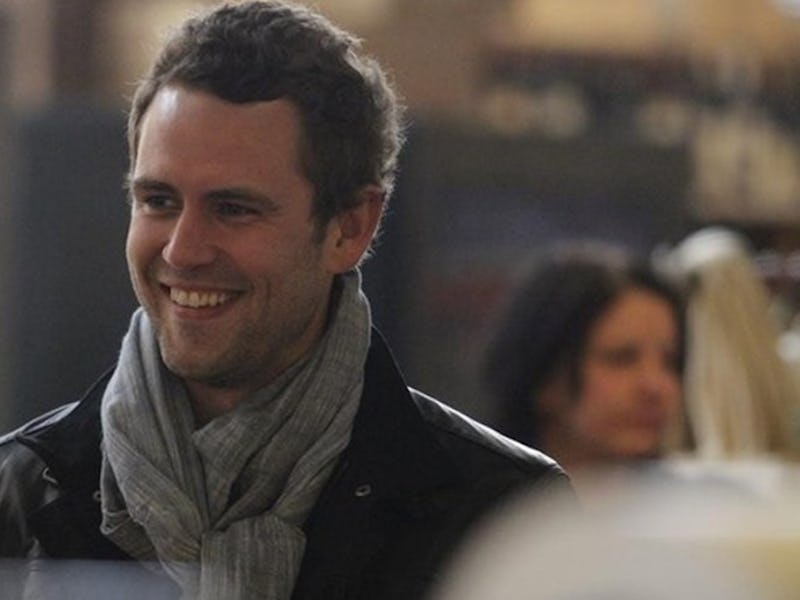 I know I am about to ignite some fury within Ben H. fans across Bachelor Nation — but hear me out. Nick Viall from both Andi Dorfman and Kaitlyn Bristowe's seasons of The Bachelorette needs to become the next Bachelor. I can practically see all of your jaws slackening over this proclamation, but I assure you that I come equipped with a plethora of valid points. Like many, I have a soft spot in my reality television-loving heart for fan favorite, Ben. Many a Bachelorette fan would agree that said former contender deserves to star on the next season of The Bachelor, but — as far as entertainment fodder goes — Nick should win out on that proverbial race by just a smidge. And no, I am not positing this argument due to the fact that I think Ben needs to ditch the entire franchise and simply make one gingery Entertainment Writer (me) the Ariel to his Prince Eric. I'm a professional, people!
After having his heart inadvertently stomped on (no hate to Andi or Kaitlyn, of course — the heart wants what it wants) during two seasons of Bachelorette, it's time to give our main man, Nick, a chance to give out the roses. Don't believe me? Let's take a look at that evidence I mentioned.
1. It Would "Stir The Pot"
Our favorite Bachelor in Paradise contestant, Tanner Tolbert, exclusively told Bustle that — although he believed Ben was most deserving — casting Nick as the next Bachelor would "stir the pot." Honestly, when it comes to entertainment, don't we crave a little pot-stirring with our escapism? I submit that we do.
2. He Understands The Rules Better Than Anyone
I mean, he's gained some experience with the franchise.
3. That Humor
Even during the melodrama that is reality romance, I need me a chuckle or two. Nick knows how to dish out the charm, and the jokes.
4. This Heartbreaking Moment
Oomph. This moment was a clincher — Nick deserves another shot at love. Was I the only one that wanted to jump into their TV screen and rush Nick with an "I know that feel, bro" embrace when this aired?
Obviously, this can't be proven. For the sake of speculation, however, it appears that Ben and Bachelor in Paradise star, Tenley Molzahn, might be a thing already. If that is the case, Ben couldn't rightfully star as the next Bachelor, anyhow.
6. He Honestly Wants To Find Love
Although their relationship ended on a sour note, Andi came forth in defense of her ex during an interview with Us Weekly. "I had my ups and downs with Nick, but the thing I will say about him is I know that he is genuine in what he wants and that is love." Boom!
7. He Would Be Down For It
Although he didn't give a 100 percent "YAS" to the idea, Nick told People that he would "seriously consider" becoming the next Bachelor star. "It's obviously an incredible opportunity," he said. "I'm very close with a lot of producers, and they certainly know who I am and what type of female I'm attracted to, and it can certainly work."
I think I rest my case. I'll just be sitting over yonder with a smug grin and chardonnay on hand once this worthy contender is announced as next season's Bachelor.
Images: ABC; Giphy (4); Tenley Molzahn/Instagram