Clare Will Forever Be The Queen Of 'BIP'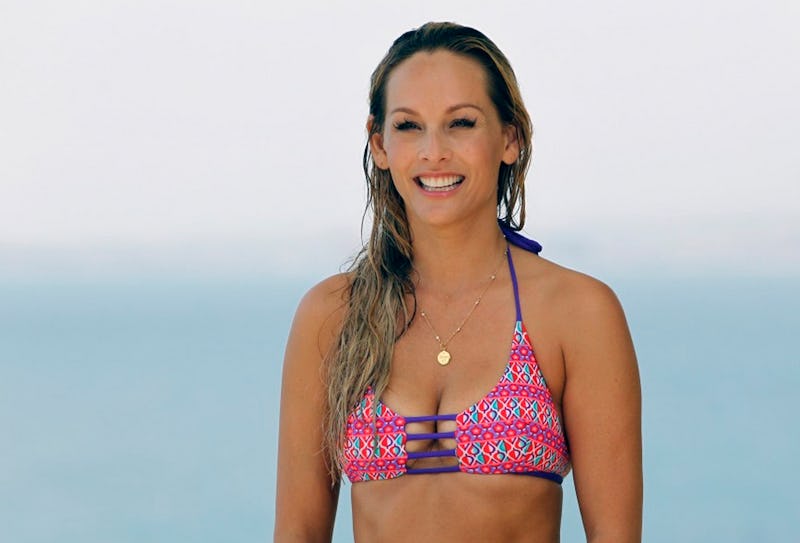 I learned a valuable lesson this weekend: If you are going to You Only Paradise Once more than once, the team might let you down. Sunday night, Bachelor in Paradise legend/icon/veteran Clare was eliminated. I can't believe she's gone. I miss her already. (You know who else I miss already? JJ. Man, his final monologue was like an inspirational speech from a live-action Disney movie. The show lost two greats this week.)
Toward the end of what was The Most Dramatic/The Most Drawn-Out rose ceremony in Bachelor in Paradise history, Dan excused himself from the rose ceremony arena. He had a big decision to make: Would the rose go to potential love interest Amber? Or would he save the jilted Juelia?
While Dan discussed the choice with Carly, my boyfriend and I yelled one name and one name only at the screen: CLARE. How and why didn't Clare Crawley end up with a rose? Why wasn't she even a contender? And why didn't anyone seem to bat a tequila-drenched eyelash at her departure? I realize she hadn't formed a connection with anyone, but who cares?
THINK OF THE VIEWERS AT HOME, CONTESTANTS AND CHRIS HARRISON. SHE SHOULD HAVE IMMUNITY. BiP ISN'T BiP WITHOUT CLARE. WAY TO LET ME DOWN, TEAM.
After the shocking rose ceremony, stuff took a turn for the worse: As Clare buckled her seatbelt in the Elimination Van, she told the camera that she's done with Paradise. For good.
No. No no no no no no. Say it isn't so, Clare! Bachelor Nation needs you, Clare! What if the third time is the charm, Clare?
Two things: a) I hope Clare reconsiders her BiP retirement, and b) hope the show brings her back ASAP. Why? Oh, I'll tell you why.
There Was Not Enough Clare Screen Time This Season
When Clare finally rolled up to the BiP beachside manor at the end of the season premiere, things got off to a stellar start: Tantric yoga! Tandem bungee jumping! Raccoon chats! Season 2 was on pace to be yet another A+ Clare season.
…But then, it all came to a screeching halt. For the past few episodes, I found myself wondering what Clare was up to/wondering why Clare wasn't on my TV/wondering if Clare quit the show while I was getting a glass of water or something. While the villains vill'd and the couples couple'd, Clare's screen time was at an all-time low. How did this happen? It's not like she's boring. This is the woman who called out an entire rose ceremony, rejected a phony hug, and established a rapport with a raccoon, for Chris Harrison's sake. What a waste of next-level reality TV talent.
Clare Failed To Find Love In Paradise... Again
She tried. Oh, how she tried. Alas, the show pulled the rug out from underneath her before she could find love. What a bummer. Always and forever rooting for you, Clare.
It's Nice To Have A BiP Veteran Around
When Joe snarked about Clare's decision to give Paradise another shot, I about penned an angry letter. Didn't he realize how lucky he and the other Padawans were to hang out with the Jedi of Paradise? When Clare was around, the rest of the cast should've been taking notes, asking for pointers, basking in her greatness, et cetera.
The Raccoon Bit Will Be Dunzo
You may think the recurring "talking" raccoon joke is lame. You and I will just have to agree to disagree and move on. I love that this show has doubled down on this corny bit, and I will miss Clare and her raccoon friend's conversations dearly. Sure, another BiP contestant can try to chat up the masked critter, but it won't be the same. Hashtag fire ants memories.
Images: Rick Rowell/ABC; sexypapichulo, r10t3r, liveourliveslikestrangers, spike/tumblr