9 Cartoon Character Shoes For Grown-Ups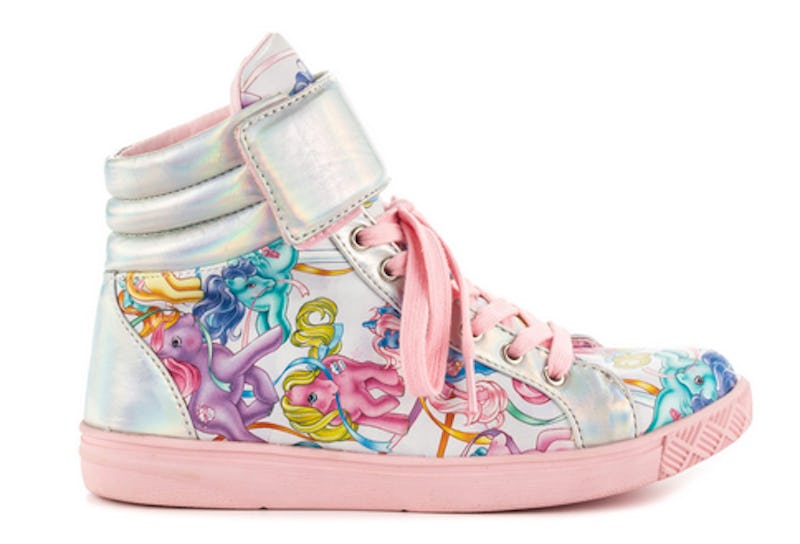 There's something about a pair of My Little Pony themed shoes that speaks to my heart like no other pair of shoes could. The truth is, growing up is hard. If we can wear a pair of nostalgic, cartoon inspired shoes to make us feel all warm and fuzzy inside, then what's the harm in that? I for one couldn't care less if people think I look childish or immature. I'll be the one having fun in my Disney shoes and eating an ice cream.
Fashion has gone a bit bonkers this fall and I think we should all follow suit. There have been some crazy furry fashions seen on the runways, including Gucci's furry shoes that are insane. Cutesy babydoll dresses are set to be a fashion favorite as well, and when paired with some of the season's quirky shoes, you'll have a super youthful look on your hands. Plus, since the release of live action movie Cinderella earlier in the year, the fashion world has been smitten with Cinderella slippers. Shoes with cartoony prints on them will obviously look totally in line with this nostalgic aesthetic.
So while everyone's wearing Cinderella slippers, add some rad footwear to your shoe collection inspired by your other favorite childhood cartoons and movies.
1. The Little Mermaid Sneakers
Flipping your fins won't get you too far, so here's an awesome pair of sneakers for all you land-bound mermaids out there.
Vans Women's Shoes, $80, Amazon
2. The My Little Pony High Tops
Everything about these shoes is just so right: From the baby pink accents to the pony illustrations to the holographic panels. These My Little Pony sneakers are heavenly.
My Little Pony Merry Go Sneaker By Iron Fist, $95, Heels
3. The Sailor Moon Platforms
Hand painted Sailor Moon platform shoes. That is all.
Hand Painted Sailor Moon inspired Platform Shoes, $188, Etsy
4. The Harry Potter Flats
Keep an eye on Filch and Mrs. Norris in these awesome Maurader's Map print shoes.
Harry Potter Marauder's Map Slip-On Shoes, $19, Hot Topic
5. The Pikachu Shoes
Pokémon fashion is all the rage right now and '90s kids are sure to love these adorable Pikachu sneakers.
Pokémon Shoes, $60, Etsy
6. The Belle Slip-Ons
Look like the belle of the ball in these sweet Beauty and the Beast inspired shoes.
Disney Slip-on In "Belle/True White," $60, Vans
7. The Hello Kitty Creepers
These creepers are a super cute choice for Sanrio fans or lovers of cats.
T.U.K. Shoes Women's Hello Kitty Leather Creeper, $90, Amazon
8. The Garbage Pail Kids Flats
You can get creepy cool with these grotesquely gorgeous Garbage Pail Kids shoes.
GPK All Day Flats By Iron Fist, $50, Heels
9. The Barbie Doll Heels
Be a real Barbie girl in a Barbie world with these retro style heels inspired by the iconic doll.
Barbie Heels, $65, Etsy
With any of these shoes in your arsenal, you'll be redefining the meaning of "childish" in no time.
Images: Courtesy Brands; Giphy