Welcome Crisp October With These 18 Best YA Novels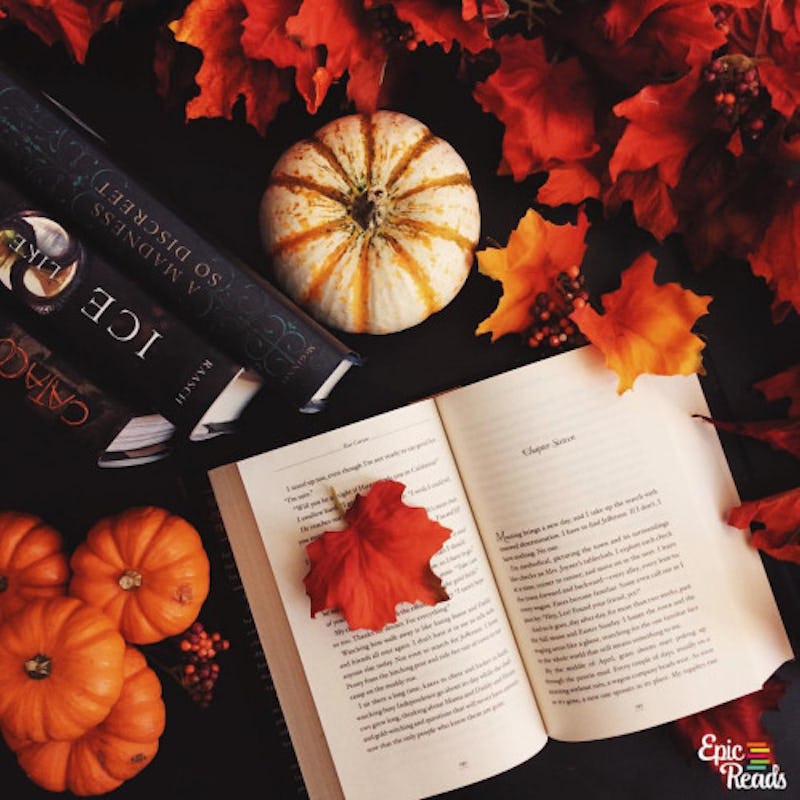 The leaves are starting to change color, and it seems your TBR pile is growing as quickly as falling leaves are piling on the ground. It's back to school season, and this list of the best YA books of October proves that like young adult authors are just as serious about getting back into work as everyone else, because there is an abundance of new YA lit books you're going to want on your shelves.
Celebrated veteran authors Rainbow Rowell, Patrick Ness, E.K. Johnson, and others release novels travelling from fantasy lands to the Middle East to an everyday high school that just happens to enroll students with magical powers. Popular series like Marie Lu's The Young Elites and Sara Raasch's Snow Like Ashes get their highly anticipated second installments. The iconic Walter Dean Myers' final, posthumous novel will be published, in a celebration of his entire acclaimed career. Debut authors are primed to make a splash with new stories that are already hearing buzz. And published authors like Amie Kaufman are pushing to join the ranks of the best of the best in YA with their own unique, ambitious projects that are unlike any other YA novel you've seen.
The weather is getting crisp, so it's the perfect time to put on your favorite warm reading socks, have a pumpkin spice latte, and get lost in the pages of one of these 18 best YA books of October.
Either the Beginning or the End of the World by Terry Farish (Oct. 1; Carolrhoda Lab)
Terry Farish's stories about refugees and immigrants have been informed by her extensive work with the Red Cross in Vietnam, and you can feel that raw, authentic care given to her characters in Either the Beginning or the End of the World. It's a love story, but it's also a story of generations of a family, each affected by war and loss in their own ways. Teenager Sofie Grear was raised by her white father in New Hampshire, and she never felt much connection, other than frustration, to her estranged Cambodian mother. However, when her mother and grandmother move into their home in New Hampshire, Sofie learns about her war-torn youth under the Khmer Rouge and begins to understand more about her culture and history. Farish deftly plays these stories against Sofie's relationship with Luke, an army medic who has just returned home from combat in Afghanistan and is still under the stress of war.
Carry On by Rainbow Rowell (Oct. 6; St. Martin's Griffin)
We're going to have to hold back fangirls of Fangirl when Rainbow Rowell's semi-spinoff Carry On hits shelves this month. Carry On is Rowell's first foray into straight fantasy, as she brings to life Fangirl protagonist Cath's fanfiction of Simon Snow in her own unique book. In the world of Fangirl, Simon Snow is a Harry Potter type who battles monsters who aim to rid the world of magic. And yes, don't panic, if you have already fallen in love with the Simon and Baz relationship, it comes front and center in Carry On.
The Rest of Us Just Live Here by Patrick Ness (Oct. 6; HarperTeen)
We know our Tris Priors, our Katniss Everdeens, and our Buffy Summerses. But what about all the non-Chosen Ones? Patrick Ness imagines a story centered on these people. The ordinary teenagers who live ordinary lives amid Chosen Ones taking up their fated quests. Meanwhile, they're just worried about actually doing their homework, who to bring to the school dance, and not failing algebra. Essentially, this is a story about you and me (unless you have some secret none of us know about yet). Ness manages to pull off satire with true heart, and it more than achieves the true goal of satire: to be hilarious and thought-provoking at the same time, never condescending to the subject it is lambasting.
A Thousand Nights by E.K. Johnson (Oct. 6; Disney Hyperion)
2015 is an abundant year for Arabian Nights adaptations, but luckily for us, each has a unique spin and a fresh take on the (almost literally) timeless tale. E.K. Johnson's A Thousand Nights, an unnamed narrator plays the Scheherazade role, marrying the murderous ruler Lo-Melkhiin, who kills each of his brides at sunrise. What stands out about Morris Award winning Johnson's adaptation is how the reader is allowed to sit alongside Lo-Melkhiin and listen to the narrator spin her tales with prose that practically begs to be read aloud. In the novel, her tales literally create a touch of magic, which grows bigger and bigger each night until she may be powerful enough to find the humanity in her violent king and save him from himself.
Future Perfect by Jen Larsen (Oct. 6; HarperTeen)
Colombian-American Ashley Maria Perkins is valedictorian, class president, and a high school volleyball star. She also happens to be a self-proclaimed fat girl. In her dysfunctional family, Ashley's grandmother believes that monetary rewards are the best way to encourage her to complete goals — especially when it comes to losing weight. But the it comes to a head when Ashley's grandmother offers to pay tuition to Harvard if Ashley undergoes weight-loss surgery. This body positive YA novel shines under Ashley's confident voice; she's a girl who knows she is beautiful and worthy and that weight ain't nothin' but a number. Larson herself underwent weight-loss surgery and wrote about it in her memoir Stranger Here: How Weight-Loss Surgery Transformed My Body and Messed with My Head, and it's clear in Future Perfect that the subject means a whole lot to the author.
We'll Never Be Apart by Emiko Jean (Oct. 6; HMH Books for Young Readers)
Do yourself a favor and save We'll Never Be Apart for a particularly Halloween-y night (as if the spooky cover didn't already tell you that). But this novel's thrills don't come from monsters and ghosts, but from psychological twists and turns and its pervasive gothic feeling. Cellie set a fire that killed her twin sister Alice's boyfriend, Jason. Now, Alice is committed to the Savage Isle mental ward and she can't shake the memories of the flames. At Savage Isle, Alice meets another patient, Chase, who helps her plan vengeance. But as readers will slowly become aware, things aren't exactly what they seem and we'd be silly to trust a narrator who is currently suffering from a major mental illness.
A Step Toward Falling by Cammie McGovern (Oct. 6; HarperTeen)
Cammie McGovern's story A Step Toward Falling is told in alternating perspectives: High school student Emily who witnesses the sexual assault of a developmentally disabled classmate at a party, and Belinda, the girl who was assaulted. Belinda manages to save herself, and Emily and football player Lucas, who both did nothing to stop the attack, are required to complete community service hours at a center for disabled adults. Woven into the story are allusions to Jane Austen, Belinda's favorite writer, who she turns to in the aftermath to help cope.
Dreamstrider by Lindsay Smith (Oct. 6; Roaring Brook Press)
Imagine if Inception was taken even further. In Dreamstrider, those blessed with the abilities can not only inhabit the minds of people dreaming, but actually take over their physical body. Seeing the powers this could have for espionage and political intelligence, the Barstadt Empire employs Livia as an elite dreamstrider spy. Questions about difficult cultures, religions, political engines, and romances come to life in the novel via these spy missions, as they do in our dreams. And we all should know from Sekret and Skandal that Lindsay Smith can handle a unique spy novel like a veteran.
The Rose Society by Marie Lu (Oct. 13; G.P. Putnam's Sons Books for Young Readers)
Our heroine Adelina Amouteru from the series' first novel The Young Elites has taken a turn toward the dark side. Marie Lu has expressed her love for the ultimate super-villains, and she may have created one worthy of those ranks in The Rose Society. After tragedy and being hunted and betrayed, Adelina, aka the "White Wolf," is thirsty for revenge. In the series opener we learned that Adelina is one of the very few survivors of the blood fever, who are left with unique marks and magical abilities. (Think: The X-Men.) She uses these abilities, and her new-found love of power, to propel herself into saving the others like her and, essentially, burning down the world in her path.
Juba! by Walter Dean Myers (Oct. 13; Amistad)
Walter Dean Myers remains an icon of YA literature as a whole, and in particular, of showcasing the voices of diverse or marginalized young people. Juba! is his final novel, published posthumously after his death at age 76 in June 2014. Juba! melds historical accounts with Myers' fictional flair to tell the story of a young, black dancer William Henry Lane growing up in antebellum New York City. Lane was a pioneer in bringing new forms of dance, like step and tap, and jazz, to center stage. As we've come to expect from Myers, Juba! deals frankly and compassionately with issues of race and class through Lane's own proud voice, as well as via the characters that populate the novel around him. To bring an honest, authentic feel to the story, the book also includes photographs and maps from the time Myers writes about.
First & Then by Emma Mills (Oct. 13; Henry Holt and Co.)
If Jane Austen wrote about high school, it would look a lot like First & Then. The story explores the everyday social structure, family issues, and romantic dynamics that populate the buzzing high school hallways. There's Devon who has a secret crush on new BFF Cas. Then there's Devon's cousin Foster, an outcast who joins the football team alongside obnoxiously charming superstar Ezra. And all of their worlds start to intertwine and influence each other, disrupting the standard dynamics. You probably already know debut novelist Emma Mills from her super popular YouTube vlog under the name Elmify, and she brings that same spirit and voice to First & Then.
Ice Like Fire by Sara Raasch (Oct. 13; Balzer + Bray)
Sara Raasch's Snow Like Ashes brought us fantastical adventures, thrills, and a healthy dose of romance, so obviously we've all been waiting for the sequel Ice Like Fire, and it doesn't disappoint. There's even more magic, more twists and turns, more deception, and more swoons. Orphan Meira spent Snow Like Ashes trying to free her home, the Kingdom of Winter, from its enslavers under King Angra of Spring. No spoilers, but her mission is far from over. Excellent world-building and thrilling political intrigue once again shine in Raasch's series, and believe me, it will have you impatiently waiting for the scheduled (but currently untitled) book three.
Weird Girl and What's His Name by Meagan Brothers (Oct. 13; Three Rooms Press)
Weird Girl and What's His Name is an ode to anyone who has ever felt uncomfortably out of place in the world. The "weird girl" is Lula and "what's his name" is Rory; they're two BFFs living in a teeny town who bond over feeling like outcasts and their mutual love of The X-Files. (Sign me up for this friendship.) Rory narrates the first half of the book and Lula takes over in the second half. Rory is out to Lula, but what she doesn't know is he's having an affair with a middle-aged divorced man. And when she finds out both this and that outcast Rory is trying out for the football team, it's just one more lever that pushes the two apart. What really shines in Meagan Brothers' novel are the voices and the characters; they feel authentically human and vibrant and you'll be glad to spend 300-odd pages with the both of them.
MARTians by Blythe Woolston (Oct. 13; Candlewick Press)
Blythe Woolston's oddball dystopia depicts the future as a strip-mall wasteland, where big box stores are the only things still thriving, and children are automatically graduated from school in order to work in them (or face going to prison). Newly orphaned "last girl" Zoë Zindleman, numerical ID 009-99-9999, takes a job at AllMART and moves into one of the abandoned malls with other abandoned children. At AllMART, Zoe is forced to smile through mind-numbingly tedious tasks, and darkly funny descriptions of this job and the company mottos add loads of color to the story. However, Zoe wants to find out that there's more to life than just this. If you're a fan of Ray Bradbury's The Martian Chronicles , you'll love the allusions and callbacks and recognize the feeling of dystopian corporate ennui.
The Masked Truth by Kelley Armstrong (Oct. 13; Doubleday)
Riley Vasquez and Max Cross bond at a therapy camp to cope with past traumatic incidents. Riley witnessed the brutal murder of a couple she babysat for while she hid upstairs with their children and now suffers from PTSD. Max has been diagnosed with schizophrenia. But it's not just psychological trauma that befalls these two, as well as the other five teenagers at camp; masked men break into the camp to hold them hostage, and they soon start killing people. It's a gripping thriller with enough twists and turns to tie your stomach in knots, and Armstrong finds unexpected scares both of the psychological and the physical.
Illuminae by Amie Kaufman and Jay Kristoff (Oct. 20; Knopf Books for Young Readers)
One look at a hard copy of Illuminae and you know you're not in for an ordinary novel experience. First of all, it taps in at a Harry Potter and the Deathly Hallows-level 608 pages. But don't let that intimidate you because, second of all, the pages are often composed of documents, such as emails, medical reports, interviews, instant messages, schematics, and classified files. In the vein of World War Z, Illuminae uses a dossier of documents to tell the story of a major past event — in this case, an incident that occurred after a small, remote planet is invaded in 2575. Kaufman and Kristoff use these documents to relay the story of the planet's inhabitants Katy and Ezra, who are in the middle of a battle for power between two mega-corporations who each want the planet under their control. On their respective escape fleet starships, Katy and Ezra's troubles are just beginning. Illuminae is a wholly ambitious work that never sacrifices emotion or story for its unique form.
Willful Machines by Tim Floreen (Oct. 20; Simon Pulse)
Imagine a futuristic setting, complete with robots and artificial intelligence, awash with traditional Gothic elements and you have a taste of Tim Floreen's Willful Machines. Teenage Lee Fisher is the son of an uber-conservative U.S. president, and so he's firmly still in the closet. Aside from his social platform, Lee's father also demonizes the rapidly evolving technology and aims to bring the nation back to a world where we didn't all rely on robots. (Should sound familiar, just sub in "iPhones" and "social media" for "robots.") But the president has a reason for this: Lee's mother was murdered by a robot named Charlotte, who seemed to do so willfully and not under the command of any human. Charlotte is now behind terrorist attacks across the nation. Meanwhile Lee is just psyched that at his stuffy prep school, he finds a new student from Chile named Nico Medina that he starts to bond with. Floreen's novel is incredibly sharp and smart, managing to tackle global issues like terrorism, LGBTQ rights, and divided political structures while still keeping the story action-packed and heartfelt.
These Shallow Graves by Jennifer Donnelly (Oct. 27; Delacorte Press)
Smart, ambitious Josephine "Jo" Montfort feels out of place amid the traditional women's roles in 1890s Gilded Age New York City. Rather than marry rich and raise a family, she aims to become a reporter like her idol Nellie Bly (which should remind readers of another determined young Jo of literature, from Little Women). She gets this opportunity to break out of aristocratic expectations when her father unexpectedly dies, allegedly of an accidental gunshot wound. Jo digs into the case, down into the seedier side of New York City life, to uncover the true story of her father's death. It's fun, feminist, and so fast-paced that you'll be whipping through the book to solve the mystery alongside Jo.
Image: EpicReads/Instagram