Here's How DSM Could Return For 'Pitch Perfect 3'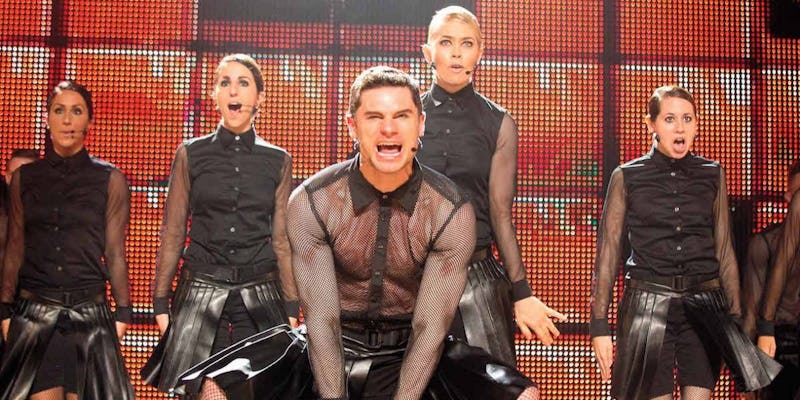 Every good movie about college a cappella needs a good college a cappella villain. In Pitch Perfect, it was the douchey all-male group of Barden University, the Treblemakers. In Pitch Perfect 2, it was the militaristic German group Das Sound Machine (DSM for short). But will Das Sound Machine be in Pitch Perfect 3? It might not be the best idea: with the movie officially on the horizon, it's time for a new Pitch Perfect aca-villain to go up against the Bellas. Little to nothing has been revealed about the plot of Pitch Perfect 3 so far, but it's safe to say the Barden Bellas will likely face their biggest foes yet. Returning cast members include Hailee Steinfeld, Anna Kendrick, Rebel Wilson and Brittany Snow, with Pitch Perfect screenwriter Kay Cannon also on hand to pen the script — but will she bring back the group that caused so much trouble in PP2?
If DSM's breakout star Pieter Krämer, aka YouTube personality Flula Borg, has anything to say about it, the German group will be back and better than ever in Pitch Perfect 3. "I hope very hard that Das Sound Machine shall return to Pitch Perfect 3, Pitch Perfect 3.14159, which I have called Pitch Perfect Pi, and all the other Pitch Perfects," Borg said in an interview with PerezHilton.
Asked what he wanted to do in a third film, Borg joked that he would love to show up at the very end. "And then I ride around in a Jeep wearing only socks," he said.
As for Borg's partner in crime, Birgitte Hjort Sørensen, who starred as DSM's fearless leader Kommissar, she too has said she'd be happy to return for Pitch Perfect 3. "I would be happy to do it, but I have absolutely no idea [if it will happen]," she recently told Bustle.
At the end of Pitch Perfect 2 (spoiler alert!), Das Sound Machine lost the World Championship to the Barden Bellas. But the film conveniently left out any sort of truce or mutual respect scene between the two groups, meaning that if DSM returns in Pitch Perfect 3, they could still be the international rivals of the Bellas. Here are a few other scenarios that could bring DSM back in the next Pitch Perfect movie.
DSM & The Bellas Unite Against Canada
At Worlds, Pitch Perfect 2 featured the popular a cappella group Pentatonix as Team Canada in a short but memorable cameo performance. Pentatonix has completely taken over the a cappella world in American popular music — I mean, they're touring with Kelly Clarkson — and they are also hilarious AF. Maybe they could return in PP3 as the new team hellbent on dethroning the Barden Bellas, forcing them to join forces with DSM in order to hold on to their championship status. Pentatonix and DSM sharing the screen? Now that's something to get excited about.
DSM Challenges The Barden Bellas
I would be shocked if Das Sound Machine wasn't the type of group to hold a grudge. Maybe DSM could demand a rematch in PP3. Bonus idea: threatened by DSM's gender diversity, the Barden Bellas could finally team up with the Treblemakers and make one, giant, co-ed supergroup!
DSM Comes To Barden University
Bitter after their defeat, DSM members could enroll in Barden University as exchange students and plan to defeat the Barden ac appella groups from the inside! Sneaky and evil.
With the script currently in the works, who knows what treasures Pitch Perfect 3 will hold, but I'm definitely hoping for another helping of Das Sound Machine. Kay Cannon, you are welcome to use any of the above ideas to get them back!
Images: Universal Pictures; Giphy (3)